theartsdesk Q&A: Mercury Rev |

reviews, news & interviews
theartsdesk Q&A: Mercury Rev
theartsdesk Q&A: Mercury Rev
Jonathan Donahue and Grasshopper talk beginnings, cassettes and hiss
Wednesday, 30 September 2015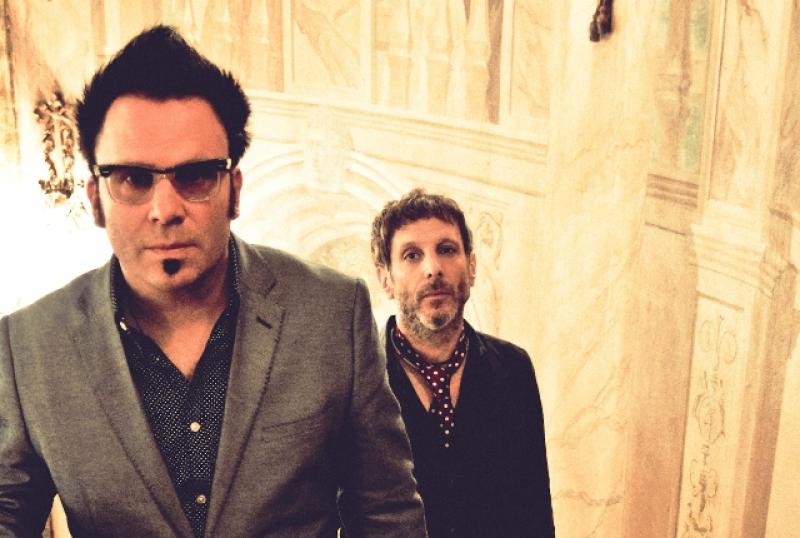 Mercury Rev's Grasshopper (left) and Jonathan Donahue after talking each other off a ledge
The Light in You, Mercury Rev's eighth studio album, is issued at the end of this week. It is their first for seven years, following 2008's Snowflake Midnight. In the run up to its release, main-men and constants Jonathan Donahue and Grasshopper (born Sean Mackowiak) took time to reflect on the new album, their attitudes to Mercury Rev's longevity – their debut album, Yerself Is Steam came out in 1991 – and their feelings about how music is heard and recorded.
The Mercury Rev of 2015 is different to that of 2008. Although their sound is as affecting and ethereal as ever, and their songs as memorable and touching, they are now just Donahue and Grasshopper. Their long-time collaborator David Fridmann did not work on the album. It is also their first for ex-Cocteau Twin Simon Raymonde's Bella Union label.
Towards the end of the seven years, or whatever it is, you get a polished stone
They have not been resting. The Light in You is the culmination of an active period. Their classic 1998 album Deserter's Songs was reissued in 2011 and the band played shows to coincide with that expanded, in-depth release. They have regularly played live as Mercury Rev's Cinematic Sound Tettix BrianWave Concerto Experiment, improvising live soundtracks at film screenings. There have also been ups and downs for Donahue and Grasshopper: the former's house was wrecked by Hurricane Irene in 2011 and the latter became a father for the first time last year.
Donahue and Grasshopper were, above all, keen to talk about The Light in You, an album which is – melodically – their most direct to date and, atmospherically, their most diffuse. For the first time they have incorporated the rhythms of Sixties soul: with "Sunflower" and "Rainy Day Record" they aim for the dance floor.
It's amongst the evidence the album looks back at their lives and takes stock. "Rainy Day Record" contemplates the era when albums were dominant and name checks many of Donahue's' favourites. On the balladic "Autumn's in the Air", he sings of a reverie where he imagines what it is like to be in in "Beatle George's mind". "Are You Ready?" is classic, driving and soaring Mercury Rev which describes the power of dreams in which you can dance to The Rascals, The Pretty Things, psychedelic rock and blue-eyed soul. With instantly alluring melodies, complex arrangements incorporating bells, strings, tympani and woodwind, the album is as much a tribute to the power of music as it is a hymn to the force of memory. The Light in You draws from the renewal brought by the recognition of both.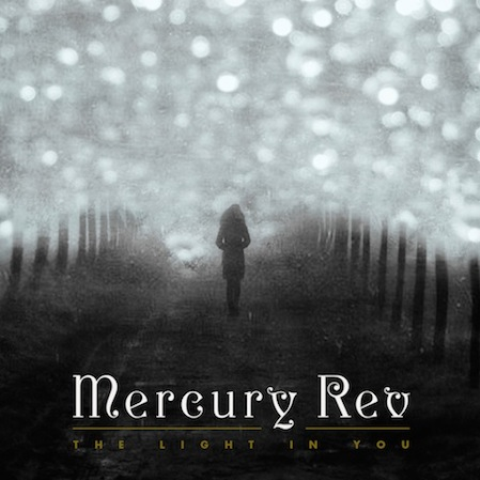 As the conversation reveals, Donahue and Grasshopper are very different people. Both are analytical and friendly, but each has a very different approach to the nuts and bolts of what Mercury Rev is. Donahue is the more metaphorical, more indirect of the pair. His answer to the final question – "What's the ideal medium for hearing The Light in You?" – captures this perfectly. After transcription, Grasshopper's responses and interaction with Donahue seem a little abrupt, but in person his refreshing directness is clearly integral to the more down-to-earth, can-do attitude he brings to Mercury Rev. Yet he is also someone slightly removed from the day-to-day, as evidenced by his final comment in the response to the first question. The enduring warmth between them is obvious.
Obviously, you have not spent the time between Snowflake Midnight and The Light in You sitting on your bottoms, but what things have taken up some of that time?
Grasshopper: We had put out the reissue of [1998's] Deserter's Songs in 2011, where before we had put out a new record every two or three years, and that was a lot of work. I went to Guatemala for about five years in a row, for about two or three months each time. That influenced me a lot – the bells, the xylophones in the music. It's a beautiful place, a cross between Apocalypse Now and Fear and Loathing in Las Vegas.
Jonathan Donahue: When you go that distance in time [between albums], you sweat out early ideas, work things out of your system. You have a couple of beginnings. Towards the end of the seven years, or whatever it is, you get a polished stone. Some of the songs go way back, some were written in 20 minutes six months ago. You can't really compare it to a band of 22. When you're in your 40s, life moves faster. It wasn't like you're sitting on a beach.
It's about 30 years now for Mercury Rev. That's a long time. Did you ever think it would go this far?
JD: I didn't think it would go far after [1995's] See You on the Other Side. I thought Deserter's Songs was the final record.
G: The Light in You has the spirit of See You on the Other Side; the two of us.
Why Bella Union?
JD: They were our first choice. They were, literally, the only label we sent our songs to. Grasshopper had known [label boss and ex-Cocteau Twins member] Simon Raymonde and was mentioning to Simon that we were finishing a record. And Simon said "I need to hear it today." We sent it to him and twenty minutes later he phoned back and said "yes". He wanted to get it out this year. We mastered in very late May. You can't do it now like you did in the late Eighties, when it was "oh, it could come out in three weeks".
Despite how things are now, The Light in You has lyrics about putting the needle on vinyl and in the past you have recorded on 35mm tape. Which is best: record, CD, MP3?
G: I listen to vinyl and MP3s. I don't listen to CDs much anymore.
JD: I'm a cassette guy. Even though I appreciate vinyl, I love them more. I was making mix cassettes for the girlfriend, spending all night doing that and then it gets trampled on the car floor, along with coffee, cigarette ash and it stills plays. It's the durability – no matter how many cracks in the porcelain there are, you still make a connection.
What do you record on when writing songs?
G: I still do some on cassette. We still have those cassette Tascams.
JD: We also still have the same reel-to-reels we made Deserter's Songs on. When things get a little bit larger, you're into editing with software. Cassettes are still easiest for a musician to play to. When you're demoing you want as little as possible.
G: A lot of The Light in You was recorded on tape. There's stuff we recorded through a tape machine into the computer and there's others we recorded on tape from the beginning and hooked up to the computer for mixing.
JD: You have to make it work frequency-wise with tape when also working with things which are digitally recorded and pristine [sounding]. You say to the engineer, "I've got this on cassette", and are told: "It's full of hiss, there's drop out." Because it's on cassette doesn't make it better, but there's a quality there. We work very hard to get a depth in our sound, to get as much of a fourth dimension as we can.
John seemed cynical, Paul seemed adrift, and Ringo seemed sarcastic. George was the protest guy, where John joined in when the protest was already going
This is your airiest album, very floaty. Ethereal. Is any of that a result of working with cassettes?
G: There is the compression of the cassette. But we've also recorded through analogue boards.
JD: Deserter's Songs was almost all recorded on tape. Yerself Is Steam [their 1991 debut album] was recorded on a Tascam Portastudio: a 4-track cassette. Ours is the last generation which worked with tape only, now it's a choice to do so. It's still in us to work this way.
Is the continuity of recording medium a comfort?
G: Yes.
JD: Some element of us is always reaching back, whether it's working with the sounds I heard in childhood and trying to recreate them. Grasshopper has his way of reaching back to some of his childhood. Maybe that's part of the cassette thing. It's the final hiss – it's almost more important than, gosh forbid, Bessie Smith's voice. The hiss goes with it. Take the hiss away from Billie Holiday's recordings and people would flip. It's like taking the background from a Dali panting. All you would be left with is the melted watches.
Which begs the question, what is this going to sound like live? The Light in You is unreproducable on stage. You have grand arrangements, brass, woodwind, clarinet, strings.
JD: Live, a lot of the strings will played by our keyboard player. You just can't bring a 14-piece string orchestra on the stage. It will be a stripped-down version. We try to make it work. You do the best you can.
Who will we see on stage with you?
G: Jason Miranda is playing drums. Anthony Molina on bass and Jesse Chandler is playing keyboards, he has also played with the band Midlake.
JD: Five people.
What do you think will be the standouts from The Light in You live?
JD: It's tough to say. You don't know how people are going to react. They are going to talk, they are going to buy sausage and peppers. There is no way to second guess. We've rehearsed them all and we don't know.
Are the songs, as we hear them on the album, different from when you first wrote them?
G: Sometimes, we'll write a melody and say it should be on an oboe, not a trumpet as it's too harsh.
JD: It's kind of like when your girlfriend walks in with a new haircut. You still love her but you go "huh, give me a moment". That happened on "Amelie". I was really dug into what I thought and Grasshopper was, "Let's see what this is doing?" You can talk each other off a ledge.
Watch the video for "Are You Ready?" from Mercury Rev's The Light in You
You're obviously very comfortable with each other.
JD: It's been 40 years. You have moments when you feel passionate: about a song, or being obstinate. It's usually Grasshopper to me. I have a lot more self-doubt.
G: If someone pulls the foundation out, the whole thing falls apart. Sometimes, at the last moment, you put a stick in to hold it together. Something I'm passionate about though, I will fight for it.
"Sunflower" has a slightly Motown rhythm. That's new for Mercury Rev. Where did that come from?
JD: That was Grasshopper putting in a lot of beats I wouldn't necessarily gravitate to, or think I could sing to. It was surprising. Thinking I was Sam Cooke or something.
G: In my mind it was like when The Velvet Underground did "Foggy Notion" and Lou Reed says, "Here we go, Martha & the Vandellas." I wanted to mix what we do with that kind of sound: soulish, a kind of Motown sound.
Jonathan, what is it like to be in Beatle George's mind, as you are on "Autumn's in the Air" when the sun is in your eyes?
JD: It's probably the closest thing I can relate to. If I spend time in a parallel dimension, it's in Beatle George's mind. When I see interviews with him today, interviews from then, I relate to the sentiment, the innocence he seemed to have. John seemed cynical, Paul seemed adrift, and Ringo seemed sarcastic. George was the protest guy, where John joined in when the protest was already going.
The lyrics of "Rainy Day Record" mention [New Order's] Peter Hook, Translator, Dead Can Dance, Talk Talk, Romeo Void, The Fall. Terry Riley, Pepe Deluxé and Derek & Clive as amongst the records you bought for a rainy day
JD: They're on vinyl. They're living in this parallel universe of vinyl.
How does it feel hearing The Light in You now?
G: It's great.
JD: I love it but I'm too close to it. If Grasshopper hadn't pulled me out of the studio I'd still be making a double, triple album now. A quadruple album. But Simon called and said if it's not here tomorrow it won't be out until next year.
What's the ideal medium for hearing The Light in You?
G: I love listening to it in the car, just driving. Off a CD. Lose your sense of time and place, just drift.
J: Memory. I'd like if people heard the record once, twice, a hundred times that when they remember it, it can wrap around them like a blue blanket. Just remember the feeling of being surrounded or immersed by something larger than you.
Mercury Rev's The Light in You is released on 2 October
We work very hard to get a depth in our sound, to get as much of a fourth dimension as we can
Explore topics
Share this article