theartsdesk in Bergen 2: Leif Ove Andsnes curates |

reviews, news & interviews
theartsdesk in Bergen 2: Leif Ove Andsnes curates
theartsdesk in Bergen 2: Leif Ove Andsnes curates
Uniquely imaginative programming in special places from a world-class local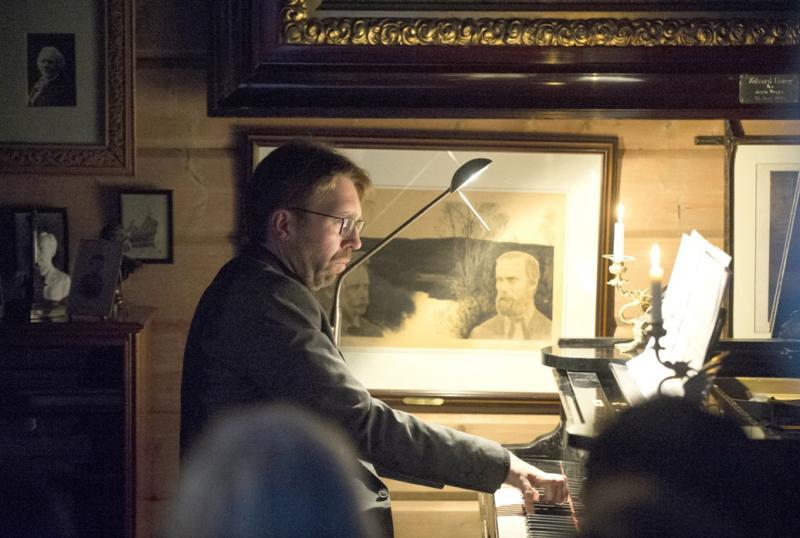 Andsnes plays Kurtág on Grieg's piano
If this were only the usual international festival – and it's still a big "only" where Bergen's flagship fortnight of theatre, dance, art and music is concerned – it might not be easy to justify swanning off to one of the most beautifully situated cities in the world. What drew me in the programme, though, were two unique and probably unrepeatable concerts put together by local boy made more than good Leif Ove Andsnes.
Norway's most feted pianist worldwide keeps being showered with international awards but who now, with three young children to think of, wants to concertise less, spend more time in his home town and impart his experience to a new generation of musicians.
The first of the core events devised by Andsnes in collaboration with the festival's ambitious, progressive Danish director Anders Beyer was a very novel way of celebrating the 150th birthday year of Sibelius, featuring melodramas – the singular fusion of spoken voice with instruments – by that surprisingly prolific composer I haven't heard live before nor am likely to again in the near future. In the second Andsnes "and friends" played Kurtág and Liszt on, among other instruments, the Steinway presented to Edvard Grieg in 1892 and still lodged in the summer villa just outside Bergen where Norway's greatest composer spent so much time with his beloved singer wife Nina in the last 22 years of his life. Troldhaugen was the only house-museum still on an essential list likely to rival unforgettable hours spent in Janáček's Hukvaldy, Sibelius's Ainola at Jarvenpää and Tchaikovsky's Klin. As, indeed, it did.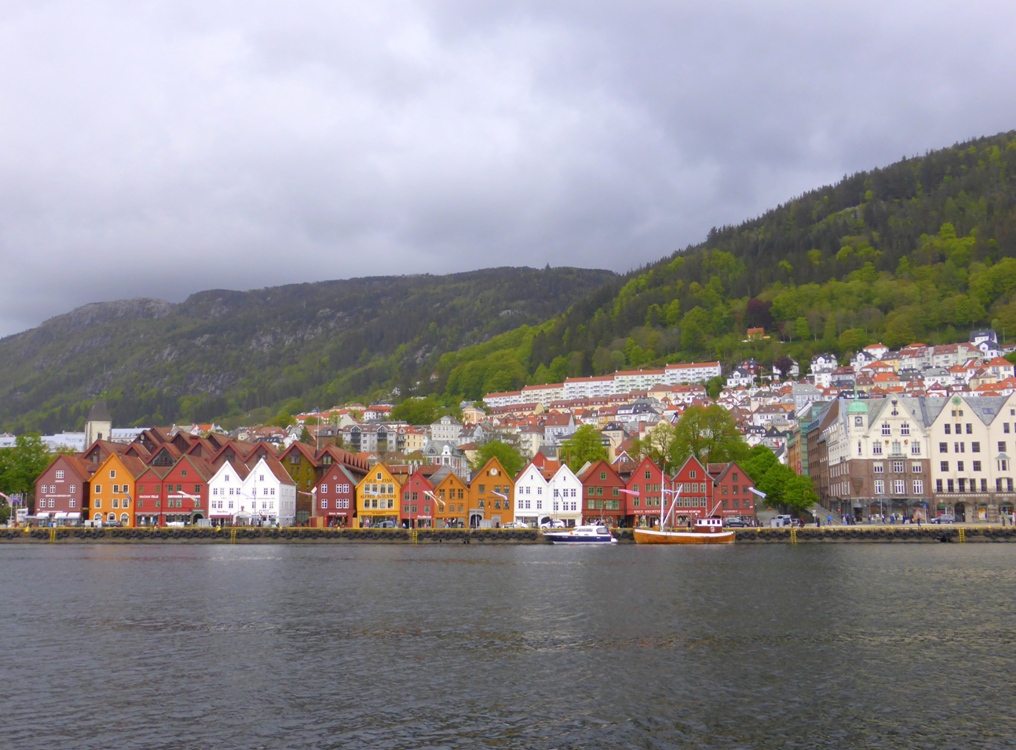 Before the extraordinary 24 hours leading up to that intimate late-night finale, though, there was a day and a half in which the only variation in the climate was the degree of intensity with which it rained (in a rather good Bergen joke, a tourist asks a schoolboy "does it always rain here?" and he says, "I don't know, I'm only 11"). Dashes had to be made up the wide main streets of the city centre funnelled between hills and along the handsome harbour front (looking across to Bryggen, pictured above) between concert halls, cafes and museums.
These preliminary concerts, which I'd regarded as handsome bonuses, started with the Borodin Quartet in a very standard Russian programme played to a packed and sizeable audience. It was fascinating to hear the opening movement of Borodin's Second String Quartet – a work the ensemble as such must have played more than any other quartet, albeit not in the present formation – taken almost as an elegy rather than the usual joyous, loving declaration. It seemed that the more ardent viola player Igor Naidin and the "new" cellist, Vladimir Balshin, were having to tone it down while first violinist Ruben Aharonian, whom I remember as a real live wire, took things very cautiously, if with the usual beauty of tone.
Already, though, there was real fascination in hearing such clarity of string sound in a venue which I understand can cause problems of projection and picks up on awkward piano resonances. The Håkonshallen within the fortress (festning) complex was built as a ceremonial hall for King Håkon Håkonsson between 1247 and 1261. The original stone edifice was all but destroyed in 1944 when a Geman munitions ship exploded on Hitler's birthday: whether by sabotage or accident still doesn't seem quite clear. It's a wonderful and atmospheric space in lovely grounds alongside the big ships further out in the harbour, and I was to see it in all weathers.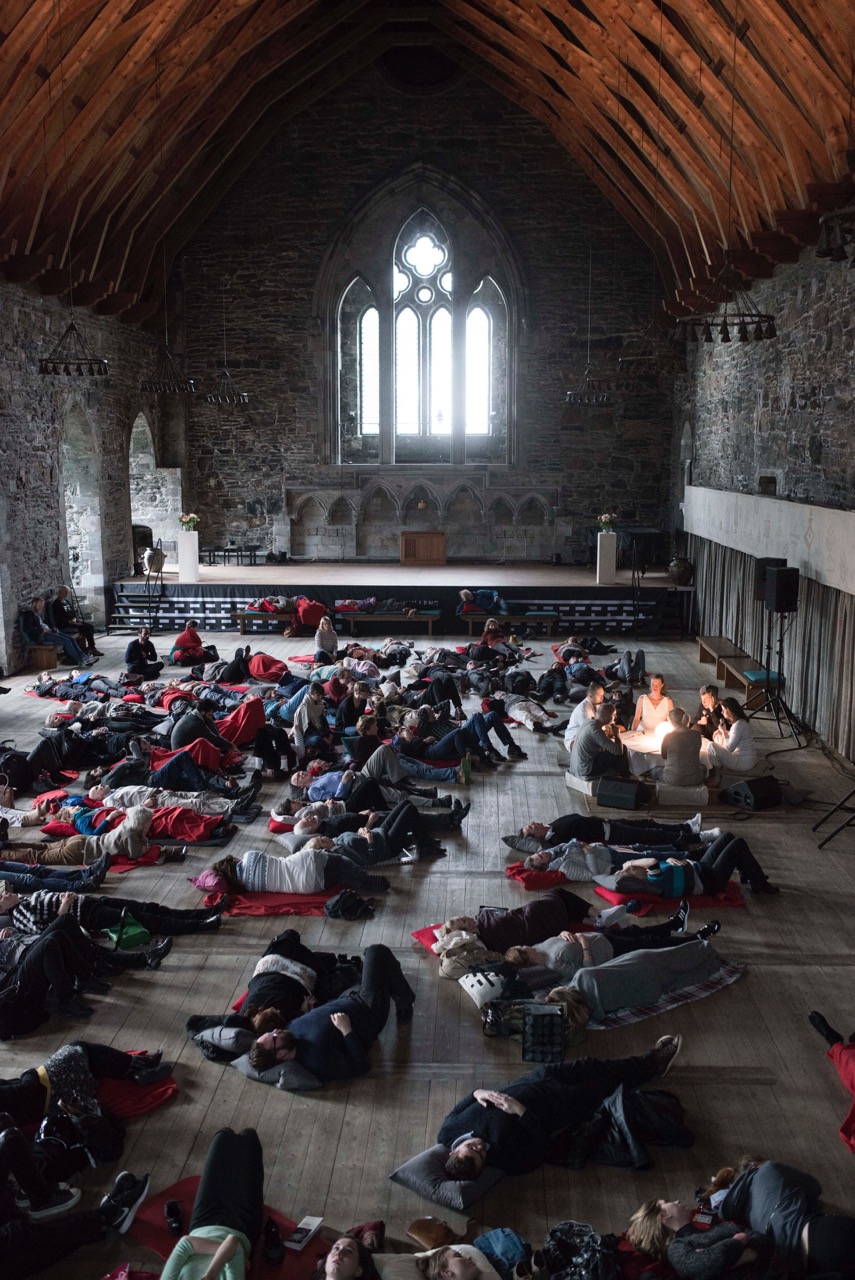 Blue skies at 9pm the next evening followed a longer-than-scheduled performance of Stockhausen's Stimmung from Paul Hillier's Theatre of Voices. Gone were the rows of chairs; most of us took our blankets and cushions, lay on the floor and waited for The Happening (pictured right). I've had better meditations where the music was in my head; Stockhausen's rainbow of sound effects includes rather too many visitations from the mewling cats of Ravel's L'enfant et les sortilèges for smooth transitioning to a deeper level. But it was good to do as one pleased, look at the sun reflected on the stone walls, watch one's neighbours, and zone out from time to time.
I'd still rather have caught the entire first half of the second "Leif Ove Andsnes and Friends" event in the lovely Logen Teater, a former Masonic Hall still leased by its original owners, where Grieg came with vine leaves in his hair from his 60th birthday celebrations in Troldhaugen (when Andsnes first arrived in town in the late 1970s as a teenager to study at the tiny Bergen Conservatory, it was used as a furniture store). Anyhow, Stimmung, with its element of improvisation, hadn't run according to schedule so I slipped in during the Dohnányi Serenade consummately played – from what I heard in the spellbinding Theme and Variations, dissolving into a supernatural shimmer – by three of the young artists involved, violinist Ragnhild Hemsing, viola-player Ellen Nisbeth and cellist Frida Fredrikke Waaler Wærvågen.
These are among the manifold talents in a new wave of superlative Norwegian string players, and had been selected by Andsnes and fellow musicians on the pilot scheme for a "music talent programme" to be launched officially at next year's festival as the Crescendo project. Their intensive training has been partly at Oslo's Barrett Due Institute of Music, a very special place, Andsnes told me later, where internationally acclaimed violinist Vilde Frang spent so much time during her formative years, and a keen supporter of this project.
Next page: Anne Sofie von Otter in cabaret, Andsnes's Sibelius melodramas and later night intimacy chez Grieg
The previous evening's entertainment at Logen had managed a true cabaret feel in Anne Sofie von Otter's "Douce France" programme of two halves, starting at 10pm – true late-night festival fare. The first half was first rather more successful, with a magnificent interpolation from viola player Lawrence Power of Enescu's early Rapsodie with the ineffably quirky Swedish pianist Bengt Forsberg, von Otter's favourite, in keen partnership, and the surprising "Zig-zag" song which Saint-Saens expanded to orchestral proportions for the Danse Macabre we know and love. The audience clearly adored the more cabaret-tish second half of chansons like Piaf's "Padam, padam", but von Otter's ever more soft-grained mezzo these days doesn't quite come across even with a mike, even if her phrasing remains peerless (von Otter pictured above at Logen with bass player Gustav Lundren and guitarist Olle Linder).
What I wouldn't have missed for the world was Andsnes's brilliant programming of Sibelius melodramas, piano pieces and chamber music – something he'd been wanting to do for years, his horn-player partner Raghild Lothe subsequently told me (they had a rare chance to play together in this event). As I was to find out the next morning, and from what others have told me, he's the most generous of musicians, and so it was right we should hear what an equal talent in his way is fellow pianist Håvard Gimse, who has recorded Sibelius's complete and variable piano music (five CDs' worth of it, no less). He selected a sequence which worked perfectly on its own terms, from the expansive melodies of two early Impromptus to the blink-or-you'll-miss-them fugitive visions of the Valsette, Op 40 No 1 and the Arabesque, Op 76 No 9. When Andsnes and I met in the café of Kode 2, first of the three stupendous galleries ranged along the lake of Lille Lungegårdsvann, Gimse arrived to collect piano music from his friend, and Andsnes told him how he just couldn't get the main theme of the second Impromptu "which you played so beautifully" out of his head.
The material resurfaced in the rarity that followed. Gimse was there to support the resident string trio in more shimmering tremolos and Frank Skog, mellifluous speaker of old Finnish Swedish, in the first of the melodramas, Svartsjukans nätter (Nights of Jealousy; performance pictured right). It's not clear why Sibelius never sought to have it published; maybe he felt it was too much a part of his very romantic first phase, but the early 1890s were also the time of Kullervo and En Saga, and there's great beauty in the writing which looks forward, perhaps, to another work of effusive youth, Schoenberg's Verklärte Nacht (Transfigured Night). A Lonely Ski-Trail is from the other end of Sibelius's circumscribed creative life. "It's a masterpiece in three minutes," said Andsnes, who glided straight into it from the last of Sibelius's exquisite tree pieces for piano to partner Skog in the middle of a thought-through final sequence, "though perhaps I shouldn't say that actually the arrangement for strings and harp is even more wonderful". He was tickled by the fact that "Skog" means "wood" in Swedish, and there was plenty of that in the nature-magic of the programme, ending with the melodrama version of Skogsraet (The Wood Nymph). It's saturated in memorable associations with the love and adventure music of the Four Lemminkäinen Legends, and made the perfect culmination to a fabulous hour and a bit.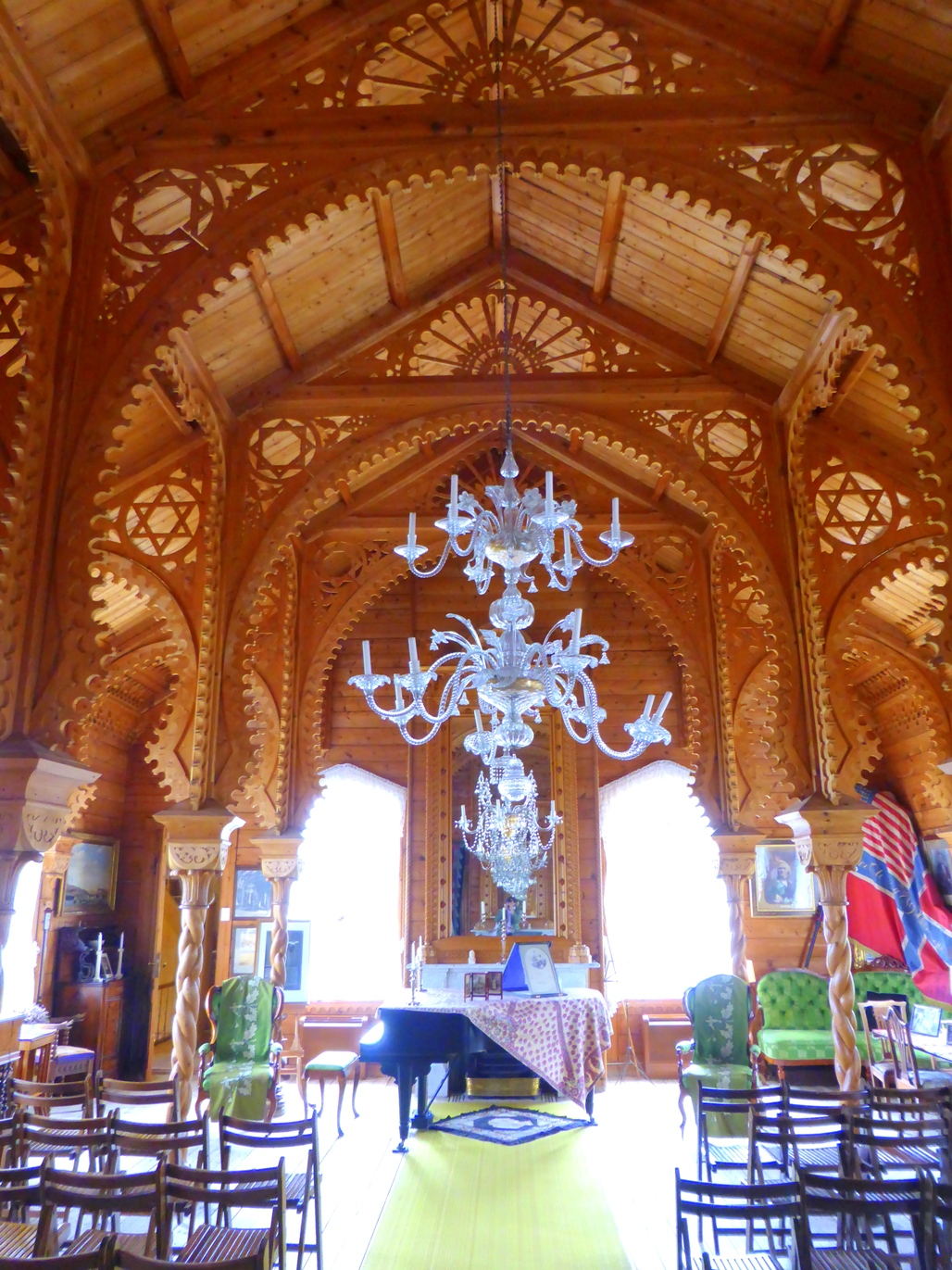 I managed to experience some of that Scandinavian wood magic for myself the next afternoon, taking the boat out to Ole Bull's "little Alhambra" of a summer house on the nature-reserve island of Lysøen. Fellow artsdesker Kieron Tyler had been here before me, and he had the pleasure as I did not on this occasion of a concert in the magical space constructed by 30 local craftsmen with island wood and stone in an incredibly short time during 1873 (pictured left). An equal of Paganini as roving violinist, inventor, entrepreneur and womanizer, Bull deserves a long biography in English, and the wonderful guide, an inspirational Bergen lady married to an Australian, kept being transported by the most intriguing of digressions. I loved my three hours here, but must wax lyrical elsewhere.
The most unique experience came last, after three-quarters of an inspirational concert back in the Håkonshalle. This featured Lawrence Power – linking Britten's painful Lachrymae with exquisite arrangements of the two Dowland songs it paraphrases – and the mesmerizing actress Ane Dahle Torp in another melodrama, a new work by Nils Henrik Asheim based on The Song of Solomon, and a young Norwegian string ensemble, the Ensemble Allegria, capable of the most evocative pianissimos in the business. I managed to hear for the first time live Herbert Howells's Elegy, meltingly beautiful, slipping out reluctantly before Schoenberg's Verklärte Nacht for an appointment at Troldhaugen with the director of the three Bergen composer house-museums, Sigurd Sandmo, before the 10.30pm "intimate concert".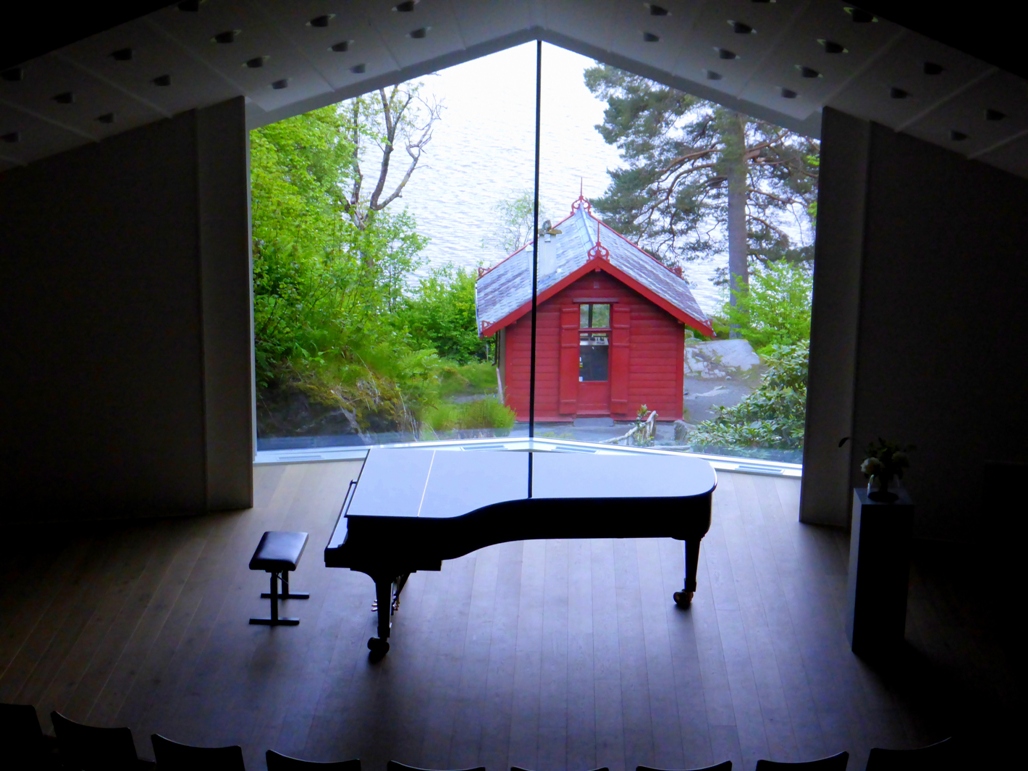 Sandmo walked me round the Grieg compound, which due to fantastical numbers of visitors has had to expand to include a museum complex and the most poetic of all concert halls, where recitals run every lunchtime in the summer (Gimse had the present week's slot). It had only just reopened after a lavish makeover; to enter the empty hall and have the panels behind the concert platform smoothly sliding back to reveal Grieg's composer-hut – very much akin to Mahler's lakeside and woodland workshops – with the water beyond it made the setting seem all the more wonderful.
Down another path near the lake, a walled-up Mycenean tomb appears in the rockface, inscribed with the names of the devoted couple. Grieg envisaged no resurrection, but his music lives on. So did Nina, for a time, sufficient to ensure the summer villa's status as a museum. We climbed on to the roof terrace, which offers stunning views across to water, hills and island, though the suburbs of Bergen have thrown up some willy-nilly housing and the main road to the airport is very close, if out of sight and sound.
Then the concert began, about an hour's unbroken programming during which you could have heard a pin drop. As the light slowly began to fade, with a red glow above a mountain seen through one of the windows of the villa's light-filled main room, 50 of us gathered around Grieg's Steinway, on which Andsnes and Gimse were to share and even duet in Kurtág's rainbow of musical epigrams from Játekók (Games).
"The wooden room and ceiling, quite high, gives the piano a special resonance," Andsnes had reflected that morning. "From what I remember of recording some of Grieg's Lyric Pieces there about 15 years ago, the Steinway has a bell-like quality in the treble and a warm middle register." It does. It can also take extremes of violence and refinement, as remarkable in Gimse's dizzying sweeps through "Perpetuum mobile" as in the four-hand "Bells – Hommage à Stravinsky" and the barely overheard voices of "Les adieux – in Janáčeks Manier" as well as the concluding "Aus der Ferne", a last lunge amid the dying of the light making me jump out of my skin.
The three young string players glided in and out of the room, Nisbeth taking up the viola for two unaccompanied pieces, violinist and cellist playing the more spacious Liszt pieces which Andsnes had planned as contrast to the Kurtág masterpiece miniatures. And there was also "La Lugubre Gondola", a short meditation on Wagner and Venice poles apart from the Grieg of the Lyric Pieces – though how, essentially a human god of small things, he would have loved the myriad worlds conveyed in Kurtág's very visual sketches.
Though past midnight, it still wasn't quite dark as we strolled along a beech avenue to find transport back to Bergen. This was a perfect epilogue, but with so many great international artists packed into a small town, there were bound to be further encounters – over breakfast, for example, with half the cast of the phenomenal Mies Julie, opening at the big theatre up the hill the evening after my departure; it wasn't difficult to tell outstanding actress Hilde Kronje that this had been one of the most shattering things I'd ever seen in theatre when I caught it in London. And there, queueing for security at the airport, were two young players from the Ensemble Allegria. If there's a less than natural, courteous or amiable Norwegian, I have yet to meet one; the people, as much as the extraordinary landscape of glaciers and fjords which opened up in the late-arriving sunshine as the plane soared, define the beauty of a Norwegian stay.