Sweeney Todd, London Coliseum |

reviews, news & interviews
Sweeney Todd, London Coliseum
Sweeney Todd, London Coliseum
Barber, pie-maker and orchestra all predictably consummate, but the staging lacks focus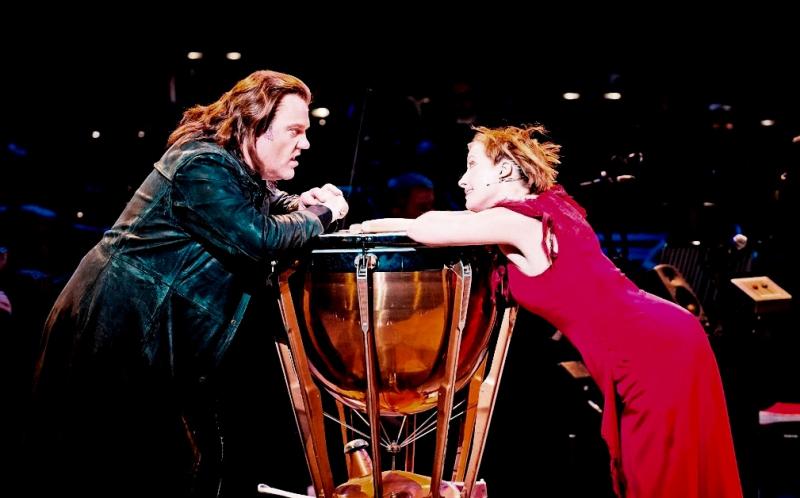 Pie-chat over a kettledrum: Bryn Terfel and Emma Thompson
Still they keep coming, 35 years on from the London premiere of Sondheim's "musical thriller": Sweeneys above pubs, in pie shops, concert halls and theatres of all sizes, on the big screen, Sweeneys with symphony orchestras, two pianos or a handful of instruments wielded by the singers, Sweeneys as musicals and as operas, the dumpy and the tall. Which type was this one? Not a vintage English National Opera production, that much seems clear.
A year after this more than semi-staging's Lincoln Centre unveiling with the New York Philharmonic, the ENO Orchestra is very much centre stage, a huge enticement since, for all the claustrophobic theatrical merits of Sweeney Todd in small spaces and studio theatres, nothing can compensate for the loss of Jonathan Tunick's classic orchestration, raising Sondheim's score which is already halfway to Britten to the level of Peter Grimes. It's in the voices that the less satisfactory half of ENO's new musical theatre partnership, the GradeLinnit Company, seems to cue compromise. I have nothing but praise for the bright and mostly young show people who make up this ensemble. But there's no reason why the resident chorus wouldn't have done just as good a job, especially since director Richard Jones has shown us, above all in The Girl of the Golden West, that they can function vividly as individual characters.
Nor is there any part in Sondheim's darkest work of music-theatre which couldn't be taken by a soloist in an opera company. Sure, this kind of mix can work just as well, but it involves one fatal flaw: amplification, and of the crudest sort which means that you can't often pinpoint where the singer is coming from. Worst, it flattens out the rich colours in Bryn Terfel's greatest of bass-baritones (pictured above).
For nearly a decade now he's been potentially the best Sweeney Todd since Len Cariou, and certainly the least hammy. But I stress the "potential" because I've not seen him work under a director who can fully unleash the inner demon. He begins plausibly as the most sullen and unfeely-touchy of escaped convicts; the stillness is a great virtue and brings this outsider closer to Terfel's Flying Dutchman (down to the same sort of coat as the one he wore, if memory serves, for the Zurich Opera's Wagner in concert). But something needs to snap when his one-time persecutor and rapist of his wife, Judge Turpin, slips from beneath his razor, and we get that only in the menacing, shot-silk voice. Director Lonny Price makes the fatal error in the epic "Epiphany" of having Terfel's Todd step down into a red-lit audience and threaten the front rows. Uneasy the laughter may be, but it's still laughter, and it works against the Brechtian "distancing technique" engaged, sometimes rather cornily, elsewhere.
Somehow the tension slips away partly because, to quote Into the Woods in quite a different context, people die but they don't: barber's-chair victims get up and walk off. The giant red hand that flashes at such moments of execution is partly successful; otherwise the stylisation could work but it doesn't. Nor is the clash of modern dress with a barely underlined Victorian melodrama clearly delineated. For me, it gets off to a bad start: we all need the Gothic organ improvisation hair-raisingly interrupted by factory whistle before "The Ballad of Sweeney Todd" (later there's a foghorn, not so scary). Price's first gambit is his best: everyone comes on in evening dress, but rips it off, knocks over the flowers and turns a grand piano upside down, dropping it with a thwack. There are good gags throughout, but no new insights into any of the characters.
Fortunately Emma Thompson (pictured below) knows exactly what to do, repeating little of the usual shtick and adding plenty of her own as capitalist Mrs Lovett who moves from popping pussies into pies and on, with Sweeney's help, to people. The cockney accent, laced with ribbons of Dot Cotton, includes some magnificently pregnant phrase endings and boy, can she hold a pose. The timing, both musical and dialogue-wise, is flawless. Song-wise, she has a fine chest-voice but can't take it quite as high as many show singers: what emerges above it is a trainable but fledgling mezzo. That doesn't matter too much beyond "The Worst Pies in London".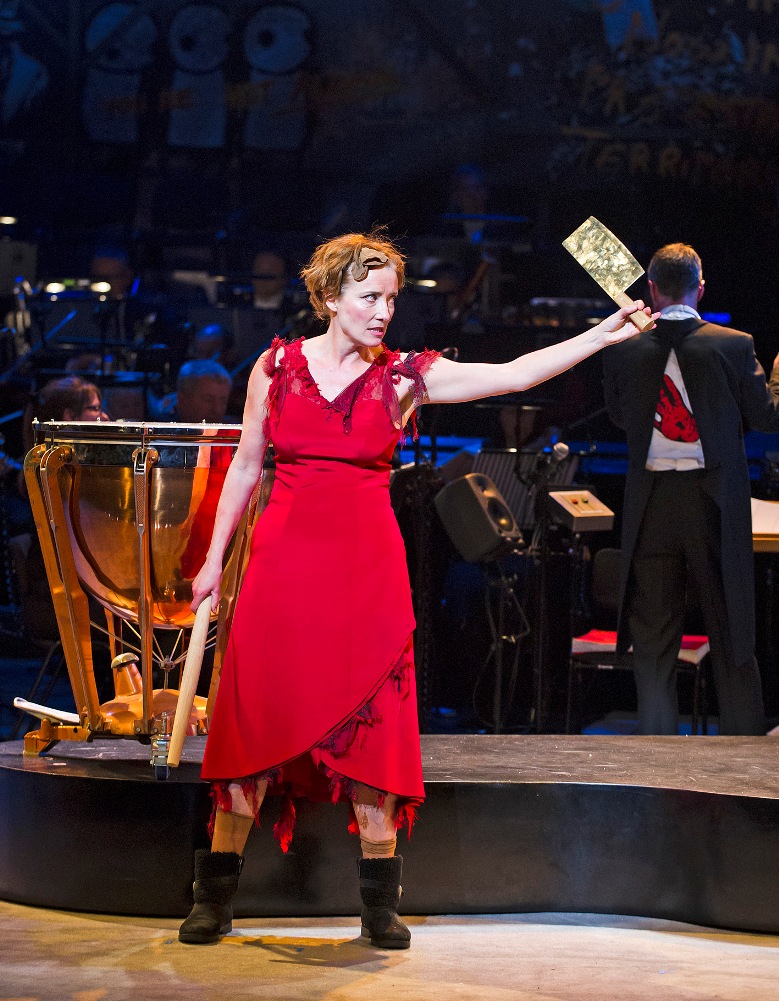 Other accomplished near-operatics come from Philip Quast's powerful Judge and John Owen-Jones's cod-Italian tenor Pirelli; a full top C may not be in his armoury, but he turns that to good effect. Sweet heroine Johanna could do with more edge, and more lyric-soprano focus, than Katie Hall gives her; I'm not quite sure what voice the other juve lead, Matthew Seddon-Young, might be, but he has presence and style enough to carry off sailor Anthony's big number. There's a well-pitched, for which read unembarrassing, Beggar Woman from Rosalie Craig, and Jack North's Tobias would be perfect if he didn't rely too much on the miking; a tad more energetic projection wouldn't go amiss. Still, "Nothing's Gonna Harm You", in tandem with Thompson, is certainly a highlight.
Is making the orchestra the centre of attention a good idea? The problem is that they're dimmer behind the proscenium arch than they would be in the pit. It may be that which makes David Charles Abell's conducting seem a little under-energised at times, but the ensemble is never less than tight and it probably speaks volumes for Abell's direction that nobody misses a beat (Terfel, who can memorise the whole of Wagner's Wotan, has slipped up with Sondheim's tricky entries in the past).
Since – it needs to be stressed – this is a full rather than a semi-staging, there's not much to be gained from the instrumental focus beyond a trombone being used as a mincer and a kettledrum as Mrs Lovett's chopping table. But how poetically the instrumental colours tell, especially the solo strings led by ENO leader Janice Graham (a supremely queasy solo from her when Mrs Lovett sours Toby's protective anthem). Sweeney's best with its full complement of players, for me at least, and two charismatic leads, all of which it gets here; what a shame that the whole isn't quite the sum of its very classy parts.