We Made It: Fashion Designer Anna Skodbo |

reviews, news & interviews
We Made It: Fashion Designer Anna Skodbo
We Made It: Fashion Designer Anna Skodbo
The east London fashion designer on crowd-sourcing, sustainable fabrics and dressing MPs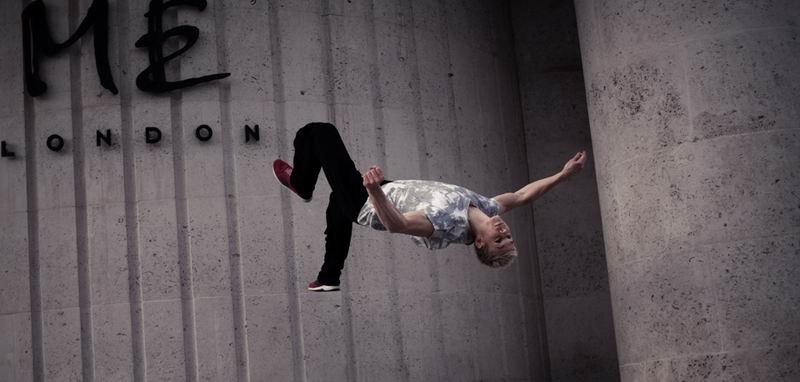 Parkour, or freerunning, performer wearing Anna Skodbo's Phannatiq clothing
Anna Skodbo's route to designing her ethical, environmental and "crosstown" fashion brand Phannatiq has hardly been ordinary. From teaching martial arts, to living on rice and ketchup, to stints playing cello in a Norwegian black metal band, Skodbo has had what you might term a "portfolio career".
She brings that eclectic approach, as well as a deep commitment to a more sustainable and less narrow approach to fashion, and a passion for her home in Walthamstow, eastLondonto Phannatiq – her clothing label.
Phannatiq has recently moved from a traditional "high fashion" approach, to using crowdsourcing to cut costs and pricing, while retaining the "classic cuts, bold shapes and sassy anti-fit" as well as the commitment to ethical and environmental principles.
SIMON MUNK: You have followed a fairly wayward and unusual route into fashion design - tell us about your other jobs, careers and passions and how that all coalesced into Phannatiq…
ANNA SKODBO: [Laughs] Where do I start? When I was 15 I made a bet with a class mate that I would be a famous fashion designer. I guess I still have that in the back of my mind. At least I'm a fashion designer...
I have always made things, for as long as I can remember, at least from the age of four: not just clothes but also looms to do bead weaving, bobbins for spinning, bags, hats, floor rugs. But I've always liked to have my fingers in as many pies as possible. When I was in my early teens I was really into bead jewellery. I made so many pieces, everything from making and glazing my own ceramic beads to native American-inspired bead weaving. I even worked for £3 an hour in a local bead shop inEdinburghjust to get a discount! I was always doing something. At school I cleaned office buildings and worked in the most incredible members-only old man's pub. I also was teaching martial arts at my school, snowboarding at Hillend every other week, rock climbing and training in Tae Kwon Do, Au Denku Jitsu and Chungdokwan four days a week. It's hardly surprising I didn't think much of school at that point.
After school I ended up buying the cheapest single ticket on Ryanair toNorway. I turned up with two suitcases, £200 and a snowboard. I was renting part of the hallway in a shared house ‑ it had three walls and a curtain and was the length of a single bed and about half a metre wider. I survived on £200 a month equivalent ‑ so there was a lot of rice and ketchup. At this point I also started playing the cello in a black metal band, and while I enjoyed the studio work I chickened out two weeks before their first major concert. I am at least on their first EP!
After 2 years I started a college course learning costume design and theatre make-up. Through that I got to do casual sewing for a touring theatre which I did on and off for the next two years. I also worked on some music videos and theatre productions designing costumes.
I started a BA in fashion in 2007, and supported myself in the beginning by flying back toNorwayevery holiday to work in a bar and freelance for the theatre! In the first year, through a tutor, I interned with en events company which ran one of the main off-schedule venues for London Fashion Week. I was working back stage, dressing shows. The hours were long but it was an incredible experience.
The following season I came back and did the same thing and was offered a full time internship. Halfway through that internship I was made assistant backstage manager. And after fashion week I was invited to be assistant backstage manager for theBritain's Next Top Model promotion tour, travelling to major shopping centres around theUK, helping set up shows and events.
By the beginning of third year I was running the presentation for them. I graduated in 2010 with first class honours. Six months later I launched my label Phannatiq ‑ I figured if I'm going to be piss poor, I may as well be piss poor doing my own stuff!
You are also a harpist. Do you still play, and how do your music and fashion go together?
I couldn't live without it. I've played since I was 14; before that, the cello. It's something I would never want to do professionally ‑ I don't want to lose the joy of it. So I don't really push it. It was always either going to be fashion or music, and I guess I chose fashion.
I've had access to music all my life. My mother was a folk singer in the 70s and I grew up surrounded by people who sang and played. I love traditional folk music. It gives you such a feel of the soul of a culture. My favourite are Hebridean, Scottish and Irish, which is what I mostly play, although there can sometimes be a sneaky Dolly Parton. I played at [legendaryLondonfolk club] the Troubadour with a friend once.
What excites you currently in fashion?
The sustainable revolutions happening at the moment and innovative fibre technologies are amazing ‑ silk being spun out of milk proteins and circular supply chain systems. I am currently challenging myself to focus on zero waste pattern cutting.
I have already designed two garments. It's really fun, but also challenging making something that works in that way and also looks brilliant on the human body. When it comes to people, I have so much respect for folk who refuse to grow old gracefully and generally don't give a fuck. I can only wish to be as graceless when it's my turn.
What is different about your approach to Phannatiq?
I don't know how different I am from others. But I do feel strongly about facilitating rather dictating style, so I try and make clothes that can be styled up or down and can be worn by anyone of any size. I try where possible to make my clothes unisex and also, where possible, avoid traditional sizing, having letters to denote how big the garment is and providing images of different-sized bodies in them, so people can decide how fitted or baggy they want a garment based on their style. I have tops which fit sizes 6-20.
I am constantly working on ways to improve the environmental and humanitarian sustainability and with every year that goes by, more processes are replaced / implemented ‑ currently about 80% of our fabrics are certified organic, all our whites are unbleached, with further fabrics made from recycled fibres or hand woven. I have finally found 100% recycled paper for our tights packagings, our garment packaging is recyclable and our garment bags are biodegradable. I also give customers the choice of having their order sent in re-used postage packaging ‑ so far everyone has chosen this option. Even then, of course there's a long way to go!
You've recently used crowdfunding to bring down the price of your clothes. How has that worked out?
I was blown away by how much support I received. So many different people pledged, ranging in age between 20 and 70! The benefit of crowdfunding is more people hear about you than if you go to your bank manager for a loan, plus you don't owe anyone anything other than your sincerest gratitude either ‑ because what they've done is bought a garment and been happy to wait a few months for it.
Crowdsourcing has also not affected how hands on I am, as I've always done all the pattern cutting, toiling [prototyping] and sampling, but it's made my clothing accessible price-wise to more people. I still do all the bespoke work in my studio.
Keeping it local - to East London specifically – seems important to you. Your latest season shoot saw Walthamstow locals in Vogue. What does East London mean to you?
The Walthamstow shoot was so liberating ‑ giving all the limiting, unrealistic beauty ideals a massive two fingers up! Humans are amazing and stunning! It was also great because of how many people got on board with this project. We had sizes 6-20 and ages 2-50! It was wonderful to have so many personalities and stories shine through. The challenge was to choose outfits to suit a person rather than imposing a style.
Walthamstow is an inspirational place to live. There is such a community and there is so much talent here. But to be honest, most people have an amazing story and incredible things to offer, you just have to stop and find out.
The images are also going to be exhibited during the E17 Art trail in the Chequers Pub, which is where we shot the campaign. The photographer, Stephen Berkeley White, also a local, feels really strongly about celebrating the beauty in all humans too so it was a wonderful experience for both of us. And yes, I would say Walthamstow is well and truly home for me now even if I came about it in a roundabout way.
You can see the shoot at Vogue UK.
Your last collection was shot with parkour performers. And you've recently been dressing your local MP. Why?
It boils down to me liking to do things my own way. I've always been contrary by nature, for better or worse ‑ a lot of times, worse. In this case, I think it's veering towards the better. I have a massive respect for Stella Creasy – Walthamstow MP. She stands up for what she believes in, does not back down, and gets things done despite working in an industry which still has a very old boys club mentality. I am so proud to dress such an inspirational lady and to have her represent us in Parliament.
It's exciting to dress anyone. Of course it's definitely exciting to dress people who are inspirational on a public scale and there have been so many cool people, like Munroe Bergdorf, Leanne from Little Mix, Kate Nash, Preeya Kalidas, Charlie XCX… But equally my customers are so often incredibly inspirational in their own right. I have a lady who writes fantastic Victorian crime novels, very stylish career women and men, lawyers, doctors in psychology, film makers and journalists, to name a small fraction.
You also seem determined to mix very traditional fabrics – Harris tweed, for instance – with distressed patterns etc. How did this come about?
I like the juxtaposition, to risk a very overused word. But it doesn't seem that weird to be honest, they work well together. I do like the idea of hand-woven fabric, which is possibly why Harris Tweed has such an appeal for me. Also the Hebridean connection I guess.
How important are the people you work with in the factories, at the fabric suppliers etc, to you? What do you look for in the people you work with?
Very. I have a very good relationship with my fabric supplier, who tells me exactly where each fabric is sourced from and in many cases where the fibres are spun too. They feel very strongly about sustainability and transparency too. The person who prints my fabrics has his own set up and is a friend of a friend. And the factory where the garments are made are very open about what they are currently doing in that department and also what they are working on improving. I currently have a friend working with an NGO creating product with factory pre-consumer waste and one of their suppliers is the factory, so they have some of my waste fabrics too.
Where do you think fashion is going next? What about "craft'"
That's a difficult question! I think people are starting to be much more interested in the artisan side of things. It's coming full circle in that respect, after the mass market move of post war consumerism - although it's still quite niche. Who knows? I sure as hell don't…
Giving all the limiting, unrealistic beauty ideals a massive two fingers up! Humans are amazing and stunning!
Explore topics
Share this article