Shadows of War, Birmingham Royal Ballet, Sadler's Wells |

reviews, news & interviews
Shadows of War, Birmingham Royal Ballet, Sadler's Wells
Shadows of War, Birmingham Royal Ballet, Sadler's Wells
Atmospheric revival of 1944 Miracle in the Gorbals, the centrepiece of an unusual triple bill
Saturday, 18 October 2014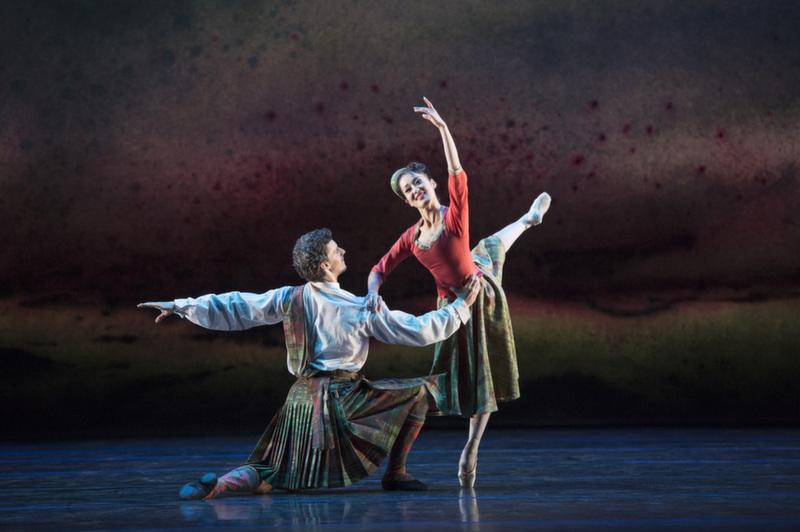 Nao Sakuma and Iain Mackay in David Bintley's Flowers of the Forest.
Another week, another war commemorative; it's the story of all the arts in 2014. But – because you can always rely on David Bintley and Birmingham Royal Ballet to be different – last night's programme at Sadler's was overshadowed by the Second World War, not the First. Nor were there any soldiers or war widows to be seen: instead this remarkable mixed programme danced from the doomed brightness of the inter-war generation, to religious experience in war-torn Clydeside, to a kilt-girt, abstract, bittersweet lament.
Kenneth MacMillan's 1979 La Fin du Jour is an odd bird. Deliberately evoking the inter-war years, it looks and feels superficially like one of Frederick Ashton's sweet little Thirties numbers as performed by BRB in their summer tours this year. But the sugary colours, sparkling smiles and pastiche Bright Young Things costumes are paired not with Ashton's light-touch classicism, but with MacMillan's rather tortured late style of choreography. The jarring effect is no less perverse for being deliberate (as ever with MacMillan it's about the darkness under the surface) and it's hard work to watch the combination of grimacing, bum-wiggling, and ankle-twisting manouevres on pointe.
It's a great credit to Yvette Knight and Céline Gittens in the solo female "aviatrix" roles that they endured the awkward partner work so graciously, projecting composure and serenity even as they were lifted, dragged and twisted by five or six men at once (pictured right: Nao Sakuma in the same role). Both danced beautifully too: Gittens both crisp and fluid, her arms like a silk scarf in the wind, and Knight with an arresting stage presence, radiating the calm confidence you need in order to credibly represent a lost generation while wearing a silver lamé flying helmet. But best of all were the intermittent tableaux invested with poignant stillness and nobility: men with upcurved arms stood like classical sculpture staring into the sky as the choreography briefly mirrored the islands of velvety, sad piano notes that float on the bustling, brassy jazz waves of Ravel's Concerto in G.
If the auditorium at Sadler's contained an unusual number of octogenarians last night, it was probably because in his capacity as self-appointed guardian of British ballet heritage, David Bintley had commissioned Dame Gillian Lynne to recreate an iconic wartime production, Robert Helpmann's 1944 Miracle in the Gorbals. While I can't comment on its faithfulness to the original, the resulting ballet is a remarkable achievement, chiefly for its atmosphere, which from the opening air raid noises on is powerfully immersive. The corps de ballet, in believable versions of 1940s clothes (no pointe shoes, at any rate), goes about the business of a Glaswegian slumscape in a series of diverting vignettes – frying fish, carrying laundry – under the looming set's stylised tenement buildings (recreated by Adam Wiltshire after Edward Burra) and Lynne gives them an arresting, naturalistic movement language that fits perfectly with Arthur Bliss's often tender score.
Miracle, notable as the first ballet to centre on British-working class life, has an advantage over the similarly iconic (and similarly recreated by BRB) 1940 Dante Sonata in the shape of a clear and rather striking narrative – a Christ-like figure arrives in the notorious Glasgow slum district, revives a suicide, reforms a prostitute and earns the love of the people, but is killed through the enmity of the bitter, hypocritical Church of Scotland minister. It's a great story for dance theatre, but – at least in Lynne's recreation - the characters are types, and the dancers struggle to summon the kind of radiant stage presence that would be needed to lift them beyond cliché.
Iain Mackay, a Glasgow native himself, maks a decent stab at the thankless task of rescuing the minister character from the plot's hackneyed anticlericalism: his grief at the suicide's death is genuine, his rather stiff compassion for the beggarman touching. César Morales as the Stranger had the harder part: Helpmann, its originator, had a legendarily magnetic stage presence, and while Morales looks like a nice chap, he can't summon up the same power, and he has precious little else to help him, given almost no dancing and a drippy, proto-hippy hemp and sandals costume.
The women do better, dramatically: my favourite moments came courtesy of Delia Mathews as the suicidal girl in poignant, lonely despair (pictured above left), while Elisha Willis manages to execute the stock prostitute tropes she is given (sullen flouncing in a red dress and stilettos) with a kind of laconic defiance that makes you look twice. Yvette Knight and William Bracewell have a much better deal as the young lovers: they have a sweet little pas de deux on which to hang their (in both cases very decent) acting skills. But, remarkable, atmospheric, and worthily historical as Miracle is, it is not on first showing a straightforward success: the applause last night was very much respectful, rather than ecstatic.
David Bintley's 1985 Flowers of the Forest is, like La Fin du Jour, a work that skirts around war, suggesting it through absence, the pit of despair we hide under cheerfulness. Arancha Baselga, Tzu-chao Choi, Kit Holder and Maureya Lebowitz sparkle through its charming opening numbers, set to Malcolm Arnold's easy-listening Scottish Dances, and the darkening of the tone takes you almost by surprise, as Arnold gives way to Britten's 1940 Scottish Ballad. Half a dozen men whirling in generous kilts recall the "flowers of the forest", the idealised generation of fine, lovely youngsters in their prime cut down in war (any war). Jon Goodwin's painted backcloth is a marvel, abstractly purple and drab like the Scottish hills, its surprising depth of colour picked out by Peter Teigen's lighting to give quite different effects. In that it is much more harmonious than the piece itself, which though often lovely, in my view suffers irrescuably from the contrast between its two pieces of music, and two moods.
I have mixed feelings about this programme. As usual, I admire David Bintley tremendously for his commitment to conserving ballet's past, and for his confidence in mounting programmes you wouldn't see elsewhere. As usual, too, I came away admiring the hardworking and very likeable dancers of BRB. But these are ultimately three rather baffling pieces, each of them fascinating, none of them perfect. It's up to the individual audience member, I suspect, to judge whether being brave and interesting is more important than being successful.
You need confidence to credibly represent a lost generation while wearing a silver lamé flying helmet
rating
Explore topics
Share this article