Alien: Isolation |

reviews, news & interviews
Alien: Isolation
Alien: Isolation
Stealth and horror mix in this often unnerving resurrection of the iconic enemy…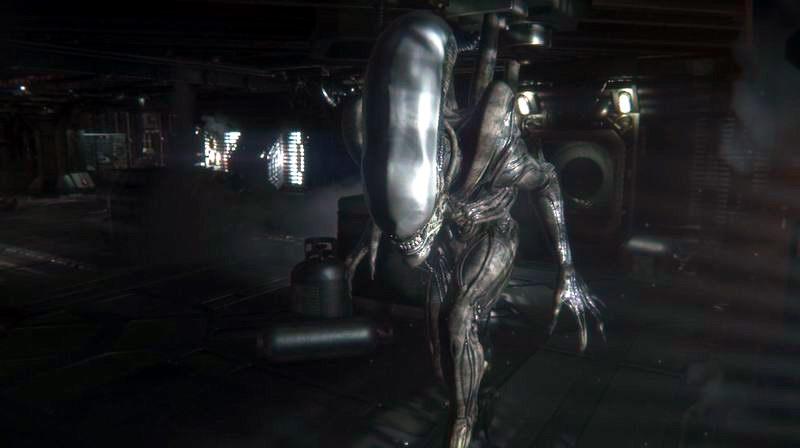 'Alien: Isolation': Yup, it's back...
The iconic monster is back in a far more successful way than Prometheus. The first-person, stealth game Alien: Isolation largely successfully returns us to the creeping horror and claustrophobic environments of the original film.
Set after the events of Alien, Isolation sees Ripley's daughter chasing the black box recorder of the original spaceship, the Nostromo. On reaching the space station it's on, of course she finds the iconic "xenomorph", the "perfect organism, its structural perfection is matched only by its hostility", let loose among a terrified and splintered population.
The result is a game that plays soft on the weapons and fights. Yes, you get a gun – but it's not much use except in tight squeezes against other humans. You also get to craft makeshift weapons – Molotov cocktails, grenades, traps etc. But these aren't to kill the alien, merely distract it while you escape or to use on lesser enemies.
Instead, the majority of gameplay in Alien: Isolation is to be found in crouching in a cupboard, or crawling under a desk or through a darkened vent, with a motion-tracker pinging away as the alien hunts for you. This turns out to be in turns both terrifyingly brilliant and rather boringly difficult.
When it all works, which is much of the time, Alien: Isolation sees you scurrying from spot to spot trying to avoid the alien, and also lethally-programmed station androids and human gangs out to ensure their own survival. The station, designed to resemble the environments of the first two films, is artfully retro-futurist and suitably dishevelled. You'll be crouching beneath a desk covered in plastic cups and blood, as the tracker starts pinging faster and faster, and then you'll catch a glimpse of black, slimy legs slithering past.
The problems with the game do really dent this tense atmosphere though. To save your progress you have to find a telephone and not have the alien nearby. It's a theoretically clever retro touch, but all it really does is force you to repeat sections over and over hoping you get the right combination of alien movement and yours ‑ the game artificially inflating the space between save points.
The alien – powered by artificial intelligence, rather than walking a preset path – also veers between being too unpredictable (increasing the difficulty) and being too dumb at times. It can blank you – if you crouch still it will often not see you in its peripheral vision. It can also get stuck. Realising after five minutes stuck hiding in a clothing locker that the alien paused, breathing, in front of you isn't just to heighten dramatic tension, but because of a bug, is boring and annoying.
The final result alternates between great set pieces that use the alien sparingly and well, and often awkward and humdrum areas. But as a return to form for the franchise, it's a great start.
Alien: Isolation is out on October 7 for PC, PS3, PS4, Xbox One, Xbox 360. Version tested PS4. Developed by Creative Assembly, published by Sega.