Dead Space 3 |

reviews, news & interviews
Dead Space 3
Dead Space 3
Twinkle twinkle little necromorph, Isaac's back and this time he's brought backup
Saturday, 09 February 2013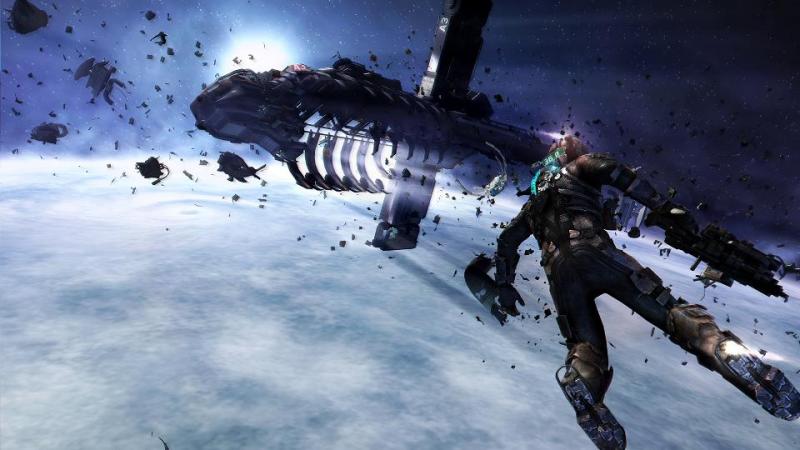 Dead Space 3: 'Anyone for a heavy-framed, acid-spraying, blade-flinging uber-gun?'
Poor, poor Isaac Clarke. Life has been tough for the unluckiest space engineer in the history of space engineering; not only has his girlfriend dumped him and got herself lost trying to track down the origin of the markers, but the insane cult of Unitology is attempting to blow him to smithereens. As if that wasn't bad enough, the last of the Earthgov forces has dragged him at gunpoint to follow in his ex's footsteps to a mysterious snowball planet called Tau Voltanis.
It's just another day at the office for our greying protagonist in this brilliant, but nevertheless flawed third instalment of the franchise. Like Isaac himself, Visceral's Godfather engine can still deliver the goods, but the signs of wear and tear are beginning to show. Isaac's movement is so heavy you can almost feel the weight of the world on his shoulders, and though it's a pleasure to finally see Isaac's features up close, Visceral's facial animation is light-years behind their motion-capturing peers.
Still, there's nothing quite like the joy of kicking a torso along a corridor while whistling "Twinkle Twinkle Little Star". Corpse-stomping is now a vital means of obtaining loot, as the rebooted weapons system has you – and your scavenger bots – salvaging raw materials in order to build your own guns. Anyone for a heavy-framed, acid-spraying, blade-flinging uber-gun? But don't be fooled by the pernicious temptations of EA's micro-transactions to buy the materials you need. You are perfectly able to pimp your weapons to ridiculous proportions without spending actual money.
It's just a shame it's only really the weaponry that has evolved. Despite a few tweaks and tricks – the ability to use guns, for example – DS3's necromorphs have become more of a nuisance than an object of looming terror. The very real tingle of fear that used to creep up your spine when you first heard them moving in the walls is now replaced with a sigh of annoyance. It's actually a relief when you enter into cover-shooter battles against human Unitologists, because it breaks up the tedium – as do your crazy weapon combos.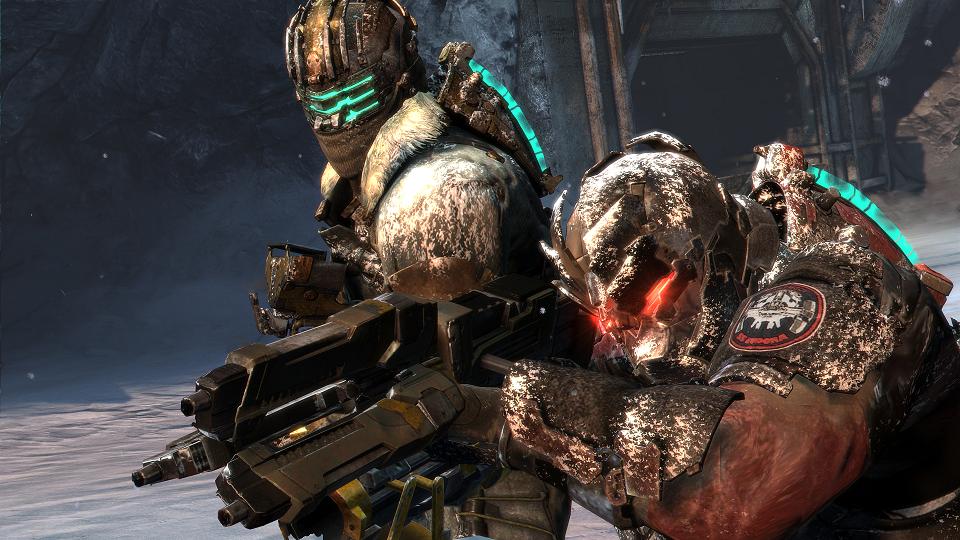 Another major change is the addition of a well-developed (if currently a little glitchy) co-op mode. Isaac, lost in space, is finally given an optional companion in the shape of Sergeant John Carver, a man as scarred psychologically as he is physically. He and Isaac are made for each other, with Carver being given enough substantial cut-scenes to make his character feel wholly three-dimensional.
Though not particularly refreshing, Dead Space 3 still immerses you in an incredibly detailed world where the tragedy only truly unfolds from the minutely imagined details. From graffiti-daubed mess hall menus, to the lists of names on duty rosters (all of whom you know to have met a horrific end); from blood-spatter trails that hint at the circumstances of their owner's demise, to personal logs still clutched in the dead hands of those who made them.
The atmospheric world Visceral have created remains a tragic and frightening one despite its flaws, and at least now when an abundantly limbed fugley with three-foot-long machete arms is running at you, there's someone nearby to hear you scream.
Developed by Visceral Games and published by EA Games. Platform PS3, Xbox, PC
There's nothing quite like the joy of kicking a torso along a corridor while whistling 'Twinkle Twinkle Little Star'
rating
Share this article