Crackdown 3 review - spectacular super-powered action that was great fun many years ago |

reviews, news & interviews
Crackdown 3 review - spectacular super-powered action that was great fun many years ago
Crackdown 3 review - spectacular super-powered action that was great fun many years ago
Nearly a decade has passed since the last incarnation but little has changed in this stagnant shooter
Thursday, 21 February 2019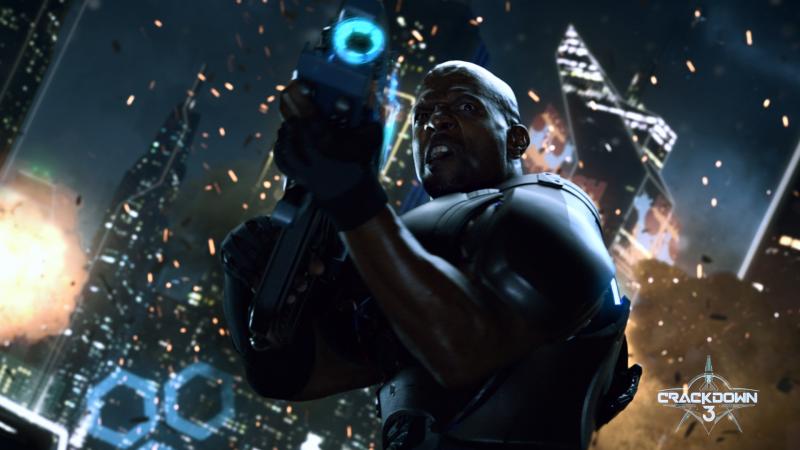 Did you play videogames back in 2010? If you did, there's a reasonable chance you played Crackdown 2. Only a reasonable chance as the game was just on Xbox 360 – this was back in the days when there was a lot more console-exclusive titles.
But if you did play, you would know just how much fun this sprawling open world run,
gun
and mega jump game could be.
Crackdown 2 was a vertigo-inducing urban romp, where as a super powered law enforcement agent you traverse the city with giant, gravity-defying leaps. Your abilities increase as you explore and complete objectives, bringing you new powers, guns, and vehicles. It was great OTT fun – the only problem was that it was quite similar to the original Crackdown launched three years prior in 2007.
So here we are, it's 2019, but from what the single player campaign in Crackdown 3 presents we're still in the heady summer of 2010 – and the game is fundamentally the same.
Your mission is to liberate a futuristic island city from the control of an evil corporation. So instead of taking down individual criminal gangs, as per the previous games, you're now fighting different divisions of the same umbrella organisation – and to do this you need to erode their influence, such as taking down power stations before getting a chance to fight the executive in charge of utilities, for example.
While fighting the good fight - a mixture of easy autolock shooting and melee combat, you'll collect dozens and dozens of orbs. These orbs are the franchise trademark – each one gives a real-time boost to your agility so you'll gradually get much better at running and jumping, to the point you'll be able to literally leap medium-sized buildings. The orbs are dotted around the island, some within easy reach; but some in fiendishly difficult places and they're a constant, and welcome, distraction from the mundane story missions.
Similarly, the more you punch, the stronger you get – to the point where you'll be hurling tanks like they're Matchbox replicas. But with all this steroid-laced action comes the biggest flaw – the gameplay is never challenging enough that you need these extraordinary abilities. A shortcoming in the first two games has successfully passed on the same genetic mistakes to the 2019 version.
Elsewhere there are noticeable changes – primarily in the multiplayer department. The co-op mode is a likeable romp with a partner, but the much hyped Wrecking Zone mode doesn't work as it should. What was once supposed to be a technological milestone using cloud computing to simulate highly detailed destruction models that could not be replicated using a single console when it was originally demonstrated back in 2015, simply doesn't fit the bill.
Instead we're presented with clunky skyscrapers, ghostly arenas, damage that doesn't really impact the gameplay and an over-simplified look that would have been out of place five years ago.
So, we're left with a game that feels like it has just woken up from a nine-year nap. Crackdown 3? More like Crackdown 2.1. There's fun here, still – but it's a stale formula that hasn't progressed. And as for the tech-busting online element? Probably best to forget all about it, not a bad sentiment to remember when considering this overall offering.