Owen Wingrave/ Pavel Haas Quartet, Aldeburgh Festival
Owen Wingrave/ Pavel Haas Quartet, Aldeburgh Festival
Perfect ensembles in Suffolk vindicate a Britten black sheep and sear in great Czech quartets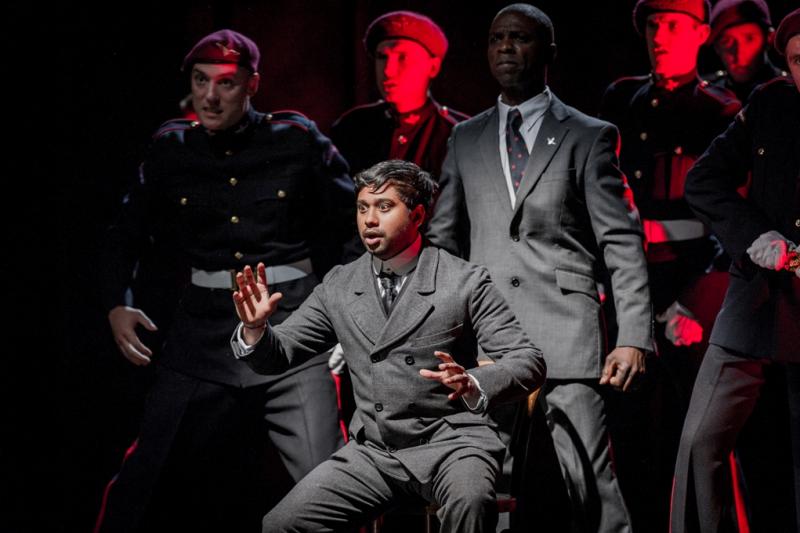 Ross Ramgobin, triumphing as pacifist Owen Wingrave
What a red letter day it is when a work you've always thought of as problematic seems at last, if only temporarily, to have no kind of fault or flaw. That was the case for me on Sunday afternoon with Britten's penultimate opera, Owen Wingrave, launching this year's Aldeburgh Festival with an ideal cast fused as one with the young Britten-Pears Orchestra thanks to the self-evidently intensive collaboration of director Neil Bartlett and conductor Mark Wigglesworth.
Britten always demanded the highest standards of artists he could trust (and, as movingly described in a programme article by outgoing festival director Jonathan Reekie, expected as much in terms of active listening from his audience, too, who did the vital work yesterday). But unlike Wagner or Strauss, he did not make the total work of art nearly impossible to realise, and it was achieved in this perfect fusion of talents working at an unusually intense level.
Wigglesworth conducts a chamber scoring by David Matthews with unerring turns of the screw
The potential pitfalls are many in this, Britten's second adaptation of a Henry James story (The Turn of the Screw was the first, and has lodged in the core repertoire as Owen Wingrave has not). The source is especially remarkable for its (pre-First World War) stance on militarism and pacifism: Owen, scion of the Wingrave family which has forged its name and patrimony out of sending young men to their deaths in countless wars, proves a higher warrior in saying "no", but has to be sacrificed to the old mores all the same.
By 1969 Britten was ready to make his second shattering musical stance as a conscientious objector, just as he had with words back in 1943, this time in a less unrelenting climate (the first, of course, is one of the 20th century's true masterpieces, the War Requiem with its fusion of Wilfred Owen settings and the Latin mass for the dead.) By then his music was even tougher, his message uncompromising - and inevitably, given the clash between two types of inflexibility, mostly two-dimensional. He wanted to make a television opera, with all the possibilities of cross-cutting and focus on soliloquies that entailed. The result, filmed in this same Snape Maltings and watched by nearly a quarter of a million viewers, was impressive: no staging I've seen until this one has come close.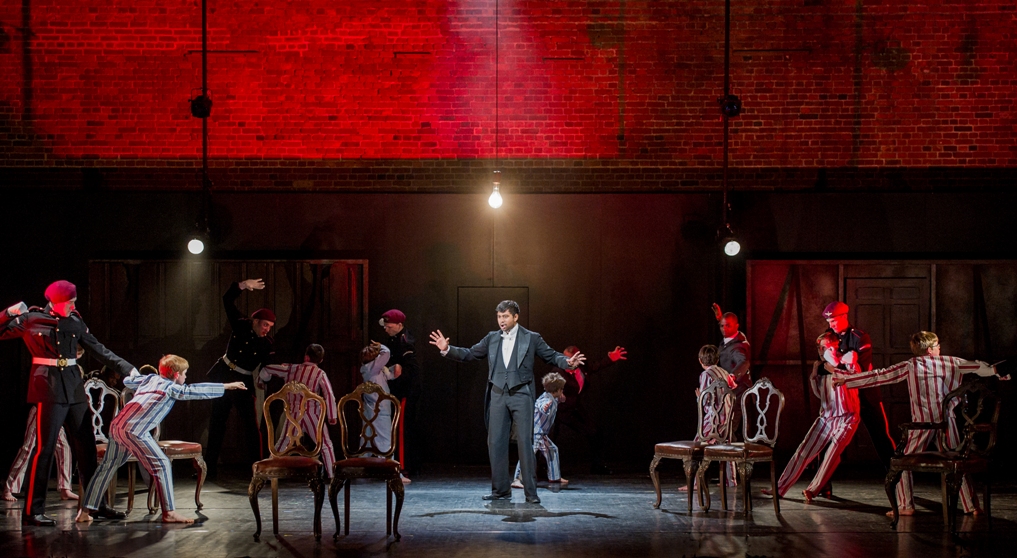 Bartlett handles the spotlights on interior monologues well, even if lighting designer Ian Scott didn't on Sunday afternoon quite seem to catch every cue (and that's my only slight cavil about a production which, like Bartlett's equally singular staging of The Rake's Progress in the Maltings some years back, makes a virtue of shoestring economy in the designs of Simon Daw and Sue Wilkinson). Wigglesworth conducts a pared-down but never thinner-sounding chamber version by David Matthews – who better, as one of Britten's best disciples? – with unerring turns of the screw from the first stunning gamelanish tattoo of the prelude through to interludes of surprising if always eerie beauty.
The highlight of those, exquisitely played and paced, comes before the disastrous supper party at the Wingraves' haunted house Paramore, and the denouement is almost blinding in its oddly cathartic magnesium flare. Wigglesworth's Peter Grimes from Glyndebourne is the deepest I know on disc, Britten's own Decca version included, and here he puts not a foot wrong. The young Britten-Pears Orchestra musicians, capped by a trumpeter playing a characteristically uncompromising, barbed part as fanfarer, are simply stupendous.
As are the fresh graduates in a flawless ensemble. Two have already been seen in their roles - though not by me - in the Guildhall School's evidently less effective production last year. There's no doubt that they have benefitted from working with their superlative colleagues and mentors: Wagnerian soprano Susan Bullock - newly CBE'd, though she's already ascended the throne as Britten's Gloriana - in the stentorian if under-nuanced role of the dragon aunt, Janis Kelly as the dependent Mrs Julian, Richard Berkeley-Steele as the ranting old-warrior grandfather (the three pictured below with Catherine Backhouse's Kate and James Way's Ballad Singer) and Jonathan Summers in still splendid voice as Owen's not unsympathetic military tutor Coyle.
None of these in any way outshines the newcomers simply because you feel – as in Richard Jones's Glyndebourne Rosenkavalier – that everyone is absolutely in possession of the meaning and significance of every line as well as the pace and instrumental colours that guide their characters (supertitles might be helpful, though, for the many overlapping ensembles). We know that when Samantha Crawford's Mrs Coyle, crystalline of tone and diction, dismisses Owen's love, the entrapped and confused Kate Julian, as "hateful", her husband is right to retort "not hateful - only young", because we see that while at the same time we hear only exceptionally flinty and brilliant tone from the superb mezzo Catherine Backhouse - also much praised by Alexandra Coghlan in her Arts Desk review of the Guildhall production. As Coyle's young men, Isaiah Bell (Lechmere) and Ross Ramgobin (Owen) offer interpretations which are totally convincing and committed.
Indeed, the greatest triumph belongs to Ramgobin's Wingrave (pictured below with Summers's Coyle), as it should. He shows us an adolescent at breaking point right from the start, which makes Owen's stands against an unrelenting fury-family and his solo in praise of peace – for the first time in my experience truly tear-jerking and desperately sad as the vision crumbles – all the more impressive. Bartlett's strong, simple coup is to make the "ghosts" who threaten the objector, family portraits of implacable old Wingraves, a movement group of present-day soldiers as threatening bullies. The action proper still belongs to James's late Victorian/Edwardian era. So when Owen sings that he is "blockaded by the past", we see that the future is just as impenetrable: so it goes on and on. The young Wingrave has to die not because he can't leave behind a tradition, but because the ongoing bestiality behind war's inflexible demands – astoundingly represented by the soldiers joining the family howls of "How dare you!" - will give him no future.
There's just one hope. As Britten moves from the jabs and glitter of the first act to the timeless ballad of the Wingrave ghosts – the father and his son whom he killed with a blow when the boy refused to fight – hauntingly sung by James Way, Bartlett is alert to the repeating drama of child abuse in Britten's operas. Which, if we take the testaments of two of Britten's closest associates, reflected his rape by a master at school. The new dimension of horror is offset by the ballad-singer's final refusal to join the military salute to the tragedy. There will always be objectors, the production underlines, even if they remain a minority. See this production here or at the Edinburgh Festival; we'll never get a better.
The Saturday afternoon before Sunday's second operatic performance offered no relaxed prelude to the harrowing. This was a two-concert epic of high Czech drama in two great string quartets apiece by Smetana and Janáček from their young compatriots - or almost, since Slovakia is now another country - in the Pavel Haas Quartet (pictured below). The players have an infallible sense of urgent communication both with each other and to a riveted audience ideal for the near-anarchic disruptions with which Janáček hedges around his late-romantic lyricism, and their earthiness made Smetana's Bohemian folk dances sounded like something much further to the Slavic east. Underpinned by Peter Jarušek's robust but never uncultured cello, they pierced collective souls with their resonance from the platform beneath the altar of Aldeburgh Church. The Piper window celebrating Britten's three church parables seemed to glow ever more intensely in sympathy as the afternoon raced on.
Perhaps the big surprise was not so much how Smetana's autobiography paved the way for Janáček's two quartet narratives – the first based on Tolstoy's tale of savage jealousy and a brutalized woman, The Kreutzer Sonata, the second on his love for the married Kamila Stösslová – as how absolutely equal the two composers are in their searing.
Smetana's Second Quartet is equally modern in its jagged juxtaposition of physical shock and bittersweet romanticism, as Schoenberg observed. But it was less the penetrating representation of his impending deafness with the tinnitus ring of the first violin towards the end of the First than the whole of that masterpiece's slow movement which went deeper even than the Janáček companions. Aldeburgh's intensive programming under the admirable and approachable Pierre-Laurent Aimard is to offer a full rainbow of 20th century and contemporary wonders over the next two weeks, but those who like me only caught some events in the stunning first weekend can feel that their own little slice was food for the imagination to work on for at least as long.
Overleaf: two films from Aldeburgh: a short trailer featuring the astounding prelude, and Neil Bartlett's introduction
Everyone is absolutely in possession of every line's meaning and significance as well as the pace and instrumental colours that guide the characters
rating
Share this article