Abbado Memories of the Berlin Phil Horns
Abbado Memories of the Berlin Phil Horns
Two members of the famous section recall playing under the maestro
Wednesday, 22 January 2014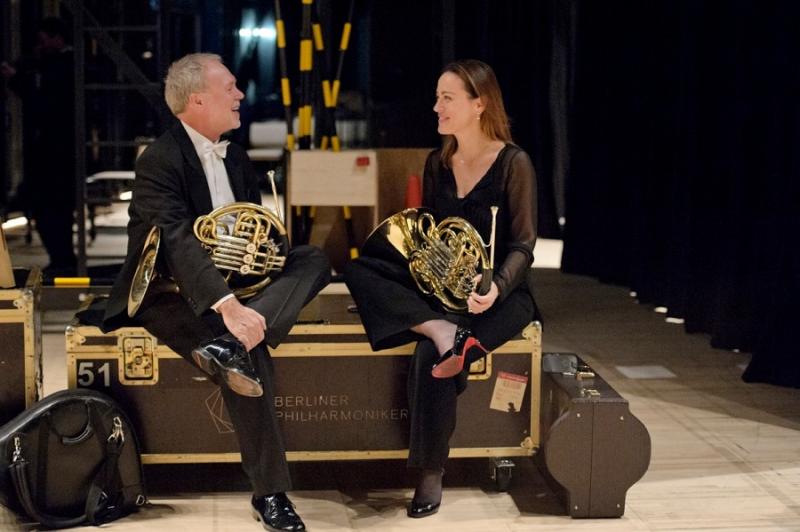 Fergus McWilliam and Sarah Willis of the Berlin Philharmonic horn section
Claudio Abbado became the Principal Conductor of the Berlin Philharmonic in 1989 and continued his association with the world's most illustrious orchestra until very recently. Two members of the Berlin Phil's famous horn section share their memories of playing under the modest maestro.
FERGUS McWILLIAM
I am of the generation who in late 1989 elected Claudio Abbado to succeed Herbert von Karajan. I remember him being quoted by some journalist as having said (years before) that whoever followed HvK would be a "transition conductor". Ironic that it should turn out to be himself. He was truly astonished and indeed shocked to receive the call from us. He never reckoned with this possibility.
Of course my most powerful musical memories of Abbado are of his Mahler symphonies – he did No 1 right at the beginning of his tenure and it was scintillating! He was also extraordinary at Beethoven's Sixth and Brahms' Third, oddly, precisely where HvK was somewhat at a loss.
I was struck with how Abbado could make sense of the over-arching structure of Mahler's colossal Sixth Symphony. He was particularly successful with the last movement. There is also a near perfect recording of the Eighth. But then the Ninth! I think I personally was involved in well over 35 separate performances of that symphony and for me it was Claudio's most personal work. Both harrowing and uplifting at the same time. But he was magic with all Schubert, Wozzeck, Elektra, Boris Godunov, Otello for example. He broadened the Philharmonic's repertoire hugely and encouraged – by example - many other orchestras and conductors to be more adventurous in their porgramming.
For me, these last two years almost eclipsed all that had gone before
Finally, after his fight with cancer in 2000 he returned to us for two years in which he concentrated largely on Beethoven and Wagner, eschewing Mahler almost entirely. For me, these last two years almost eclipsed all that had gone before. Witness the live Beethoven cycle from Rome 2000, Parsifal and Tristan.
When we first elected him, the world couldn't understand how we had turned to an Italian intellectual and it was difficult for Claudio to gain traction with German and the Salzburg audiences, as well as the music press. But by the time he left us he was considered by the very same press to be the leading conductor of his time – was raised to the Pantheon. Finally, Claudio was instrumental in getting El Sistema noticed in Europe and in planting the seeds of the institutional relationship between the Berlin Phil and El Sistema.
SARAH WILLIS
I joined the Berlin Philharmonic in his final year, but I had played with him often as an extra. I remember as an extra coming in and not having a clue how the others knew where to play. He had his very unique style and it was something you had to get used to. I realised there was this rapport. Claudio didn't say much in rehearsals. He preferred to play things through. He would look incredibly offended if something had gone wrong; if something disturbed the music it was almost painful for him. But the concerts were always very different to the rehearsal. He didn't like to talk much in public anyway but not at rehearsal either. I did the only interview I think he did here [in Berlin]. When I asked Claudio to do an interview for our Berlin Philharmonic Digital Concert Hall he said, "I'll do it if Maurizio Pollini does." Pollini said, "I'll do it if Claudio does it." So they both did it. And I invited [the soprano] Anna Prohaska in case neither of them felt talkative.
He transformed in the concerts. I was amazed by his hands. They were so unbelievably beautiful. It was as if they were painting when he was conducting. He got a sound out the orchestra that only Claudio could get. I just wish I knew how. On the other hand I don't think he really knew himself. He was an absolute magician. He gave himself up to the music totally onstage – he would just conduct with total abandonment. On a bit emotional concert day with Claudio it really felt for me like I was flying and I would come offstage and feel so moved by the music because of the level of passion that he put into. The intensity of the concerts were always a wonderful surprise after having spent the rehearsal just playing through things. Claudio preferred to show rather than tell.
We've lost Claudio the person but what we haven't lost is his incredible musical legacy. And this morning we had a minute of silence before the rehearsal and then we had a tribute to him from [horn player] Klaus Wallendorf and Zubin Mehta told us some stories about when he and Claudio got thrown out of a choir they were singing in for making trouble when they were young. It was very touching. It was very difficult to play after that. We started with Strauss's Ein Heldenleben - "A Hero's Life" - which seemed very appropriate. We're playing that this week and dedicating the three concerts to him.
Overleaf: watch Sarah Willis's interview with Claudio Abbado, Maurizio Pollini and Anna Prohaska for the Berlin Philharmonic Digital Concert Hall
It was as if his hands were painting when he was conducting. He got a sound out the orchestra that only Claudio could get
Explore topics
Share this article