theartsdesk in Raploch: Sistema Scotland Makes Big Noise |

Classical music reviews, news & interviews
theartsdesk in Raploch: Sistema Scotland Makes Big Noise
Stirling's faithful model of the Venezuelan music education project prepares for The Big Concert
Windy city: some of Big Noise's teeming woodwind section
For perhaps the most widely cheered orchestra on the planet, it doesn't look like much of a concert venue. Fenced in with wire, flanked by a road which leads away to low-rise housing, a scrappy patch of scrubland stretches over a few nondescript acres. Indeed the only hint of anything to caress the eye is the looming silhouette of Stirling Castle on an adjacent promontory.
It's here nonetheless, in Raploch on Thursday 21 June, that The Big Concert will take place and, with three other events nationwide, officially open the London 2012 Festival. On a stage as sizeable as the one they rig up at Glastonbury will be the 280 or so musicians of the Simón Bolívar Symphony Orchestra. For the first part of the concert they will be joined by 130 local musicians who belong to something called Big Noise. Some are as young as seven, none older than 12. Every performer, from Gustavo Dudamel downwards, will have one thing in common: they are all products of El Sistema.
Sistema Scotland will be celebrating its fourth birthday onstage with the Venezuelans as a climax of a four-day visit in which the SBSO will be helping to teach, performing in front rooms and generally bigging up the music education project which, of the many satellite imitations across the globe, is thought to be the most faithful model of the original Venezuelan Sistema. The Bolívars will then head south for a glitzier engagement on the South Bank in London. But it is here in a housing scheme on the edge of Stirling that the globetrotting musicians will encounter mirror images of their younger selves, albeit with thick Scottish accents.
We would be quite happy with 50 per cent of the eligible children. We have 75 per cent
Big Noise is the brainchild of Richard Holloway, the head of the Episcopalian church in Scotland who, when also in charge of the Scottish Arts Council, was inspired by the story of the Venezuelan Sistema to see if one could be set up in Scotland. Rather than head straight for the Gorbals or one of the other more endemically troubled areas of the country, Raploch was selected for pragmatic reasons. It is a self-contained geographical area with a settled population. If they could get hold of a generation of five-year-olds, the chances were that they would still have access to them at 12. Raploch was also undergoing regeneration and Stirling council were open to the idea of tacking on a musical education project as a sort of spiritual component, or what hereabouts they call "regeneration in the head" without which, it is argued, gleaming new sports centres don't do the trick.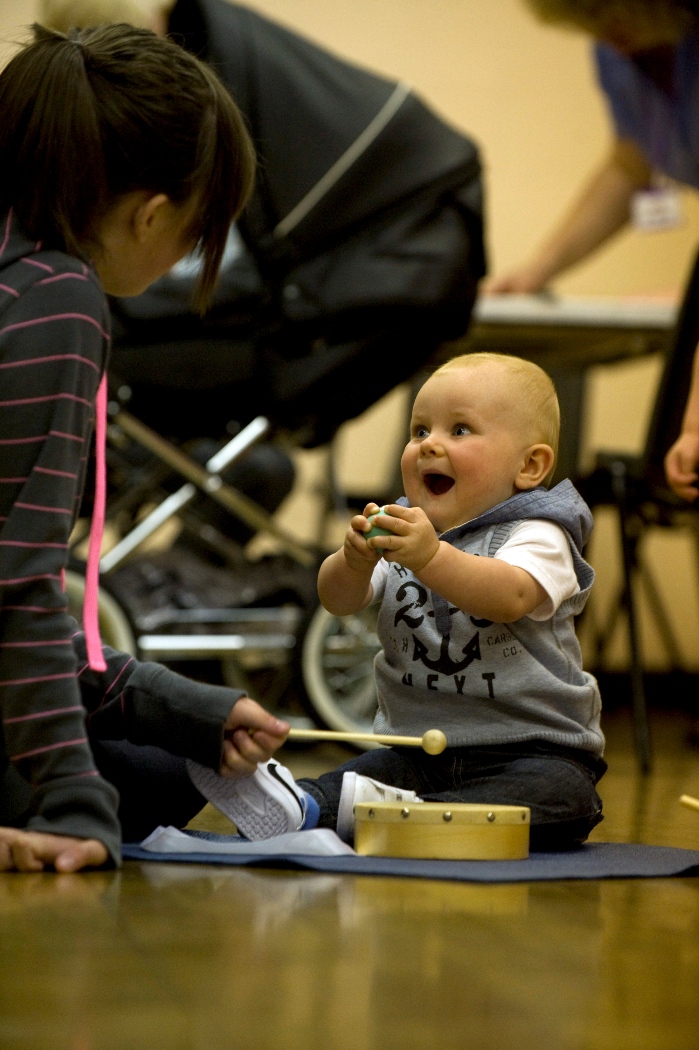 And indeed, for the visitor, the first thing Raploch does is confound expectations. It doesn't look like any sort of urban hellhole in which social problems might be expected to fester. As well as the castle to the south, on its northern flank is a pretty swerve in the Forth, and ploughing through the middle is a road with modest terraced housing. But social problems, mainly caused by long-term unemployment, set up shop here a long time ago and have refused to budge.
The population of Raploch is around 3000. Of those, 450 children from babies up to 12-year-olds are currently receiving some form of music education as part of Big Noise. "We would be quite happy with 50 per cent of the eligible children," explains George Anderson, Big Noise's communications supremo. "We have 75 per cent. When you throw a stone you'll hit a cellist. It'll probably be thrown back. Bring a crash helmet."
The joke perhaps embodies a perceived idea about Scottish aggression. Any reluctance to participate on the part of families was tackled head on from the start. As part of the recruitment drive, parents have been bombarded with chamber concerts in their front rooms. Summer school is laid on every weekday morning in the long holidays to provide a respite and, in particular, a constant for children from chaotic homes. If children can't get to school they are picked up. Children in temporary foster care are taxied in.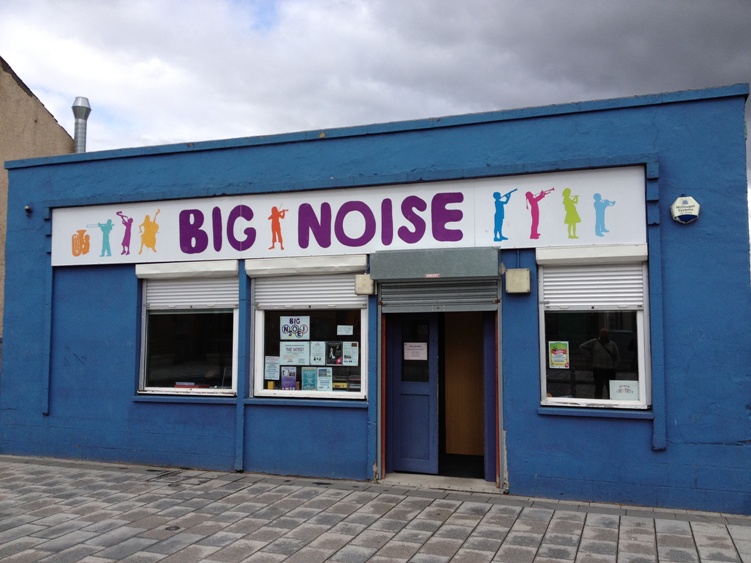 One squat building in the main street announces itself in cheery lettering as Big Noise HQ (pictured left). Inside, a small army of energetic, mostly young music teachers, who are mostly also jobbing orchestral freelances, wear casuals and motivated smiles. This is the hub of a music education project whose laboratory is over the road in a gleaming new complex. The school building in fact houses three schools, one Catholic, one non-denominational and one for special needs children. Each continues its daylong business behind a door in a long main hall known as The Street.
We have hit this place like an earthquake. This is a classical early intervention
Explore topics
Share this article
Subscribe to theartsdesk.com
Thank you for continuing to read our work on theartsdesk.com. For unlimited access to every article in its entirety, including our archive of more than 10,000 pieces, we're asking for £2.95 per month or £25 per year. We feel it's a very good deal, and hope you do too.
To take an annual subscription now simply click here.
And if you're looking for that extra gift for a friend or family member, why not treat them to a theartsdesk.com gift subscription?