Addio, Claudio Abbado |

reviews, news & interviews
Addio, Claudio Abbado
Addio, Claudio Abbado
Two of our writers remember a great conductor who reached perfection in his last years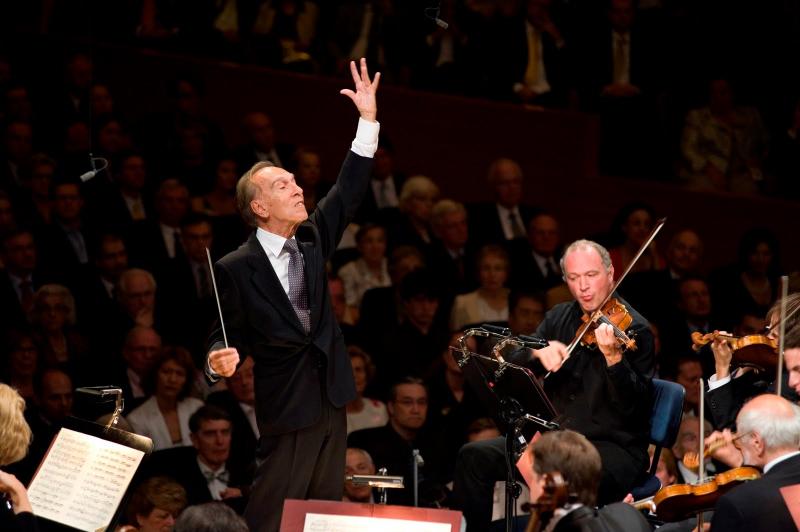 Abbado in his element conducting his peerless Lucerne Festival Orchestra
"It is at the end that a composer can achieve his finest effects," declared Richard Strauss. He was thinking of his great operatic and symphonic epilogues, but apply that to the art of conducting, adjust the "at" to "towards", and it applies supremely well to Claudio Abbado, who has died at the age of 80.
Having undergone radical surgery for stomach cancer in 2000, Abbado not only lived to tell the tale but went on to what he, the most modest and objective of men, would have been the first to admit were even greater heights and depths. No one would have thought he could do better than with the Berlin Philharmonic; but in reviving the post-war idealism of the Lucerne Festival Orchestra (Abbado pictured below at Lucerne) with a superband of the same name launching in 2003, he did exactly that. Soloists, quartets, young musicians all came together because they loved him, and he loved working with them. The motto seemed simple - "just listen", and you can see it vivaciously applied on the mercifully abundant DVDs – while the sense was very much that these top musicians were being handed the score to do what they want and they could with it.
That was an illusion, as Lucerne Festival trombonist – currently LPO principal – Mark Templeton pointed out: "He makes us feel that we're producing the interpretation, but of course it comes from him." The Mahler series which he would have completed had it not been for doubts about the massive Eighth – possibly he didn't have the ideal line-up of soloists he wanted, possibly he felt it was beyond his strength – capped everything he had done for that composer in previous partnerships. There was a stunning Beethoven Fidelio in concert; this year there would have been Brahms. Only the staged operas which had been such a highlight of the Teatro Alla Scala's history were not to be matched or superseded. And the wealth of recordings is the finest possible testament to one of the unquestionable conducting greats of all time. Here two of theartsdesk's music writers pay homage.
EDWARD SECKERSON
Conductors achieving superstar status are rarely shy, self-effacing, and humble - but that was the paradox characterising Claudio Abbado throughout his extraordinary career. I came in during the nine years he was Principal Conductor of the London Symphony Orchestra when his dynamism and smouldering good looks were such a good fit for the hippest and flashiest of the London orchestras. I remember early discs like the coupling of numbers from Prokofiev's ballets Chout and Romeo and Juliet, and of Janáček's Sinfonietta and Hindemith's Symphonic Metamorphoses on Themes of Carl Maria von Weber (pictured below in CD reissue with Chout) - classics both. But most of all I remember his first London performances of Mahler's Second, Resurrection Symphony where we first reconciled the dynamism to a deeper, much deeper, spirituality.
The extraordinary thing about Abbado was that he demonstrated in a way that I have never encountered since or before that it was possible to communicate the most personal and comprehensive understanding of great music without ever drawing attention to yourself. There was no ego - visible or otherwise - just a commitment, profound and enduring, to the composer and his work. He opened our ears as never before to page after page of score we thought we knew but had never heard revealed with such clarity and he instinctively knew how sound related to phrasing and how the vertical in music (texture) and the horizontal (line) must be in perfect balance fully to reveal the all-important harmonic movement. His performances were always revelatory in that respect.
His critical illness and subsequent surgery seemed only to deepen and intensify his inner self and a determination to go on making great music for as long as there was breath in him. The proximity of his own mortality brought him closer to the last great utterances of composers like Mahler and Bruckner and when in 2010 he revisited Mahler's Ninth Symphony with his beloved Lucerne Festival Orchestra an extraordinary silence of some minutes followed the final fade to black. It was as if the music was not gone but still somewhere, somehow, in the air and that in those silent minutes - and how much a part of music silence is - Abbado had glimpsed eternity.
DAVID NICE
I second everything Edward Seckerson has so eloquently written above and would only add that the experience of that Lucerne Mahler Ninth amounted to unquestionably the greatest, deepest, most luminous concert-hall playing I've ever heard.
Thankfully it wasn't just in the last years that Abbado lit up my concert-going life. As a teenager, I was ecstatic to be present at Abbado's first programme as principal conductor of the LSO. It started, characteristically, with a new piece which baffled most of us, Brian Ferneyhough's La terre est un homme. Then there was Pollini in Brahms's First Piano Concerto and the first of many Tchaikovsky symphony interpretations, of the Fourth, which convinced me that only Riccardo Muti could match Abbado for the towering spirit of song in this composer's music.
Later I heard a Debussy Nocturnes as part of the LSO's pioneering Mahler, Vienna and the 20th-century series which offered absolutely the silkiest, most sensuous orchestral playing I'd ever heard – who knew a London orchestra could do it? – and seemed to complement perfectly the Adagio from Mahler's Tenth Symphony on the same programme.
I second, too, Ed's singling out of the early (1966) recording of numbers from Prokofiev's Chout and Romeo and Juliet, while among the operas, Berg's Wozzeck, a Musorgsky Boris Godunov which was my first choice on BBC Radio 3's Building a Library, a perfectly cast Verdi Simon Boccanegra and the pioneering Chamber Orchestra of Europe recording of Rossini's Il Viaggio a Reims (pictured above) remain peerless.
Most crucially, though, we have all the DVDs of the Lucerne concerts - including the one-off of a blistering programme there with the Simón Bolívar Orchestra, token of his tireless work with youth - to show what's possible when joy and discipline in music-making combine at the very highest level. We could have had more, but let's not be greedy: this was a life which generously gave well beyond its expected span.
Claudio Abbado, 1933 - 2014
Next page: watch one of Abbado's great Lucerne performances, of Mahler's Sixth Symphony
The proximity of his own mortality brought him closer to the last great utterances of composers like Mahler and Bruckner
Share this article