Katia & Marielle Labèque, BBCSO, Bychkov, Barbican Hall |

reviews, news & interviews
Katia & Marielle Labèque, BBCSO, Bychkov, Barbican Hall
Katia & Marielle Labèque, BBCSO, Bychkov, Barbican Hall
Czech rarity yields to a magnificent Shostakovich Leningrad Symphony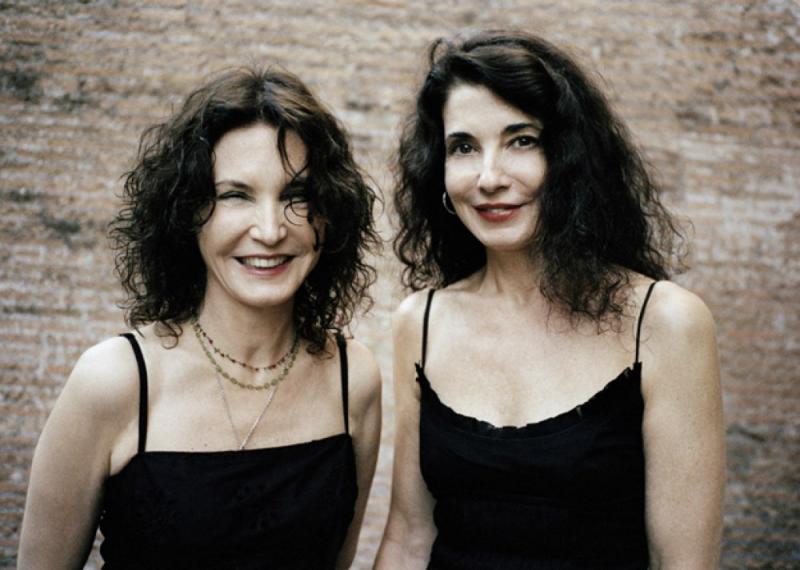 Katia & Marielle Labèque: an energetic and committed performance
The first half of this concert was quite the family affair: Martinů's Concerto for Two Pianos featuring the eternally youthful Katia and Marielle Labèque, with the latter's husband Semyon Bychkov conducting.
Any natural rapport took a while to manifest itself, though much of that should be laid at the composer's door – the first movement of this curious piece favours constant and rather directionless motion over more traditionally concerto-like interplay. The result is a thick texture, with lots going on in the middle but the whole somehow failing to sound lush. The second movement's dramatic start, followed by sparser textures, simmering down to a twinkly modal finish – with a triangle gently ringing like an old telephone – was more enjoyable. The vigorous finale, returning to motoric figurations, saw the pianists and orchestra pulling in the same direction at least. By no means a masterpiece, it certainly got an energetic and committed performance from the fabulous Labèques.
The supposed "meaning" of the Leningrad (Seventh) Symphony's various musical episodes has been debated often and wrongheadedly, as if Shostakovich, the pre-eminent symphonist of the 20th century, would create a one-dimensional political essay in musical form rather than a rich and complex work of art. Bychkov was born in Leningrad a decade after the premiere of the symphony, so it was fair to expect a personal and intense reading of this mammoth work, and we were not disappointed.
Though clamorous brass and incessant drums may be the first thing that spring to mind when considering this symphony, those are the easy bits to get right – everybody likes to play loud. It is the stillness and delicacy which give this vast canvas its profundity. Bychkov sought and got a huge dynamic range out of the orchestra, and the always dependable BBCSO here outdid itself. The long crescendo at the centre of the first movement, the symphony's calling card in all its delicious banality, was expertly controlled, but so too were the bouncing rhythms of the second, and the high melodrama of the third. Such things can easily be over-egged.
The transition from third to fourth movement was also sweetly handled, before the climb towards the thunderous apex, the Barbican Hall feeling somewhat small for the array of belting brass on stage. To a work which is much more impressive than, perhaps, likeable, Bychkov brought a degree of nuance and sensitivity which was genuinely nourishing. One can see why the BBCSO keep having him back.
It was fair to expect a personal and intense reading of this mammoth work, and we were not disappointed
rating
Explore topics
Share this article