Francis Bacon/Henry Moore: Flesh and Bone, Ashmolean Museum |

reviews, news & interviews
Francis Bacon/Henry Moore: Flesh and Bone, Ashmolean Museum
Francis Bacon/Henry Moore: Flesh and Bone, Ashmolean Museum
What seems at first an unlikely pairing is anything but in this striking exhibition of two giants of British art
Saturday, 14 September 2013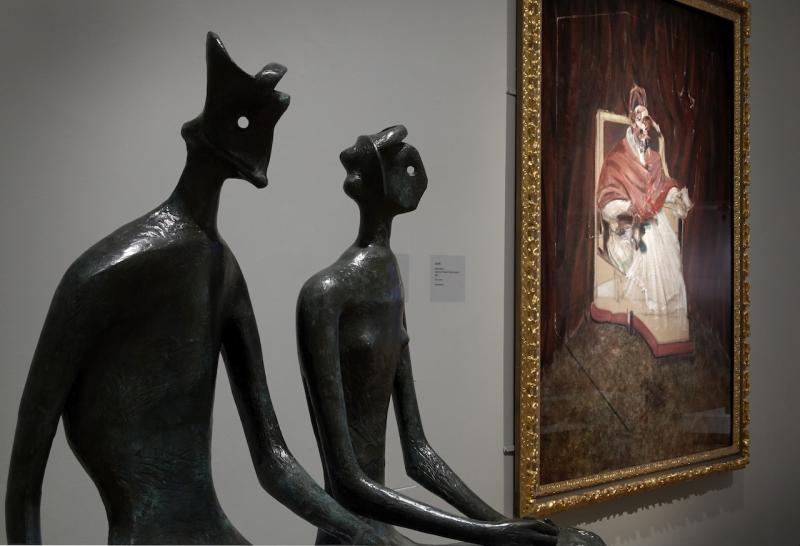 Installation shot: Henry Moore's 'King and Queen', 1952-3 and Francis Bacon's 'Study for Portrait of Pope Innocent X', 1965
It is a shock, in this succinct exhibition of two British colossi of the past century, Henry Moore (1898-1986) and Francis Bacon (1909-1992), to be reminded of just how colossal and original are their achievements. We are shown their curiously affecting affinities, in their adherence to the human figure at the core of their work, and reminded through the display of documents and catalogues of their truly international success, both critical and financial.
The show is subtitled Flesh and Bone. Bacon is the purveyor of flesh in all kinds of livid and brilliant hues: greens, eerie pale rose pinks and shocking reds, sepulchral whites and dirty browns. Moore dissolves flesh into totemic bronze structures, conjures unlikely anatomies, fragments of bone or fossil, onto a gigantic scale. And his renderings in drawings and sculpture of monumental female form, are just that: monumental.
Seeing them together enhances them both by showing how cleverly and passionately they used their sources
We are introduced to the display by two huge photographs of their studios, and here the contrast and compare, the debate and argument of the show, is subtly clarified. Bacon's huge heap of just plain mess: paint pots, brushes, postcards and reproductions on the wall, piles of paper scraps, which comprised the hundreds of visual sources he scrutinised and transformed, carpeting the floor. These indicate obsessions of course but also an ordered chaos. By some alchemy these mounds of rubbish were the source material for stupendously emotional, stridently coloured paintings, mostly large, always gold-framed and glazed so that, strikingly and even horribly direct as they are, they also keep a distance. Look at these wild creatures but only through the glass, darkly.
Moore's studio at first glance seems an oasis of calm. But even here there are hundreds of small objects all waiting their turn as the source of the sculptures that almost always recall some animated form: life breathed into geological and biological fragments. Moore too could conjure monsters from these innocent scraps; on view here Composition, 1934 seems as though skeleton remains are about to march on the unsuspecting; Three Points, 1939-1940 suggest some sharp speared jaw about to consume an invisible nutrient wrested out of the air.
Both artists call on antiquity, admiring Egyptian art. Moore's Shelter Drawing: Three Fates, 1941, are huge female creatures whose heads are nearly invisible. Bacon's Second Version of Triptych 1944, painted in 1988, is a trio of monsters, menacing yet curiously wistful and oddly waif-like. They were both atheists, but religious imagery also affects their work. Moore drew crucifixions and mothers and children; Bacon not only did masterly transcriptions of Velazquez's papal portraits, the pontiff screaming, his 1988 triptych reprises his earlier Three Figures at the Base of the Crucifixion (second version pictured below), while also recalling pagan fate or Furies.
They share many of the same influences and looked at some of the same artists, as the inclusion in the exhibition of drawings by Michelangelo and drawings and sculpture by Rodin make clear. Picasso too was often called upon.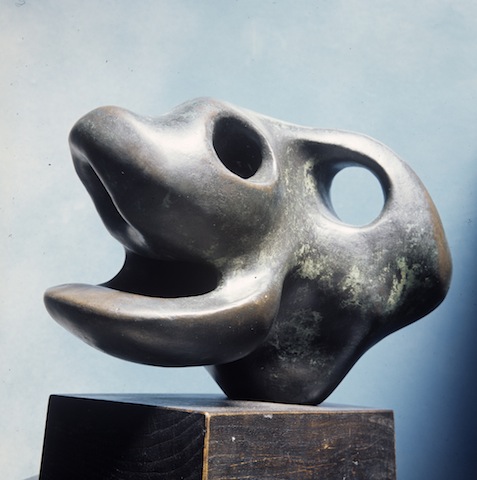 The exhibition is more than the sum of its parts. It is all too easy to dismiss much of Moore, especially post-war when it seems there was almost a production line of huge bronzes, skeletons of unknown creatures blown up into giants, sometimes turning into a bland modernism-lite. Financial success and, in particular, success in North America, enabled assistants and the cost of casting. And sometimes Bacon too is dismissively characterised as just gruesome grand guignol (right: Henry Moore, Animal Head, 1951, © The Henry Moore Foundation).
But seeing them together enhances them both by showing us how cleverly and passionately they used their sources, to different but allied ends. We realise that both worked continually in an extraordinary area between figuration and abstraction: yes, everything is recognisable but also impossible, as layers of observed reality are twisted, distorted, transmogrified into something fantastical.
In Bacon, faces snarl, mouths grimace, teeth threaten, bodies writhe in impossible postures and monsters appear, yet there is always a strange vitality and order. He worked not only directly from observed human beings, but continually from photographs. He claimed to go where paint led, but made surprisingly careful preparations, drawing order from chaos (below: Francis Bacon, Portrait of Man with Glasses, 1963, © The Estate of Francis Bacon).
For Moore, close observation of the natural world, from animals to landscape, with the stones, pebbles and detritus of beach and garden that he continually acquired and arranged, are conjured anew in the studio. A series of Moore's drawings shows us surrealist objects, and those monumental stoical creatures who endured the London bombings, both groups set in shimmering vistas. Bacon caged his creatures, confining them to strangely airless interiors in the limbo land he created.
The exhibition shows us our age of anxiety in visual terms. The comparisons which show us links between what seems at first an unlikely pairing – the tortured, magnificent, and grudgingly beautiful paintings by the urban Bacon, where all is in a state of flux, uncertain and on the point of dissolution, and the apparent solidity and serenity of much of Moore. In the light of Bacon, Moore's solidity dissolves into a questioning of reality, an uneasy uncertainty. The art of Moore becomes darker and more erotic, more disturbing. Dark rainbows of vivid colour give Bacon's figures a defiantly pessimistic lightheartedness. This genial horror is just what it is, get on with it; his art is a series of impertinent gestures to a terrible universe. Unmissable.
Layers of observed reality are twisted, distorted, transmogrified into something fantastical
Explore topics
Share this article