Reissue CDs Weekly: Giorgio Moroder, The Teardrop Explodes |

reviews, news & interviews
Reissue CDs Weekly: Giorgio Moroder, The Teardrop Explodes
Reissue CDs Weekly: Giorgio Moroder, The Teardrop Explodes
The unsung side of Europe's synth-disco king and the difficult second album from Julian Cope's Eighties hit makers
In his element: surrounded by banks of synths, Giorgio Moroder takes control
Giorgio Moroder: Schlagermoroder Volume 1 1966-1975 / On the Groove Train Volume 1 1975-1993 / On the Groove Train Volume 2 1974-1985 / Son of my Father
So far, this year has been good for Giorgio Moroder. He's been integral to Daft Punk's world-conquering Random Access Memories. "I Feel Love", the timeless, pulsing synth-dance fantasia he fashioned for Donna Summer, opened the Liberace biopic Behind the Candelabra. At once, he's evocative of a particular era and his influence is shaping the contemporary. The voyage through these seven CDs (three doubles and a single) shows how hard he's worked. It also shows that although there is a signature Moroder sound, it took a long time to get there. It's often difficult to hear it through the static created by the sheer quantity of make-weight material he's pumped out.
As far as Britain is concerned, the first anyone heard – albeit unwittingly – of the Italian-born, Germany dwelling producer and songwriter was the 1972 hit "Son of my Father" by Chicory Tip. In the hands of the British band, the song he'd co-written and recorded under his own name in 1971 became a UK chart hit (his original version was a minor US hit). Having a synth as lead instrument was a pointer to Moroder's future, but its glam-rock stomp said more about where he was than where he was going. The Sixties and early Seventies material compiled on the misleadingly titled Schlagermoroder show him purveying whatever styles were hot on a particular day. He wasn't dealing in the ballads or light pop of continental European schlager but, early-on, made bubblegum pop on a line between that of America's Kasenetz-Katz and our own Tremeloes or Mud. Jonathan King is the closest analogy.
Some of the Sixties songs are fantastic and might have clicked here were Moroder British. Even so, the upbeat "Bla Bla Diddly" (listen to it on the next page), the "Cool Jerk"-inspired "Cinnamon" and the psychedelic-tinged "Stop" mark him as a journeyman, not a potential auteur to rank alongside Martin Hannett, Joe Meek, Conny Plank or Phil Spector.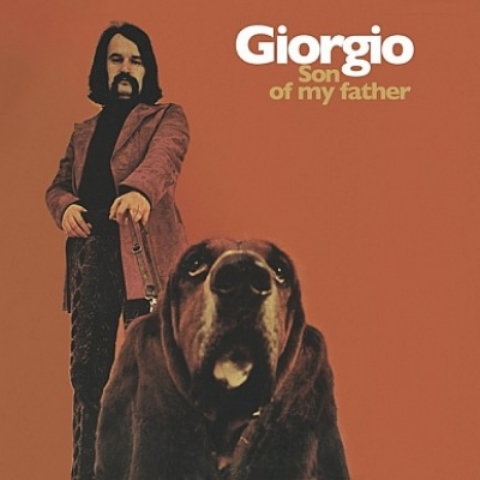 "Son of my Father" took him to the next level and helped him become the synth-pop king of Euro-dance. The album accompanying the hit was great and had an odd cover of Moroder with a dog (pictured left). Without his future fame it would have remained a curiosity appealing to fans of other Euro-synth oddities like The Droids or The Peppers. Ignore calypso-ish piffle like "London Traffic" and head to the sub-Gary Glitterisms of "Underdog". Naturally, parping and keening synths are inserted wherever possible on the album.
But it was dance music, and specifically disco, which really lit a fire under Moroder. The volumes of On the Groove Train take in absurd though wonderful classical music-disco crossovers ("Lonely Lover's Symphony", "Classically Elise") performed by forgotten names like Brian Evans and Dino Solera. His liaison with Donna Summer would mark the international breakthrough of Moroder and his partner Pete Bellotte: first with 1975's "Love to Love You Baby" and then, most significantly, with 1977's "I Feel Love". Her famous tracks don't appear, but Summer crops up with obscurities which failed to click. Moroder's other vehicle was the studio-born outfit Munich Machine, who defined Philly-influenced Euro-disco. Once out of the traps with Summer and Munich Machine, his future path was set – albums with Sparks, a collaboration with The Human League's Phillip Oakey, scores for Top Gun, Flashdance and Cat People, and a soundtrack for the silent film Metropolis.
These reissues mostly document the unfamiliar and unsung Moroder. Taken together, they're akin to a career-spanning box set shorn of the well-known tracks that ought to have been included. What's here may not be the Moroder of legend but instead fills out a story which until this point has been one-sided. They are not sanctioned by Moroder. It would be interesting to know whether he thinks their appearance further brightens or dulls his magnificent 2013.
The Teardrop Explodes: Wilder - Deluxe Edition

"We made a really English album" says guitarist Troy Tate in the liner notes of this reissue of The Teardrop Explodes's second album, Wilder, released in December 1981. Frontman and songwriter Julian Cope name checks the decidedly non-English Tim Buckley, Percy Sledge and Scott Walker in his contribution to the booklet. Keyboard player Dave Balfe says he was in thrall to The Talking Heads's Remain in Light and Byrne & Eno's My Life in the Bush of Ghosts. Despite coming on the back of 1981's trio of hit singles "Reward", "Treason (It's Just a Story)" and "Passionate Friend", all these influences made Wilder a confused, confusing album.
Added to that, Cope's marriage was collapsing. One track was titled "Falling Down Around Me". "Passionate Friend" was written for the sister of Echo & the Bunnymen's Ian McCulloch, who Cope was seeing secretly. "And the Fighting Takes Over" documents the marital break up, and "Bent Out Of Shape" was inspired by his future wife. Amphetamines and cocaine are mentioned in Cope's song-by-song commentary. It's a wonder Wilder was made at all.
Although hindsight reveals the tensions and trauma surrounding the album, it remains lumpy and hard to love despite being clouded by an attractive melancholy. Beyond the still-towering but under-produced "Passionate Friend" (recorded before the album, but included), the highlights are "Tiny Children" and closing track "The Great Dominions", relatively unadorned, production-frill-free, obliqueness-suffused reflections. Elsewhere, snappy, springy bass, choppy Tears For Fears guitar, busy drums and a shiny yet thin production draw attention away from Cope's songs, forcing focus towards the peripheral rather than the core. Disc two says more about the songs themselves with less-fussily arranged, angular and immediate B-sides and unadorned BBC Radio recordings. Without the ill-fitting production and busy instrumentation, songs from the album are more impactful on the radio sessions. Cope says "Pure Joy" sounded "good on the Peel session, but shit here [on Wilder]". It's hard to disagree.
Wilder was a text-book case of, as Balfe puts it, a "difficult second album". But with nothing new here – the BBC sessions have been issued previously, and there was a CD reissue with extra tracks in 2000 – this isn't essential. Kudos to Balfe and Cope, though, for their frank, revealing liner notes.
Listen to Giorgio and The Morodians's 1966 single "Bla Bla Diddly"
The Sixties songs mark Moroder as a journeyman, not a potential auteur to rank alongside Phil Spector, Joe Meek or Martin Hannett
Share this article