Donna Summer 1948-2012 |

reviews, news & interviews
Donna Summer 1948-2012
Donna Summer 1948-2012
Singer's four-decade career showed her versatility in multiple styles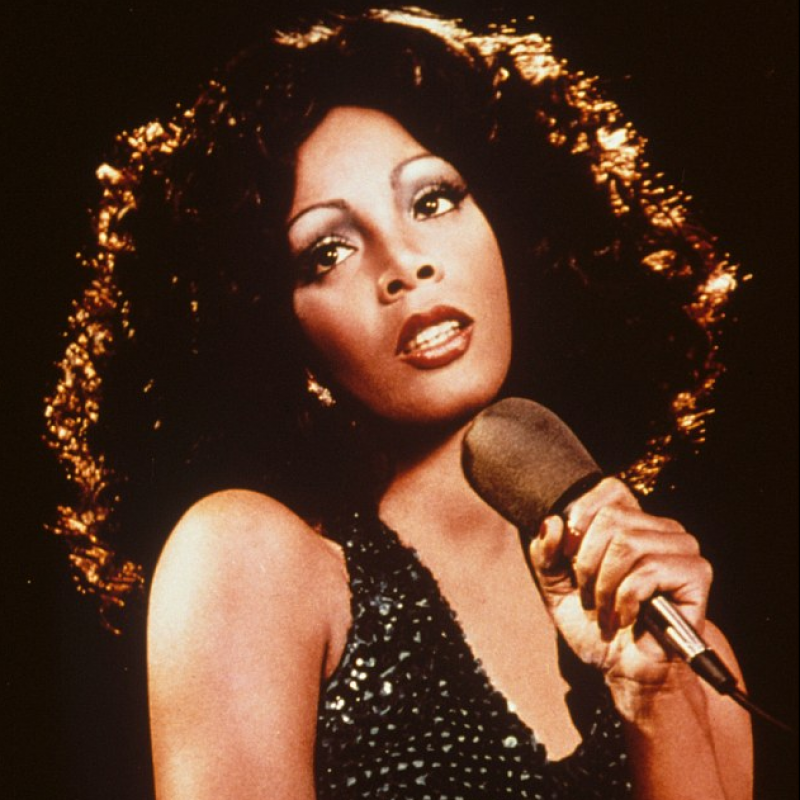 Donna Summer, Queen of Disco and much more besides
Being pigeonholed as "disco" became the kiss of death for many of the genre's lesser lights, but a select handful were able to transcend its limitations. Chic and the Bee Gees managed it, and so did Donna Summer, disco's so-called "First Lady of Love" whose career stretched over four decades. Having hooked up with Giorgio Moroder to help define the hypnotic, hedonistic message of disco, Summer was subsequently able to embrace pop, rock and gospel music.
Her powerful, soulful voice lent conviction wherever her musical explorations led her.
Her background and upbringing had left her equipped to deal with almost anything, music-wise. The daughter of a Massachusetts butcher who was also a practising minister, she sang in church choirs as a kid, and swore that God had spoken to her (at the age of eight) to predict that she would become hugely famous. In her teens she sang in Motown-emulating girl groups, then had a go at musical theatre on Broadway. She was turned down for Hair, but later hired for the show's German incarnation, prompting the move to Germany which would lay the foundations for a career that would see her selling 130 million records. She was born LaDonna Adrian Gaines, but adopted the stage name "Summer" after marrying Austrian actor Helmut Sommer.
Donna Summer sings "I Feel Love"
She met Moroder and his lyric-writing partner Pete Bellotte in Munich, though it was Summer herself who came up with the title of "Love To Love You Baby" and brought it to Moroder. He alchemised it into an erotic epic of orgasmic sighs and gasps, and thanks to a hook-up with Neil Bogart's Casablanca Records, it became Summer's breakthrough hit and an avatar of the disco-apocalypse. The 17-minute club version was almost supernaturally prescient, a self-contained rave universe which exploded the formatting boundaries of radio or the seven-inch single.
It was 1977's "I Feel Love" which crystallised the Moroder-Summer union, an icily perfect template of sequenced electro-beat supporting Summer's narcotic vocal drones. Disco it may have been, but it also contained an essence of Krautrock, foretold electropop and presaged our latterday upheaval in music technology. Some say it's her finest hour. Others tend to hint that Summer was merely Moroder's useful puppet. But her post-Giorgio adventures prove otherwise.
Donna Summer sings "State of Independence"
Après Giorgio, Summer stood centre stage in a deluge of masterly hits, including "State of Independence" (produced by Quincy Jones) and the working-girl classic "She Works Hard for the Money". "This Time I Know It's For Real", produced by Stock Aitken and Waterman, stormed the charts in Europe and America. In 1992 she reunited with Moroder for "Carry On", and in 1994 she was singing gospel music on Christmas Spirit. Nor was she fazed by the advent of Cowell-ised TV Svengalidom, guesting on America's Got Talent and the songwriting contest Platinum Hit.
Assorted friends and allies have paid generous tribute. Duran Duran's Nick Rhodes said that "It's extremely rare that you hear one song that completely changes the way you perceive music. 'I Feel Love' achieved that." Sir Elton John added: "Her records sound as good today as they ever did. That she has never been inducted into the Rock and Roll Hall of Fame is a total disgrace, especially when I see the second-rate talent that has been inducted. She is a great friend to me and to the Elton John Aids Foundation and I will miss her greatly."
Donna Summer 31 December 1948 - 17 May 2012
'I Feel Love' was an icily perfect template of sequenced electro-beat and Summer's narcotic vocal drones
Explore topics
Share this article