Newcomers triumph at BBC Music Magazine Awards |

reviews, news & interviews
Newcomers triumph at BBC Music Magazine Awards
Newcomers triumph at BBC Music Magazine Awards
Malaysian pianist steals the show performing three pieces from her CD 'Musical Toys'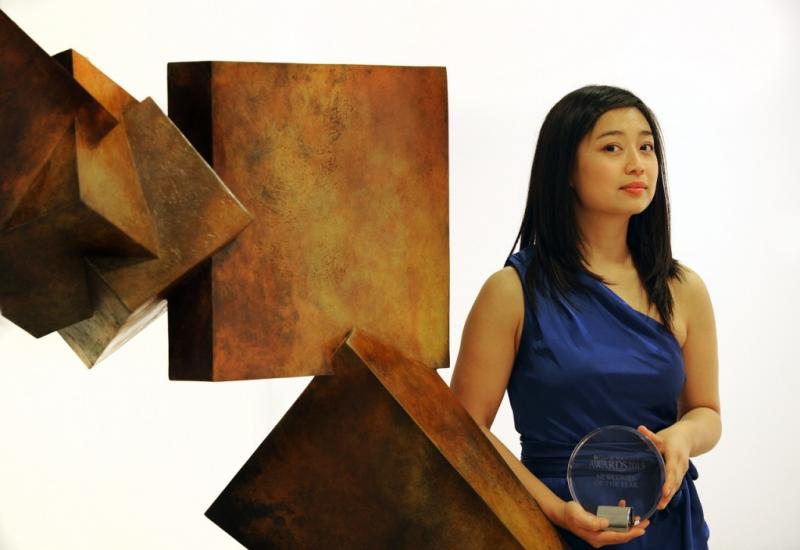 Mei Yi Foo with her Newcomer of the Year award at Kings Place yesterday
We had, as presenter James Naughtie so wryly remarked, set aside our mourning weeds for the low-key glamour of celebrating a far from moribund classical recording industry. Movers, shakers and humble BBC Music Magazine contributors all shifted from the airy dining space at the ever-accommodating Kings Place yesterday - I won't forget the mint marshmallow - and descended to woody Hall One for the magazine's 2013 awards.
Editor Oliver Condy had a hard act to precede in the shape of quick-quipping Naughtie, but he made us laugh with news of an anniversary less vaunted than Wagner's, Verdi's or Britten's - the death-centenary of Eliphalet Oram Lyte, whose "Row, row, row your boat" came complete with the composer's orotund commentary. Then it was reasonably brisk business as the awards unfolded and a few guest trophy-hander-overs stepped in.
There was the poised Imogen Cooper warmly welcoming fellow pianist – and one-time fellow student – Janina Fialkowska, winner of the Instrumental Award for her Chopin recital disc. She played two Chopin waltzes, a little dryly and not note-perfect, but well enough to give a sense of the very flexible rubato for which the CD had been praised. Stage animal Angelika Kirchschlager accepted her Vocal Award for Liszt Songs not with her pianist, Julius Drake – in Spain with Bostridge – but the equally welcome Roger Vignoles, and not with Liszt but with Schumann's Widmung (yesterday's performance pictured above).
By common consent, though, the star turn came from an artist few of us had heard of, London-based Malaysian pianist Mei Yi Foo, Newcomer of the Year. Hers was the disc you wanted to rush out and buy on the strength of what we heard. Its menagerie is a trio of playful study-sets by Gubaidulina in childlike mood, Unsuk Chin (a premiere recording) and Ligeti (the amazing Musica Ricercata, eleven pieces progressing from one note to 12).
Introduced in a whimsical little speech by composer and admirer Dai Fujikura, Foo showcased one miniature by each composer, a sample mix much as she proposes in a note for the well-presented disc. It comes from a label, Odradek Records, the newness of which gives it equal status in the award category, and which describes itself as "a democratic classical cooperative, non-profit and artist-controlled label and concert association, promoting new artists and fresh repertoire". With five of the pianists due to appear in various mini-festivals around Italy and elsewhere, there's faith that the CD lives on as a welcome object to take home after a recital.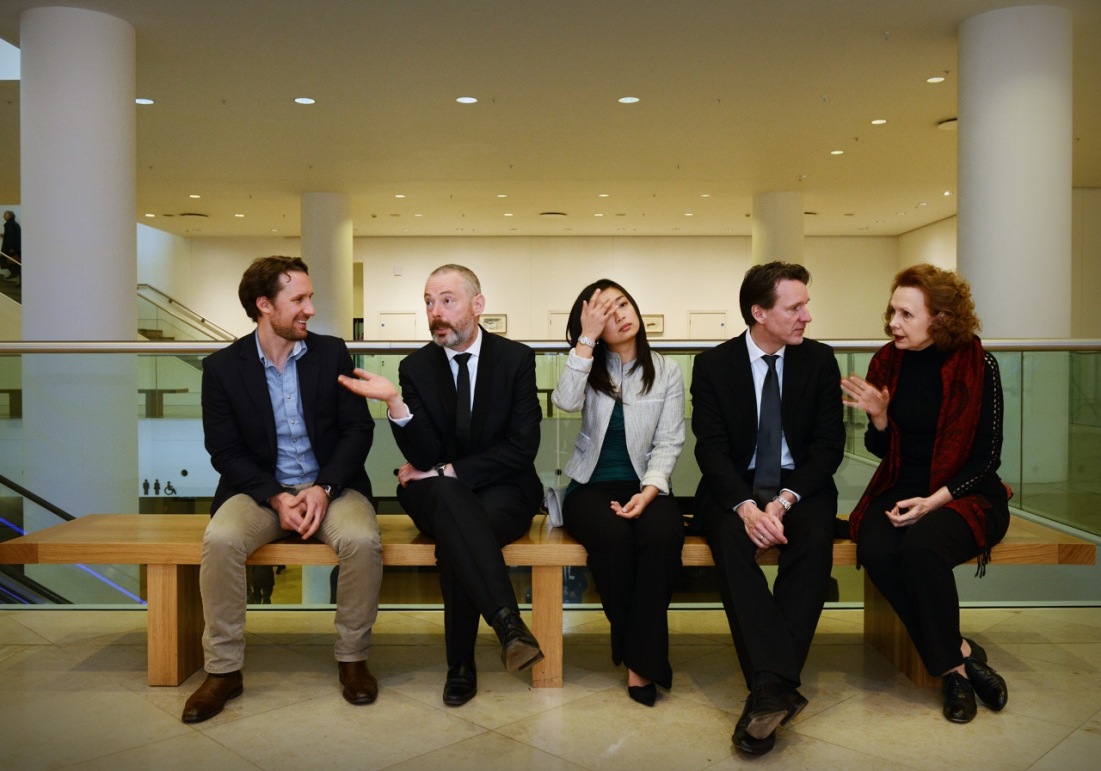 Another bracing contemporary issue celebrated poised Finnish composer Kaija Saariaho (pictured right above with baritone Jacques Imbrailo, tenor Mark Padmore, Mei Yi Foo and Berlin Philharmonic cellist Olaf Maninger), who came to collect the Premiere Recording award on behalf of her top-notch compatriot performers and the Ondine label. As for the big guns, Rattle and the Berlin Philharmonic won two awards – Orchestral for the conductor's determination to follow Nikolaus Harnoncourt's advice and to present Bruckner's Ninth with its recently reconstructed (or rather constructed) finale for EMI; and DVD/Blu-Ray for the Sellars-staged Bach St Matthew Passion. Its Evangelist, Mark Padmore, collected that award with an obviously sincere speech about the experience and about hoping to sing Bach for the rest of his life; while Olaf Maninger, one of the Berlin Phil's three principal cellists, collecting the Orchestal trophy, said it would be a 'wild fantasy' to have Germany's own classical stations supporting a publication like the BBC Music Magazine - and a publication, moreover that gives awards?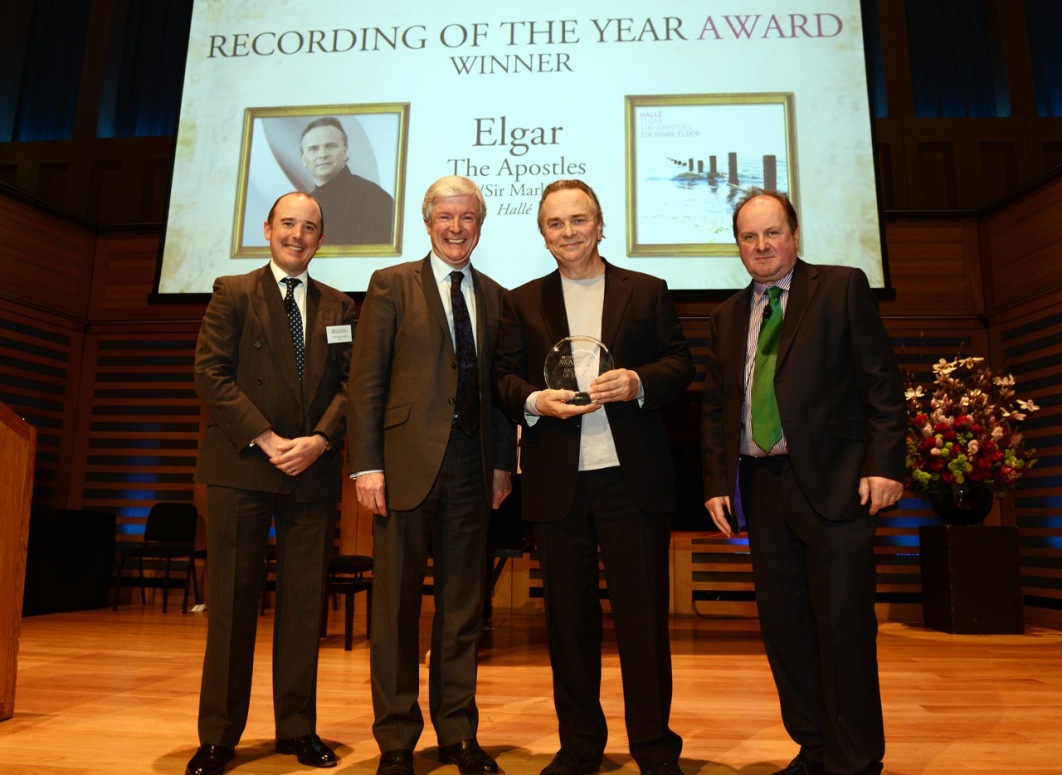 Finally the shofar was sounded, as it features on their recording of Elgar's The Apostles, for Sir Mark Elder, soloists, Hallé Orchestra, Choir and Youth Chorus. Theirs were both the Choral and Recording of the Year awards. Introduced and crowned by Tony Hall (pictured second from left above with Condy, Elder and Naughtie) - semi-resting on his ninth day at the BBC - Sir Mark was a touch grand ("my orchestra", "my predecessor Hans Richter") but an eloquent speaker as ever on a work he clearly feels passionately about (see John Bridcut's excellent Elgar documentary, recently re-screened on BBC4). Such a disc might seem a mainstream choice for those of us in the classical music world, but it's worth being reminded that these sorts of award ceremonies reach beyond the usual confines. OK, it's partly about sales, but it's also a reminder that such documentations of great performances are vital in a crowded market: once there, never forgotten.
Watch Mei Yi Foo play Unsuk Chin's Toccata
Share this article