BBC Proms: The Apostles |

reviews, news & interviews
BBC Proms: The Apostles
BBC Proms: The Apostles
A first-rate performance of Elgar's second-rate oratorio
Rebecca Evans: expressive detail lost in the cavernous Royal Albert Hall
The first panel in a would-be triptych, Elgar's The Apostles is also something of a prototype – the musical experiment whose risks would culminate so strikingly in The Kingdom. Tackling the crucifixion from "the poor man's point of view", its occluded, obscured vision of events has atmosphere in abundance but a distinct lack of dramatic focus. There's an awful lot of telling, climaxing in such an astonishing bit of showing that you almost forget the previous two hours' tedium. Almost.
Last night's Proms performance re-enacts almost exactly Mark Elder and the Halle's performance (and recording) from earlier this year in Manchester. Part of Elder's Elgar cycle, The Apostles follows and builds on performances of The Dream of Gerontius and The Kingdom, but offers rather more of a challenge, even to such an accomplished ensemble. The only major change to forces saw Manchester's Judas (Brindley Sherratt) replaced with Clive Bayley, a substitution that wasn't altogether ideal.
Imbrailo was a dream, caressing the Royal Albert Hall's acoustic with so little strain we could have been in the Wigmore Hall
No one does operatic villainy quite like Bayley (his Bluebeard for ENO still stalks the memory, similarly his trio of baddies from Hoffman, not to mention his Doctor in Wozzeck), but in the context of Elgar's rather restrained oratorio his dramatics risked unbalancing proceedings, dissolving the moral complexity and confusion at the heart of the Judas character, who repents and tries to return his thirty pieces of silver. Matched with Jacques Imbrailo's still and soulful Jesus, Bayley's Judas teetered close to pantomime at times.
Imbrailo by contrast was a dream, caressing the Royal Albert Hall's acoustic with so little strain we could have been in the Wigmore Hall. Elgar's deeply sympathetic writing here requires little of his soloist but to make a beautiful noise, but in addition to the sheer quality of his burnished tone Imbrailo brought something extra – finding a weight of character lacking elsewhere.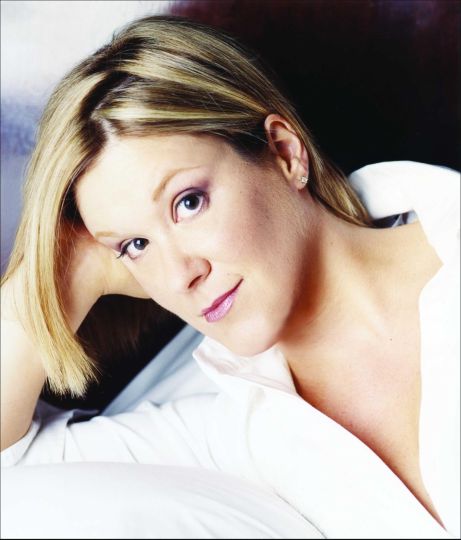 Alice Coote (pictured right) made for a dignified Mary Magdalene, and while there was evidently a great deal of expressive detail and vocal colouring going on much of this was lost in the space, even in the stalls. Likewise Rebecca Evans' Angel, who added delicate shading to passages that blurred into primary coloured abstraction. This was a rare occasion on which the first row of the Arena really was the best seat in the house.
Elder's chorus brought together the Halle Youth Choir and the London Philharmonic Choir, creating a flexible ensemble whose youth brought sheen and clarity to the Mystic Chorus sections (the closing alleluias were exquisite), and whose adult members grounded the tone, giving it much-needed weight in the few moments of climax and volume. So much of this work sees vast swathes of singers singing as quietly as possible – a serious challenge but one that generated sensitive accompaniment as a well-supported choral sound.
The pacing, orchestral balance and textural colouring make Elder's reading of The Apostles a persuasive one. The Halle produce a beautifully blended tone, brightened for moments such as the evocative jingling of the thirty pieces of silver, and tarnished by rasping brass for the harsher passages. Yet this piece and this hall together softening Elgar's already too-pliant musical shapes, creating confusion where there should be emotional clarity.
The pacing, orchestral balance and textural colouring make Elder's reading of The Apostles a persuasive one
Explore topics
Share this article