Treasures of the Royal Courts: Tudors, Stuarts and the Russian Tsars, Victoria & Albert Museum |

reviews, news & interviews
Treasures of the Royal Courts: Tudors, Stuarts and the Russian Tsars, Victoria & Albert Museum
Treasures of the Royal Courts: Tudors, Stuarts and the Russian Tsars, Victoria & Albert Museum
An exuberant display of the connections between British and Russian royalty in the 1500s and 1600s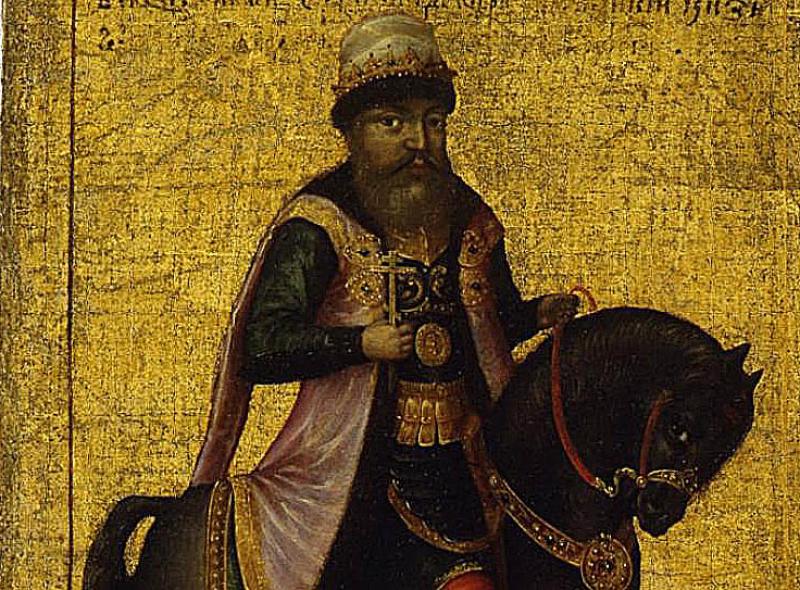 Portrait of Tsar Mikhail Fedorovich, 1670-80
Jewels, gold, silver, arms and armour, silks, embroideries, tapestries and lace: the world of the very rich and very powerful royals – and merchants – in Russia and Britain half a millennia ago is set out in glittering array in the V&A's latest exhibition. The English imported fabulous furs from Russia, delighting in the finest sables, but also wood, hemp and tar, the better to build British ships. The Russians acquired beautifully crafted objects and above all arms, a perennially sought-after commodity which the British were skilled at supplying.
Britain's Muscovy Company was established in 1555 and continued until 1698, a working commercial model that antedated the much better-known East India Company. Then, as now, relations with Russia were unpredictable, complex, occasionally tempestuous and chilly in more ways than one: visitors complained bitterly of the cold. The exhibition restores some flavour of the old alliance. The audio guide is in English and Russian, while a version of this exuberant display of royal connections and collections was shown at the Kremlin Armoury Museums last year.
The intricacies of the 200-year relationship are placed in the context of the Tudors and the Stuarts, providing a painless history lesson. Did you know (I certainly didn't) that Ivan IV, the first Tsar, suggested marriage to Elizabeth I, the Virgin Queen? He was, of course, disappointed. Or that in 1649 diplomatic and trading relationships fractured as a result of the Russians' disgust, shock and horror at the regicide of Charles I, but on both sides the profitable exchanges were resumed at the Restoration?
The most over-the-top extravaganza is a glittering array of exceptionally large and elaborate silver and silver gilt ewers, plates, wine vessels, basins, flasks and dishes, English metalwork masterpieces given to the Russians as part of the cultural diplomacy offensive (pictured above right, Dolphin Basin, 1635). These creations escaped being melted down during the Cromwellian republic, and were defended subversively by their curators, being sold by Stalin or otherwise repudiated during the long Soviet-Russian 20th century. The result is that the Kremlin possesses the finest collection of 16th- and 17th-century English silver and silver gilt in existence, and the vitality of its workmanship and decorative inventiveness remains a marvel. It is almost bewilderingly intricate, a welter of abstract decoration and heraldic symbols often surrounding realistic representations of animals and mythical figures.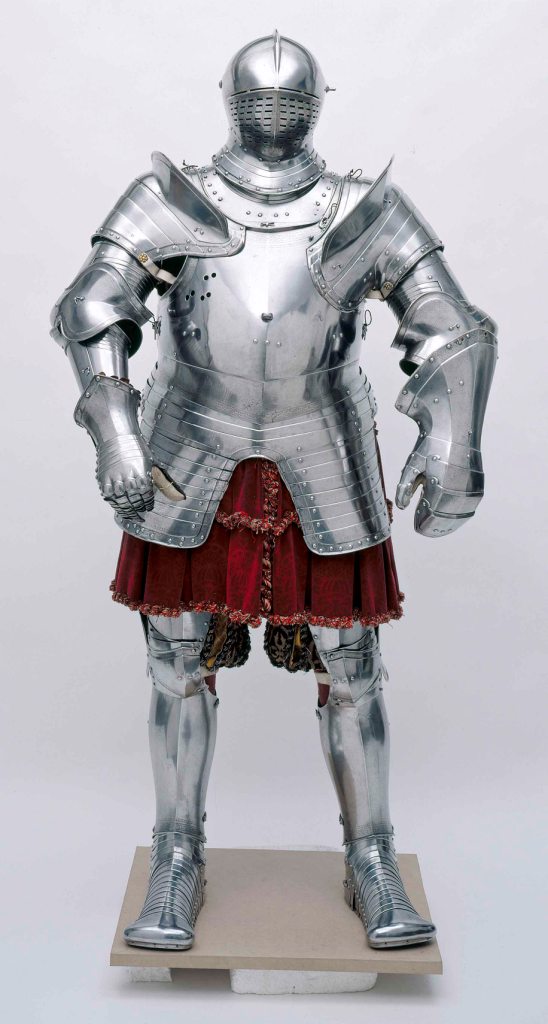 The flamboyance continues with the four rampant, rearing early 16th-century Dacre Beasts: a huge and rather demure fish accompanying a red bull, a black griffin and a white ram, their masculinity much in evidence. They testify to the importance of heraldry, various symbols referring to the powerful Dacre family who commissioned the fantastical quartet. Next is a pair of extraordinary survivors: mutilated but intact stone lions, "Kynge's Beestes", whose curled tails may represent some of Anne Boleyn's heraldry, and who once guarded one of Henry's palaces. Behind is a display which includes Henry VIII's armour (pictured left), naturally custom-made, from the Royal Collection: enormous to accommodate his enormity, it's a real monster. If you saw the King clunking toward you in a horror film, you'd run.
In 1604 a rare English coach (a recent invention) took from June to October to reach Moscow by sea, road and river as part of the array of gifts, for Tsar Boris Godunov, accompanying the fabulously rich Thomas Smith, the ambassador to Russia. The coach, its wooden panels sumptuously decorated with imperial arms, landscapes, hunting and battle scenes, survives and is still on view in the Kremlin Armoury museum. It would have been drawn by four or six horses, and as it had no springs was probably horribly uncomfortable. A model is on view, and an extensive video tells the tale.
The Tudor and Stuart paintings are often peculiarly stiff, rigid ceremonial bodies encased in costume: those "after" Holbein and Van Dyck show a burgeoning humanity beyond the stereotype, whilst from the Russian side the convention of the icon is just beginning to bend.
The show-stealers are the luxuriously embroidered and ornamented clothing, doublets, breeches and jackets. The exhibition also excels in the true marvels of that particular tradition of the exquisite English miniature, the faces expressive, individual and vital, the detail of costume incredible in its verisimilitude.
Magnifying glasses are supplied, not only the better to admire the limner's art but also the array of jewels, including the Barbor Jewel (pictured above right) and the famous Drake Jewel, with its gold, enamel, diamonds, rubies and Hilliard miniature of Elizabeth I.
We are also reminded that Britain has a long history of multiculturalism and hospitality to immigrants. A gift from Russia in 1662 that is still with us is represented by a large stuffed white pelican, courtesy of the Natural History Museum; the original pair that Russia sent over needed no visa, and founded the dynasty of those pelicans still with us in St James's Park.
The Kremlin possesses the finest collection of 16th- and 17th-century English silver and silver gilt in existence
Share this article
Subscribe to theartsdesk.com
Thank you for continuing to read our work on theartsdesk.com. For unlimited access to every article in its entirety, including our archive of more than 10,000 pieces, we're asking for £3.95 per month or £30 per year. We feel it's a very good deal, and hope you do too.
To take an annual subscription now simply click here.
And if you're looking for that extra gift for a friend or family member, why not treat them to a theartsdesk.com gift subscription?