Love's Comedy, Orange Tree Theatre |

reviews, news & interviews
Love's Comedy, Orange Tree Theatre
Love's Comedy, Orange Tree Theatre
Early Ibsen finds the playwright in his awkward adolescence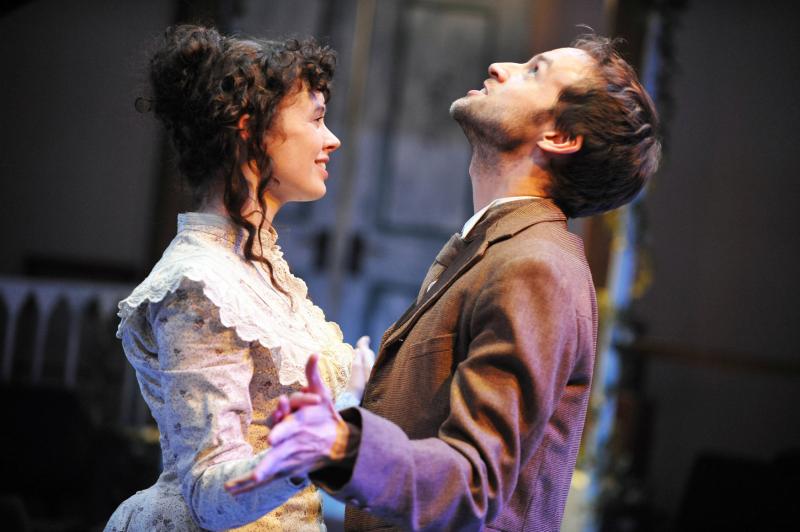 Falk (Mark Arends) finds his 'great personal disaster' in Swanhild (Sarah Winter)
1866 was a crucial watershed in Henrik Ibsen's writing career. As a man he may have come of age some 20 years earlier, but it was only at almost 40 that his writing attained brooding, bearded maturity in Brand, the first in the sequence of plays that we now accept as the Ibsen canon. It's a brave director indeed who delves into the playwright's juvenilia, but so numerous are the early works and so exotic their prospect (for who could resist the enticements of The Burial Mound or indeed Lady Inger of Oestraat?) that they are becoming an increasingly well-trodden – or at any rate frequently trodden – path.
Love's Comedy is the latest in what has been a year of less-travelled Ibsen. Last winter saw his final work When We Dead Awaken at Notting Hill's Print Room, and just a few months ago the playwright's rare comedy St John's Night had an outing at the Jermyn Street Theatre. Neither as starkly symbolic as the former nor as glibly satirical as the latter, Love's Comedy offers a contemplative discourse on love, ambition and society. On the page it's a rather indulgent piece of philosophical exegesis, on the stage it feels a little like peeking into the teenage diaries of a friend.
Those weaned on Ibsen's brutal endings can find a suitably bitter early draft here
The writer's personality, his preferred expressions, preoccupations and concerns are all already recognisably present, but are delivered in an uncensored rush of heightened passion and conviction. Here is the spirited, independent young woman (cruelly bound, need I say, by social conventions), the idealistic poet and the warring claims of church and society. Anyone worried that the fragile metaphorical fabric of A Doll's House might give way under all its birds and cages should steel themselves for the elaborate aviary of images that await, and those weaned on Ibsen's brutal endings can find a suitably bitter early draft here.
The story follows Falk, a poet and lodger at the home of widow Mrs Halm (Julia Watson, pictured right). While his friend and fellow-lodger Lind becomes engaged to the wholesome Anna Halm, Falk himself is drawn to her rebellious sister Swanhild, also an object of interest to the wealthy Guldstad. The hopes and aspirations of these two pairs of young lovers are set against the lapsed romance of lawyer Styver and Miss Jay, and the lengthy marriage of pastor Strawmand and his wife (and their twelve children).
The problems with the play – and there are many – all start with the language. Stylised and densely poetic in the original, Don Carleton's translation opts to preserve elements in the dialogue of his aspirational characters. Thus while the pragmatists are condemned to speak only prose, Falk and Swanhild engage in rather awkwardly rhymed exchanges. Slipping in and out of "poetry" only makes matters worse, jolting the ear back into consciousness every time it manages to relax into the over-eager rhymes that race each other to the climax of each line.
Then there's the issue of structure. Just as Ibsen's hero exhorts his fellows to break free from conventions and live free from formal bonds and boundaries, so the playwright himself seems to attempt a form that circumvents accepted dramatic practices. The result is at best reading richly ambiguous and at worst deeply confused. And pacing doesn't help either; at around three hours long this domestic miniature sags and bags ungracefully in scenes of uniformly epic proportions.
Director David Antrobus's cast give it a good go however, bringing what freshness and energy they can to Ibsen's early experiment in contemporary naturalism. Sarah Winter's Swanhild is all ingenuous sweetness and mischief, a wise-innocent whose layered characterising heaps shame on the lazy symbolism of her name. In Mark Arends' Falk (pictured left) she finds a dynamic adversary – tense and tender in his naïve convictions. Offering quiet support, Jessica Clark's Anna and James Joyce's Lind get the thankless task of being endlessly uncomplicated, while by contrast the complications of Mark Oosterveen's Styver and Amy Neilson-Smith's Miss Jay occasionally feel a little over-worked.
Sam Dowson's designs are all corseted-bosoms and bone-china, and in Richmond's intimate Orange Tree theatre invite the audience to join the characters on the neatly-mown Norwegian lawn. It's an invitation not to be accepted lightly – three hours in the company of ideological mouthpieces and plot-convenient symbols does pall – but one not without its compensations. Love's Comedy is a portrait of the artist as a young man; if you prefer your dramatists (and your drama) all grown-up then cut straight to Hedda Gabler. But if you want to experience the youthful experiments and errors that made the full-grown man then this is as good a place as any to start.
MORE IBSEN ON THEARTSDESK
Ghosts, Duchess Theatre (2010). Iain Glen makes directorial debut with a straightforward take starring Lesley Sharp
The Master Builder, Almeida Theatre (2010). Passions blow hot and cold in this uneven production starring Gemma Arterton and Stephen Dillane
Emperor and Galilean, National Theatre (2011). Power and pace help to exhume Ibsen's Romano-Christian epic starring Andrew Scott
Judgement Day, The Print Room (2011). Ibsen's last play has its issues but emerges strongly in new adaptation with Michael Pennington
The Lady From the Sea, Rose Theatre, Kingston (2012). Joely Richardson takes on the Ibsen heroine her mother and sister made their own
A Doll's House, Young Vic (2012). Period setting yields a contemporary tragedy adapted by Simon Stephens and starring Hattie Morahan
Hedda Gabler, Old Vic (2012). Ibsen's heroine draws new depths from the West End's sweetheart Sheridan Smith (pictured)
A Doll's House, Royal Exchange (2013). Ibsen in the round loses none of its power to cast a spell
Public Enemy, Young Vic (2013). The horrors of local politics still chime in Richard Jones's queasy production of an Ibsen masterpiece
Ghosts, Almeida Theatre (2013). Richard Eyre and Lesley Manville shine light into Ibsen's dark thriller of family misfortunes
Peer Gynt, Théâtre National de Nice (2014). Irina Brook's song-and-dance Ibsen entertains, but misses the darker shades
The Wild Duck, Belvoir Sydney (2014). Heartbreaking adaptation mixes naturalism and forensic examination
Little Eyolf, Almeida Theatre (2015). Strong women and one weak man in Ibsen's swift study of isolation and guilt
The Master Builder, Old Vic (2016). Ralph Fiennes stars in Ibsen's unsettling mix of the real and the supernatural
Hedda Gabler, National Theatre (2016). Ivo van Hove makes an uneven Southbank debut
Sarah Winter's Swanhild is all ingenuous sweetness and mischief
rating
Explore topics
Share this article
Subscribe to theartsdesk.com
Thank you for continuing to read our work on theartsdesk.com. For unlimited access to every article in its entirety, including our archive of more than 10,000 pieces, we're asking for £3.95 per month or £30 per year. We feel it's a very good deal, and hope you do too.
To take an annual subscription now simply click here.
And if you're looking for that extra gift for a friend or family member, why not treat them to a theartsdesk.com gift subscription?