Judgement Day, The Print Room |

reviews, news & interviews
Judgement Day, The Print Room
Judgement Day, The Print Room
Ibsen's last play has its issues but emerges strongly in this new adaptation
Tuesday, 22 November 2011
'To have truth, beauty must become art': Arnold Rubek (Michael Pennington) grapples with his genius
There comes a point in a writer's life when he – it's usually a he – stops writing about life and starts writing about writing. With Ibsen this stage arrived in the self-reflexive rage and unquiet of When We Dead Awaken – the play the author seemed to realise would be his last. Brooding on genius, art and the clamour of the everyday, it's an inhospitable work and not one we see often; London's last professional revival was almost 20 years ago.
In a new version by Mike Poulton (he of the Donmar's recent
Luise Miller
), the play gains clarity, exposing the warped theatrical bones of Ibsen's original.
Conceived as a "Dramatic Epilogue", When We Dead Awaken – a title unaccountably abandoned for Poulton's adaptation in favour of the much less expansive Judgement Day – glances back over its shoulder at a career of playwriting. Yet in looking back to the creativity of his younger self, Ibsen becomes Orpheus, railing at the resolution he can never have. Familiar symbols and subjects crowd in upon one another here, where all is cold, hard, mountainous and impenetrable. Yet, in a world that lacks the reality of Brand or even The Master Builder, it is only as ghosts, shadows, that they return – present but never really animated with new possibility.
Downie's diction is the real blade with which she signals her trauma
Staged in traverse, Mike Britton's set is all straight edges and hard, glassy surfaces, echoing the oppositions – stationary trains, lives "crammed full of spaces" – of Ibsen and Poulton's texts. Characters inhabit the horizontal extremes of the sloping stage, creating a sense of balance and counterbalance but more practically obscuring important appearances and frequently blocking sight-lines. Chafing elegantly against this minimalist frame and the contemporary delivery of director James Dacre's cast are period costumes – creating some beautiful visuals, but also making sense of some of the play's more dated principles. Led by Michael Pennington as ageing sculptor Arnold Rubek, the actors tackle the problem of how to play to Ibsen's emotional scale (exaggerated in this final work to heightened proportions) while being sensitive to the intensity of The Print Room's small space. For Pennington the answer comes in a quiet naturalism, a delicately authoritative performance content to leave the larger gestures to Penny Downie.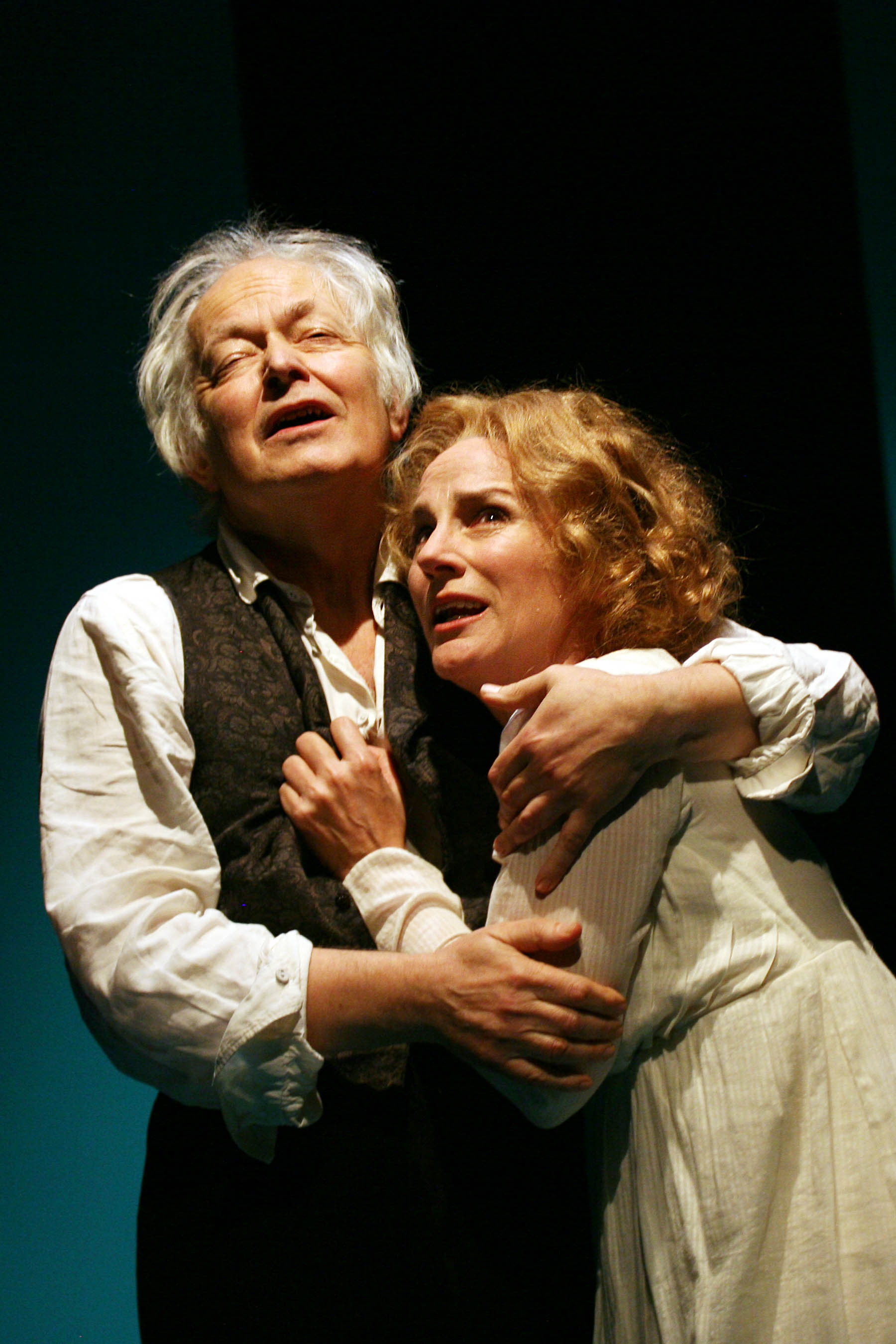 Her Irena (Rubek's original muse and long-lost love, [pictured right with Pennington]) is beguiling. Mercurial and skittish, hers is a virtuoso delivery that takes in rapture and adoration as well, rather unexpectedly, as comedy. Yet it's the menace that remains uppermost. The small, curved blade she carries with her may be her weapon of choice, but Downie's diction – the careful monotone that glides over chasms of logic – is the real blade with which she signals her trauma, cutting cleanly through the flesh that binds love to tenderness. It's a big performance for Sara Vickers's Maia to match, and while her failure feels rather apt dramatically, there's a staginess here, a touch of the Miss Julie about her yearnings to break free and sample the bestiality offered by Ulfheim (Philip Correia) that never quite connects.
The cast are well served by Poulton's script, which balances fidelity with clean linguistic lines. A few jarring phrases aside (the era of this fantastical Nordic world is left ambiguous), his images match the clarity of Britton's design, giving both Pennington and Downie the support that their rather over-symbolised characters need to persuade us through the narrative.
While Ibsen arguably does lose his foothold here, sacrificing the natural flow of action for metaphors that never fully ignite, Poulton's progress to the climax on the mountain peak is steady. Judgement Dayis a loving treatment of Ibsen's elderly and somewhat infirm work, a natural fit for The Print Room's schedule of underexposed plays by major playwrights.
MORE IBSEN ON THEARTSDESK
Ghosts, Duchess Theatre (2010). Iain Glen makes directorial debut with a straightforward take starring Lesley Sharp
The Master Builder, Almeida Theatre (2010). Passions blow hot and cold in this uneven production starring Gemma Arterton and Stephen Dillane
Emperor and Galilean, National Theatre (2011). Power and pace help to exhume Ibsen's Romano-Christian epic starring Andrew Scott
The Lady From the Sea, Rose Theatre, Kingston (2012). Joely Richardson takes on the Ibsen heroine her mother and sister made their own
A Doll's House, Young Vic (2012). Period setting yields a contemporary tragedy adapted by Simon Stephens and starring Hattie Morahan
Hedda Gabler, Old Vic (2012). Ibsen's heroine draws new depths from the West End's sweetheart Sheridan Smith (pictured)
Love's Comedy, Orange Tree Theatre (2012). Early Ibsen finds the playwright in his awkward adolescence
A Doll's House, Royal Exchange (2013). Ibsen in the round loses none of its power to cast a spell
Public Enemy, Young Vic (2013). The horrors of local politics still chime in Richard Jones's queasy production of an Ibsen masterpiece
Ghosts, Almeida Theatre (2013). Richard Eyre and Lesley Manville shine light into Ibsen's dark thriller of family misfortunes
Peer Gynt, Théâtre National de Nice (2014). Irina Brook's song-and-dance Ibsen entertains, but misses the darker shades
The Wild Duck, Belvoir Sydney (2014). Heartbreaking adaptation mixes naturalism and forensic examination
Little Eyolf, Almeida Theatre (2015). Strong women and one weak man in Ibsen's swift study of isolation and guilt
The Master Builder, Old Vic (2016). Ralph Fiennes stars in Ibsen's unsettling mix of the real and the supernatural
Hedda Gabler, National Theatre (2016). Ivo van Hove makes an uneven Southbank debut
Ibsen's familiar symbols return - present but never really animated with new possibility
rating
Share this article