St John's Night, Jermyn Street Theatre |

reviews, news & interviews
St John's Night, Jermyn Street Theatre
St John's Night, Jermyn Street Theatre
An early Ibsen comedy gets a rare theatrical outing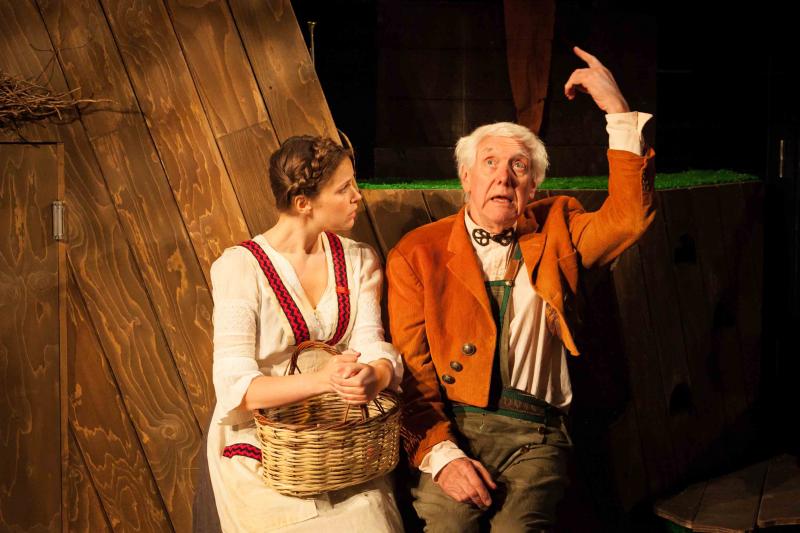 Cinderella story: Anne (Louise Calf) and Berg (Roddy Maude-Roxby) anchor this overgrown fairytale with emotional truthfulness
Before Ibsen was, well, Ibsen, he had a successful career as a failed playwright. Producing works on a spectrum between unremarkable and outright bad, he muddled his way through to his late thirties when the publication of Brand derailed what might otherwise have been a spectacularly mediocre life's work.
With the change in fortunes came a change in tone – a welcome and necessary one if the leaden comedy of Ibsen's early pastoral satire
St John's Night
is anything to go by.
Inspired by Shakespeare's A Midsummer Night's Dream, Ibsen's play subjects the collision between man and magic to a Norwegian re-write, framing the tale of Midsummer's Eve frolics with a hearty exegesis on the nationalist and Romantic philosophies of his day. Unperformed in England in modern memory, Anthony Biggs' new production for the Jermyn Street Theatre is an oddity – by no means unpleasant, but not the rediscovery of a lost masterwork we might perhaps wish.
Watching it is a bit like browsing through the sketchbooks of an artist in training
Its saving grace is Biggs' understanding of the situation. Recognising the flimsiness of the material he and designer James Perkins go all out to embrace the blunter elements of a satire that teeters dangerously close to farce.
The tiny theatre is transformed into the exuberant Nordic cousin of Tolkein's The Shire, all low wooden doorways in alarming pastel shades and bucolic rhapsody. In a nice touch, the goblins (whose mischievous spiking of the punch-bowl sets confusion in motion) lurk at the back of the stage, adding constant commentary in Luke Bateman's attractively naïve musical accompaniment. Some dodgy poetry (and still dodgier West Country accents) completes their role as folk-styled agents provocateurs.
Chief among the play's human-kind is Julian Poulsen (resplendently bewigged in Danny Lee Wynter's portrayal), the self-styled critic and thinker whose life enacts the perpetual warring between his primitive and aesthetic instincts. A character straight of out of Gilbert & Sullivan's Patience, he prances and pronounces his way grandly through a romance with Juliane (Isla Carter) and a friendship with the rather more pragmatic Birk (Ed Birch).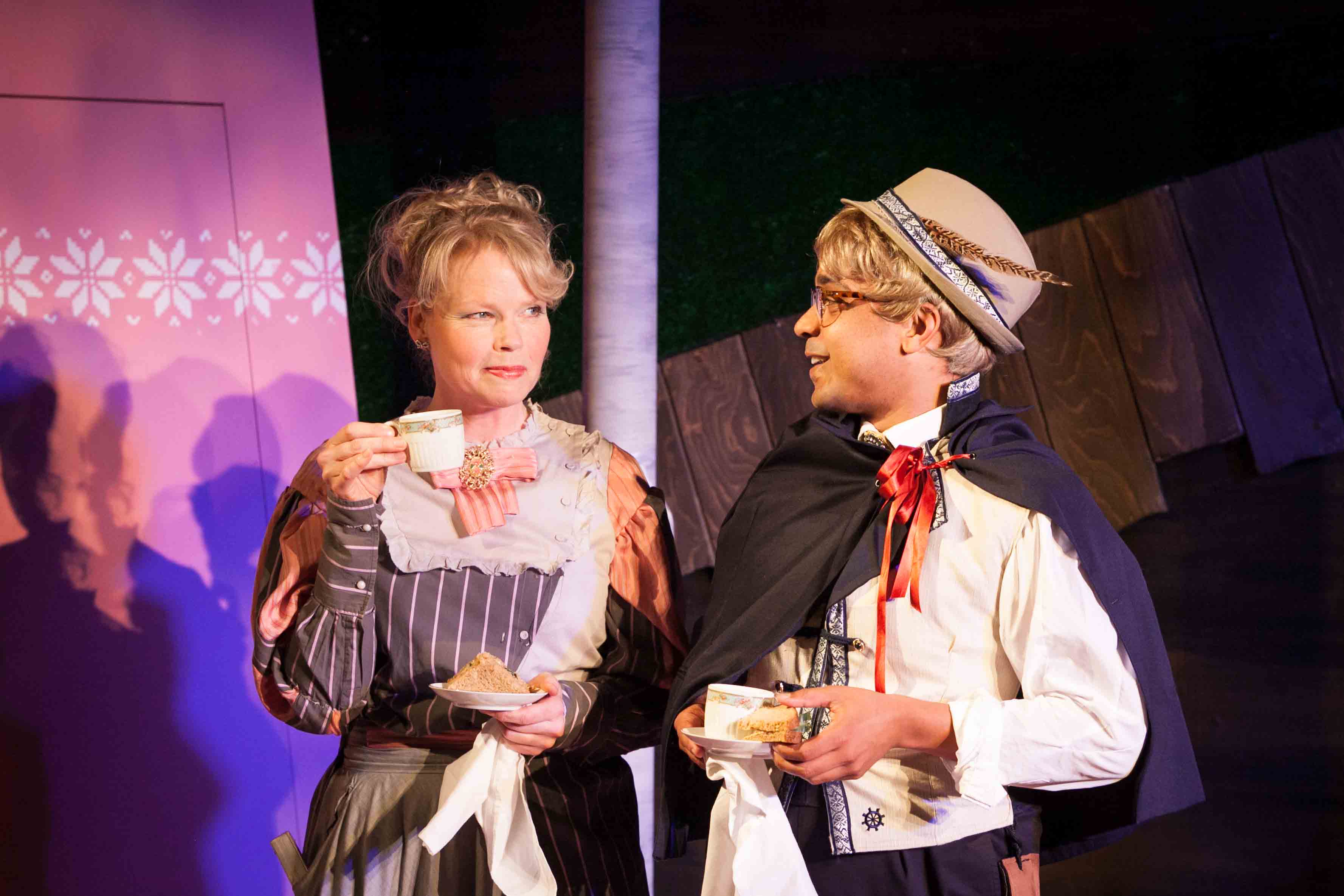 Wynter judges the combination of vulnerable and insufferable in his character ("I am rarely cheerful for more than half an hour at a time") just about right, supported by a gamely appalling Carter as his vapid beloved. Their affectations are balanced by the hemp-and-oatmeal, Cinderella-style goodness of Louise Calf's Anne (who, but for the absence of twittering birds above her plait-encircled head, is basically a Disney heroine) and her grandfather (Roddy Maude-Roxby).
Reprising their mother and son roles from last year's Less Than Kind at Jermyn Street, Sara Crowe (pictured above with Wyntner) and David Osmond make the best of comedic supporting roles, playing up to (slightly) wicked stepmother and infatuated, impressionable young friend respectively.
There are some delicate touches to the satire – the tragic tale of Poulsen's adored wood nymph, who sang songs (mostly) in a minor key and is rejected at his discovery that she has a tail, chief among them – but mostly this is just a piece of period pantomime, rejected even by the 19th-century audience it attempted to speak to.
The interest of St John's Night lies in what it prefigures. Ibsen's first play set in his contemporary Norway, it heralds not only the folk triumph of Peer Gynt, but also the national, realist milieu he would make his own. Watching it is a bit like browsing through the sketchbooks of an artist in training: curious, but not a cultural meal in itself.
Ibsen's first play set in his contemporary Norway, this heralds the national, realist milieu he would make his own
rating
Explore topics
Share this article