Top Gear: Fifty Years of Bond Cars, BBC Two |

reviews, news & interviews
Top Gear: Fifty Years of Bond Cars, BBC Two
Top Gear: Fifty Years of Bond Cars, BBC Two
No girls or Martinis, just plenty of four-wheeled stars in Bond tribute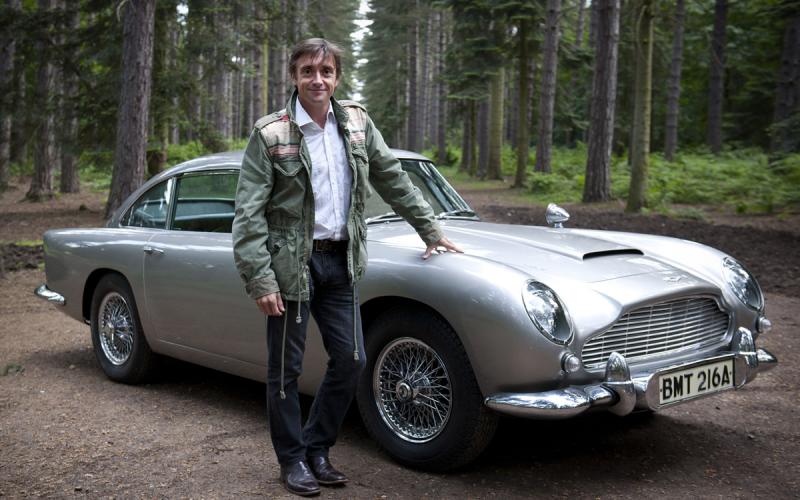 Richard 'The Hamster' Hammond cuddles up to Bond's classic Aston
The appearance of the Goldfinger-era Aston Martin DB5 in the new Skyfall is prompting cheers from audiences, and as Richard Hammond commented in this celebration of Bondmobiles down the ages, the Bond movies have been unique in their ability to turn cars into personalities. From the absurd to the spectacular, 007's transport has rarely been less than memorable, apart from a disastrously lacklustre flirtation with BMWs during the Pierce Brosnan era.
Hammond's jokey, blokey, anecdotal approach, mixed with some notable specimens of jerry-built science, made this a hugely diverting hour. He reminded us that Bond's first car, in 1962's Dr No, was a mere Sunbeam Alpine, while the DB5 in Goldfinger was almost replaced by a Jaguar or even a Chevrolet when Aston Martin refused to give producer Harry Saltzman a free sample. A sprinkling of stellar guests added a bit of extra zest, not least Daniel Craig revealing that his favourite car in the Bond oeuvre was the Toyota 2000 GT from You Only Live Twice (pictured below), and erstwhile Bond director Guy Hamilton recalling how he dreamed up the revolving numberplates on the fabled DB5 when he kept getting parking tickets in Mayfair.
The finest driving stunt in the whole canon is, by general agreement, in one of the worst films, The Man with the Golden Gun. It's the moment where Bond crosses a river by aiming his car (an undistinguished AMC Hornet) over a broken bridge, which causes it to spin like a shell from a gun as it flies through the air before landing the right way up on the other side. This was done in one take by one of the film's technicians, who'd never done it before and stepped in when the official stuntman had to leave the set. Roger Moore, loafing louchely by the sea in Monte Carlo, recalled how producer Cubby Broccoli rewarded the fellow with a wad of 100-dollar bills. "Can I do it again?" he riposted.
I must admit I hated all the Roger Moore Bonds, probably because (as he cheerfully admits) he regarded the whole thing as a joke. It was entirely à propos that they should have put Moore behind the wheel of a double-decker bus in Live and Let Die, and typical that Moore's favourite specimen of Bondian transport was the yellow Citroen 2CV in For Your Eyes Only (pictured below, in flight).
Things picked up a bit when they put Pierce Brosnan in an Aston Martin Vanquish, though its ability to become invisible irked many critics. However, Hammond demonstrated that the technology was more or less feasible by driving around in a Ford Transit van covered with TV screens showing live images from TV cameras, much to the merriment of passers-by.
Appropriate gravitas has been restored in the Craig era, with such jaw-dislocating sequences as the cartwheeling Aston DBS in Casino Royale (the car wouldn't flip until they fired a cannon under it) or the shatteringly destructive car chase at the beginning of Quantum of Solace. But Hammond himself has a special fondness for the submersible Lotus Esprit in The Spy Who Loved Me, and had gone so far as to build a bespoke Top Gear version. Well, strictly speaking he'd used a Lotus Excel instead, fitted with toughened windscreen, special waterproofing and concrete-filled tyres to negate its natural buoyancy. Incredibly, it worked.
Follow Adam Sweeting on Twitter