Swan Lake in world's cinemas tonight launches new offensive on elitism |

reviews, news & interviews
Swan Lake in world's cinemas tonight launches new offensive on elitism
Swan Lake in world's cinemas tonight launches new offensive on elitism
32 countries will hook up to Royal Opera House relays of opera and ballet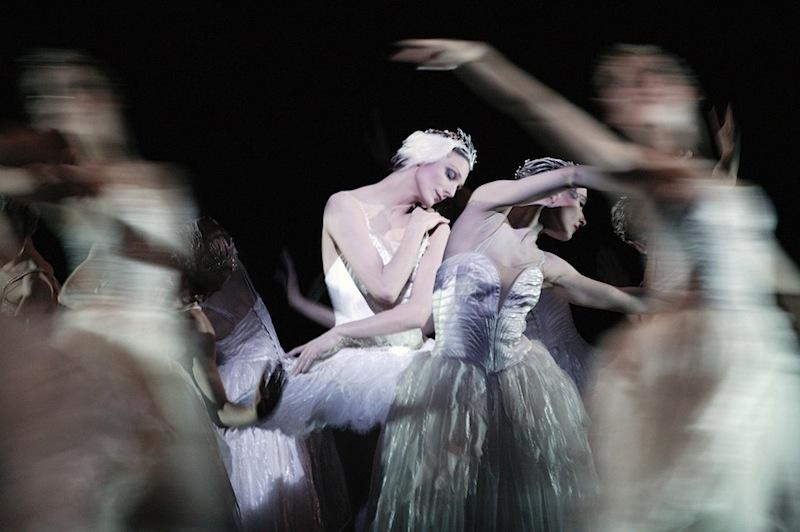 Global flight: Zenaida Yanowsky as Odette in the Royal Ballet's Swan Lake
Tonight the Royal Ballet's live Swan Lake opens the most extensive season yet of live screenings to cinemas worldwide of the Royal Opera House's productions. Zenaida Yanowsky and Nehemiah Kish, in the leading roles of the Swan Queen and her evil counterpart Odile, and Prince Siegfried, will be beamed across oceans to cinema-goers in St Julians, Malta, to the Montevideo Moviecenter in Uruguay, as well as to the Apollo, Burnley and the Enfield Cineworld.
The Opera House website lets you enter your country and postcode and instantly find cinemas near you that will simultaneously be screening the live relays. Cast sheets are downloadable tonight in five other languages for El Lago de los Cisnes, Le lac des cygnes, I lago dei cigni, Schwanensee, and O lago dos cisnes. More than 900 cinemas in 32 countries are said to be signed up to the relays, 240 cinemas in the UK and rising.
It's a powerful gesture against the accusations of exclusivity that have become increasingly relevant in an age of unfettered electronic global communication, though questions remain unanswered about the economic value. The ROH cinema relays are a privately sponsored project (supported by Bank of America Merrill Lynch, who are one of the most prominent corporate arts sponsors), and they endorse a new interest from great brand-names of opera and ballet in breaking down their gilded auras and bringing their luxurious productions to populations anywhere on earth within reach of a decent cinema.
In Britain anecdotal evidence of regional audiences for live relays so far is that the public is only slowly realising what's going on - indeed earlier this year English National Opera's artistic director John Berry stated his doubts that live cinema relays would actually increase opera attendances, rather than distract the audience.
However, the National Theatre Live theatre relays, Glyndebourne's opera screenings, the Metropolitan Opera relays from New York and a bullish new Bolshoi Ballet hook-up all add ballast to a move towards reaching an entirely new public of millions by art institutions who want to do more than find 2-3,000 ticket-buyers a night.
The Royal Opera House's recent proliferation of DVD recordings, live backstage videos and big-screen open-air relays continue the evidence of a purposeful shift towards a mass global public who may never buy a ticket to enter the auditorium itself but who can be tempted to spend some money on enjoying its ballet and opera nevertheless. So far these add-ons are in cost terms "washing their face", according to a recent comment by Royal Opera House chief Tony Hall, but the educational and publicity aspects are certainly powerful tools in generating new interest and appreciation for high-end arts - even if not easily factored into spreadsheets.
The Bolshoi Ballet relays a new Rite of Spring by the Royal Ballet's Wayne McGregor - but McGregor's home premiere is not on the Royal's list
The ROH's 2012-13 cinema season fields three popular favourites of ballet, Swan Lake, The Nutcracker and Alice's Adventures in Wonderland, and a slightly more adventurous opera list, with relays of Verdi's Nabucco (with Placido Domingo), Berlioz's Les Troyens, Tchaikovsky's Eugene Onegin (with Simon Keenlyside), Rossini's La Donna del lago (with Joyce diDonato) and Britten's Gloriana all worth dating in the diary alongside Puccini's La bohème.
The Bolshoi Ballet gets the better of the Royal Ballet in terms of boldness, by relaying a world premiere Rite of Spring next spring by the Royal Ballet's own Wayne McGregor - yet McGregor's attractive-sounding Royal Ballet creation next year, Raven Girl, is not on the Royal's cinema relay list.
Elsewhere the Bolshoi relays unambiguously blaze the return of power to its former longtime director Yuri Grigorovich, whose much-criticised classical productions remain the world face of Russia's flagship company this year. The Bolshoi are to visit London's Covent Garden next summer, details of their repertoire are yet unannounced.
Royal Ballet & Opera relays
Tuesday 23 October 2012, The Royal Ballet, Tchaikovsky's Swan Lake (live) with Zenaida Yanowsky / Nehemiah Kish
November 2012 (various dates), The Royal Opera, Berlioz Les Troyens (pre-recorded), with Anna Caterina Antonacci / Fabio Capitanucci / Eva-Maria Westbroek, conductor Antonio Pappano
Thursday 13 December, The Royal Ballet, Tchaikovsky's The Nutcracker (live), with Roberta Marquez / Steven McRae
Tuesday 15 January 2013, The Royal Opera, Puccini's La bohème (live), with Rolando Villazon / Maija Kovalevska, conductor Mark Elder
Wednesday 20 February 2013, The Royal Opera, Tchaikovsky's Eugene Onegin (live), with Simon Keenlyside / Krassimira Stoyanova, conductor Robin Ticciati
Thursday 28 March 2013, The Royal Ballet, Talbot's Alice's Adventures in Wonderland (live), with cast tbc
Monday 29 April 2013, The Royal Opera, Verdi's Nabucco, with Placido Domingo, conductor Nicola Luisotti
Monday 27 May 2013, The Royal Opera, Rossini's La donna del lago (live), with Juan Diego Flórez / Joyce DiDonato, conductor Michele Mariotti
Monday 24 June 2013, The Royal Opera, Britten's Gloriana (live), with Susan Bullock / Peter-Coleman Wright / Toby Spence, conductor Paul Daniel
Bolshoi Ballet relays
Sunday 21 October, Tchaikovsky's Swan Lake (recorded - production Grigorovich)
Sunday 25 November, Pugni's The Pharaoh's Daughter (live - production Lacotte)
Sunday 16 December, Tchaikovsky's The Nutcracker (live - production Grigorovich)
Sunday 27 January 2013, Minkus's La Bayadère (live - production Petipa/Grigorovich)
Sunday 10 February 2013, Minkus's Don Quixote (recorded with Osipova/Vasiliev - production Petipa/Gorsky/Fadeyechev)
Sunday 31 March 2013, Stravinsky's The Rite of Spring double bill (live - including premiere by Wayne McGregor)
Sunday 12 May 2013, Prokofiev's Romeo and Juliet (live - production Grigorovich)
Further Bolshoi relay information
Swan Lake will beam to St Julians, Malta, and the Montevideo Moviecenter in Uruguay, as well as to the Apollo, Burnley and the Enfield Cineworld
Share this article