The Royal Opera, 2012-13 Season |

reviews, news & interviews
The Royal Opera, 2012-13 Season
The Royal Opera, 2012-13 Season
Six new productions, Rossini and Meyerbeer rarities - full listings for Kasper Holten's first season as opera director
Good Queen Bess: New production of Benjamin Britten's Gloriana next summer for Jubilee
New Royal Opera director Kasper Holten has announced a 2012-13 season in which big-name favourite operas and world opera stars are threaded through by 19th-century rarities and British operas. ROH music director Sir Antonio Pappano conducts a deliberate series of revivals, including Verdi masterpieces and four complete Ring cycles.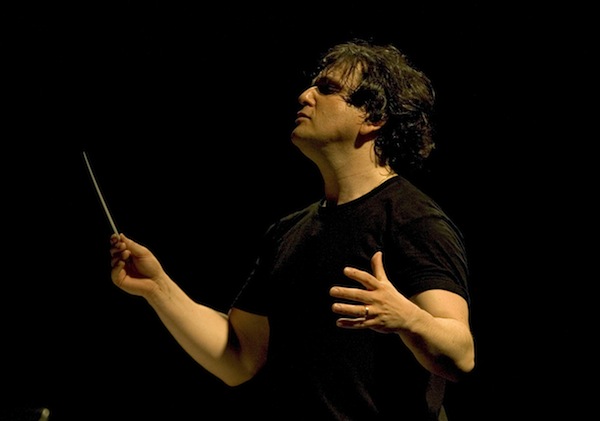 Benjamin Britten, Harrison Birtwistle and George Benjamin are the three featured British opera composers - George Benjamin premieres a new opera based on a twisted fairytale written by Martin Crimp, Written on Skin, the production being co-commissioned by no fewer than six opera houses. Birtwistle's mythological opera The Minotaur returns, under the baton of Pappano (pictured right by Clive Barda), and Britten's Gloriana marks the combined anniversary occasions of the Queen's Diamond Jubilee, Britten's centenary and the 60th anniversary of the opera's Covent Garden premiere.
The new productions are of two rarities, Meyerbeer's Robert le diable and Rossini's La donna del lago, of Eugene Onegin, Nabucco, Gloriana and the George Benjamin premiere Written on Skin.
Performances will be streamed to cinemas live of La bohème, Eugene Onegin, La donna del lago and Gloriana; and recorded of Les Troyens and Nabucco.
Stars appearing include Angela Gheorghiu, Renée Fleming, Susan Bullock and Joyce DiDonato, Roberto Alagna, Juan Diego Flórez, Jonas Kaufmann, Rolando Villazón, Simon Keenlyside, Bryn Terfel and Thomas Hampson. Conductors include Paul Daniel, Daniel Oren, Mark Elder, Robin Ticciati and Julia Jones.
Autumn 2012

24 September-2 November: Wagner's Ring cycle. Four complete cycles of Das Rheingold, Die Walküre, Siegfried and Götterdämmerung conducted by Antonio Pappano, with Bryn Terfel as Wotan, Susan Bullock as Brünnhilde and Stefan Vinke as Siegfried. Also Wolfgang Koch (Alberich), Stig Anderson (Loge), John Tomlinson (Hagen and Hunding), Sarah Connolly (Fricka), Eva-Maria Westbroek (Sieglinde), Peter Coleman-Wright (Gunther and Donner). Cycle 1 − 24, 26, 29 Sep & 1 Oct; cycle 2 − 2, 4, 7 & 9 Oct; cycle 3 − 16, 18, 21, 24 Oct; cycle 4 − 26, 28, 31 Oct, 2 Nov. The 2004-6 staging by Keith Warner, designed by Stefanos Lazaridis and Marie-Jeanne Lecca, lighting by Wolfgang Göbbel. Sold out, but 23 day tickets available per performance
27-29 September: Music Theatre Wales, In the Locked Room / Ghost Patrol (Linbury Studio Theatre). Two short operas, one set in a locked room, another in a bar, by composer Huw Watkins with Minotaur librettist David Harsent, and composer Stuart MacRae with librettist and crime novelist Louise Welsh. Co-produced with Scottish Opera.
4-13 October: English Touring Opera, Albert Herring / The Emperor of Atlantis / The Lighthouse (Linbury Studio Theatre). Britten's masterful comic opera about a Suffolk village (4, 6, 10 Oct), Viktor Ullman's work written during his incarceration in Terezin concentration camp - which is coupled with a staging of Bach's cantata Christ lag in Todes Banden (5, 12 Oct) - and Peter Maxwell Davies' atmospheric opera about the disappearance of lighthouse men in 1900 (11, 13 Oct).
13 November-7 December: Donizetti's L'elisir d'amore. Roberto Alagna stars as Nemorino with Aleksandra Kurzak as Adina and Ambrogio Maestri as Dr Dulcamara, the quack potion-meister, in this bubbling bel canto comedy (pictured above by Catherine Ashmore/ROH). Bruno Campanella conducts Laurent Pelly's 2007 staging (co-production with Opéra National de Paris). (8 performances)
November: Berlioz's Les Troyens cinema relay (pre-recorded), with Anna Caterina Antonacci, Jonas Kaufmann, Eva-Maria Westbroek, conducted by Antonio Pappano
29-30 November: Mark Thomas, Bravo Figaro! (Linbury Studio Theatre). Comedian Mark Thomas turns serious in a one-man show about the effect of an opera performance on his father's dementia.
6-12 December: Meyerbeer's Robert le diable (NEW PRODUCTION). The first grand opera, rarely staged and grand in length, launched the romantic movement in opera and ballet. Diana Damrau stars as Isabelle, whose lover Robert (Bryan Hymel) makes a supernatural pact in order to win her. But his supernatural assistant Bertram (John Relyea) is in fact both the Devil and his father. Co-production with the Grand Théâtre de Genève. (6 performances)
Winter 2012-13
17 December-12 March: Puccini's La bohème. John Copley's 1974 production with Julia Trevelyan Oman's romantic designs has 15 spread-out performances, with Rolando Villazón as the first of the four Rodolfos, followed by Dmytro Popov, Teodor Ilincai and Vittorio Grigolo; Maija Kovalevska as Mimi to Villazón and Popov, Anita Hartig with Ilincai, and Barbara Frittoli with Grigolo. Conducted by Mark Elder (15 performances).
17-28 January: Birtwistle's The Minotaur. Harrison Birtwistle's 2008 opera on the tale of Ariadne, Theseus and the Minotaur locked in the legendary labyrinth returns with the original cast, the Minotaur, John Tomlinson, and Christine Rice and Johan Reuter as the lovers. Antonio Pappano conducts Stephen Langridge's production, which is designed by Alison Chitty (5 performances) (Christine Rice pictured left, by Bill Cooper/ROH)
January 2013: La bohème live cinema relay, casting tbc
4-20 February: Tchaikovsky's Eugene Onegin (NEW PRODUCTION). The first production by new opera director Kasper Holten, designed by fellow-Dane Mia Stensgaard, conducted by Robin Ticciati, and starring Simon Keenlyside and Krassimira Stoyanova as Onegin and Tatyana. Lensky is Pavol Breslik (7 performances)
20 February: Eugene Onegin live cinema relay, with Simon Keenlyside, Krassimira Stoyanova, conducted by Robin Ticciati
Next page: Spring and Summer 2013
Spring 2013
2-26 March & 9-20 July: Puccini's Tosca. Jonathan Kent's opulent production of the immortal "shabby shocker" of opera, in which an opera singer in love with a political dissident falls foul of the terrifying commandant of Rome, Scarpia. Tosca and Cavaradossi are sung by three casts, Amanda Echalaz/Massimo Giordano, Kristine Opolais/Yonghoon Lee and Martina Serafin/Aleskandrs Antonenko. Maurizio Benini conducts March, Daniel Oren conducts July. (13 performances)
8-22 March: George Benjamin's Written on Skin (UK PREMIERE). According to theartsdesk, George Benjamin is "a compositional genius". Following the success of his 2006 theatrework Into the Little Hill, this new opera has a Martin Crimp libretto and is staged by leading theatre director Katie Mitchell in her ROH debut. The story is set in 13th-century Provence, where a landowner invites an illuminator of books into his house. Adultery, murder, cannibalism and fatal defenestration ensue. Barbara Hannigan and Christopher Purves star, Benjamin himself conducts. (5 performances)
30 March-26 April: Verdi's Nabucco (NEW PRODUCTION). Placido Domingo takes the baritone lead role for several performances as he gradually forsakes his tenor repertoire as King Nebuchadnezzar struggling against his scheming daughter Abigaille. Leo Nucci sings the first five shows, Domingo the second four. Nicola Luisotti conducts and Daniele Abbado, son of conductor Claudio, directs this co-production with La Scala Milan, Houston Grand Opera and Barcelona's Gran Teatre del Liceu, which is designed by Alison Chitty. (9 performances)
29 April: Nabucco cinema relay (pre-recorded), with Placido Domingo, conducted by Nicola Luisotti
April 2013: The Firework-Maker's Daughter (LONDON PREMIERE), Linbury Studio Theatre. New opera by David Bruce with Glyn Maxwell's libretto based on a Philip Pullman fairytale about a girl who runs away from home to become a firework-maker. John Fulljames directs. Further details tbc.
16 April-9 May: Mozart's Die Zauberflöte. David McVicar's 2003 production of "The Magic Flute", designed by John Macfarlane (pictured above by Mike Hoban/ROH), is conducted by Julia Jones, with Ekaterina Siurina and Sophie Bevan singing Pamina to the Tamino of either Charles Castronovo or Andrew Staples. Papageno is either Christopher Maltman or Simon Keenlyside, and the stratospheric role of the Queen of the Night is taken by Albina Shagimuratova. (9 performances)
Summer 2013
4-25 May: Verdi's Don Carlo. Magisterial opera about son-father conflict, magnified by the political stakes surrounding them. Philip II of Spain is the great Ferrucio Furlanetto, with Jonas Kaufmann as his son Don Carlos, and Anja Harteros as Elizabeth of Valois, the third in the love triangle. This 2008 production was designed by Bob Crowley and directed by Nicholas Hytner. Antonio Pappano conducts (co-production with Norwegian National Opera and the Metropolitan Opera New York). (7 performances)
17 May-11 June: Rossini's La donna del lago (NEW PRODUCTION). The "ultimate bel canto cast" is promised for this new staging of Rossini's tuneful rarity about the lady of the lake with whom King James of Scotland falls in love. Joyce DiDonato, Juan Diego Flórez and Colin Lee sing the leading roles, conducted by Michele Mariotti. Dick Bird and Yannis Thavoris design sets and costumes, and John Fulljames directs. (8 performances)
27 May: La donna del lago live cinema relay, with Joyce DiDonato, Juan Diego Flórez, conducted by Michele Mariotti
20 June-6 July: Britten's Gloriana (NEW PRODUCTION). Three anniversaries coincide, Britten's centenary, 60 years since the opera's Covent Garden premiere during Queen Elizabeth II's Coronation, and hence the Queen's Diamond Jubilee. Britten's portrait of Elizabeth I is the English equivalent of Verdian opera, directed in a new production by Richard Jones with Susan Bullock as Elizabeth I and Toby Spence as Robert Devereux, Earl of Essex. Kate Royal and Peter Coleman-Wright also feature. Paul Daniel conducts, Ultz designs, and Lucy Burge choreographs the courtly dances. Co-production with Hamburg State Opera (6 performances)
24 June: Gloriana live cinema relay, with Susan Bullock and Toby Spence, conducted by Paul Daniel
27 June-16 July: Verdi's Simon Boccanegra. Revival under Antonio Pappano's baton of the 1991 Elijah Moshinsky production designed by Michael Yeargan, with Thomas Hampson in the title role as the Doge of Genoa whose complicated relationship with daughter Amelia (Hibla Gerzmava) takes place against a powerful political backdrop. Ferruccio Furlanetto and Jihoon Kim also adorn the cast. (6 performances)
30 June: Jette Parker Young Artists Summer Concert. The annual main stage performance for the alumni of Covent Garden's singing programme: this year sopranos Dusica Bijelic and Susana Gaspar, mezzos Justina Gringyte and Hanna Hipp, tenors Pablo Bemsch and David Butt Philip, baritones Michel de Souza and Ashley Riches, and bass Jihoon Kim. A light staging, but the full orchestra of the Royal Opera House, conducted by Andrew Davis.
5-21 July: Puccini's La rondine. Angela Gheorghiu and Ermonela Jaho are luxury casting in this run of the bijou opera about Magda, a Parisian professional mistress who falls in love with a younger man (Gheorghiu pictured right by Catherine Ashmore/ROH). The 2003 production by Nicolas Joël is opulently designed in Twenties Vienna styles by Ezio Frigerio and Franca Squarciapino, conducted this time by Marco Armiliato. Vittorio Grigolo sings opposite Gheorghiu, the other Ruggero Lastouc is to be announced. (8 performances)
19 & 21 July: Strauss's Capriccio in Concert. Renée Fleming sings one of Strauss's most succulent soprano roles as the Countess torn between lovers, just as an opera-lover is torn between words and music. Andrew Davis conducts this concert performance, with a cast including Joseph Kaiser and Christian Gerhaher. (2 performances)
The Royal Opera: Director of Opera, Kasper Holten; Music Director, Sir Antonio Pappano; Associate Director, John Fulljames