Interview: 10 Questions for Diana Krall |

reviews, news & interviews
Interview: 10 Questions for Diana Krall
Interview: 10 Questions for Diana Krall
The jazz pianist and singer on family sing-a-longs, being fearless, Ziegfeld Girls, and why she's listening to Lippy Kids
Diana Krall: "This feels as comfortable to me as playing with John Clayton or Ray Brown"
Jazz pianist and singer Diana Krall has won two Grammys and sold more than 15 million albums worldwide. Born in 1964 in Nanaimo, British Columbia, Canada, she attended Berklee College of Music in the early 1980s and had her major breakthrough with the 1995 album, All for You: A Dedication to the Nat King Cole Trio. Produced by T Bone Burnett and featuring Marc Ribot on guitar (and a cameo from Howard Coward, a.k.a.
Elvis Costello, whom she married in 2003), her new album of vintage material largely from the 1920s and '30s,
Glad Rag Doll
, features songs that Krall has spent a lifetime contemplating. She talks to the
theartsdesk
about the album.
PETER QUINN: The new album goes right back to your childhood, to songs you'd sing together at your grandmother's house, way before you discovered Nat King Cole and the Great American Songbook. Could you paint the scene of a family sing-a-long around the piano?
DIANA KRALL: They were hard-working and after my grandfather couldn't work in the coal mines any more they opened up a little coffee shop – a tinned soup and sandwich place, right. It's still there, it's just a tiny place. And they loved music. They were real characters, it was sort of like the movie Radio Days. There was a small kitchen with a pantry, a small house. Not a lot of money at all, but enough money to have a piano in the front room, and a lot of cigarette smoke, a lot of drinks, accordion playing. I have tapes of them all singing together 'cos my aunt used to record some of the nights. And you can't even decipher half the time what they're singing, everything from George Formby to John Denver. It wasn't the Great American Songbook.
They didn't have enough money to go out so they made their own entertainment. And then it became just part of the tradition. So it wasn't like a Judy Garland film you'd imagine, sitting around the piano like a lovely family, it was a bunch of screaming characters. All my family had nicknames – I don't even know the real names of half my family.
My Dad started collecting 78 records when he was 10. I think that he took some of the collection money and bought records with it.
You gave T Bone Burnett a CD of 35 songs and went into the studio without a lot of discussion. Was that a liberating or a terrifying experience for you?
I've got to be very careful that, in my enthusiasm for this, that it doesn't mean I'm leaving what I did before behind
Well, both, because you have to be fearless. And being fearless is terrifying. I said to T Bone the day before we went in, "I don't know what we're doing – what are we doing?" And he's like, "Don't worry, it's gonna be fun." So we went in, and as soon as we heard Marc Ribot playing "There Ain't No Sweet Man That's Worth the Salt of My Tears" T Bone was like, "Yeah, Howlin' Wolf meets Bix Beiderbecke". Fucking hell! It became my reimagining of the music that I heard at home. It didn't become a tribute to my Dad's records. I started digging really deep into the music, and sheet music, and YouTube and whatever I could do to find out what I liked. It is nostalgic and there's nothing wrong with that, but it was so creative to work with these guys.
I feel good about everything I've done in the past. I've got to be very careful that, in my enthusiasm for this, that it doesn't mean I'm leaving what I did before behind. I've just made a different movie. Right now this is the creative place that I'm in and I'm really liking it.
Watch Elvis Costello interviewing Diana Krall and T Bone Burnett
The 1928 title track, "Glad Rag Doll", was written for the film of the same name, of which only the trailer survives. You've talked about music from the 1920s having much more of a visual character. Could you explain what you mean by that?
I was turned on to music hall, vaudeville, and these visuals are always in my head. We've recreated this whole vaudeville stage set, so it's much more theatrical – and it's the visual of the Ziegfeld Follies girls. Like, for instance, singing "Just Like a Butterfly That's Caught in the Rain", my creative process is that I find a story where I actually have a short movie going in my head. It's not a very cerebral or intellectual process.
And then for the cover art we wanted to do a contemporary version of the Ziegfeld Girls that were photographed by Alfred Cheney Johnston (below left, Mark Seliger's cover shot for Glad Rag Doll).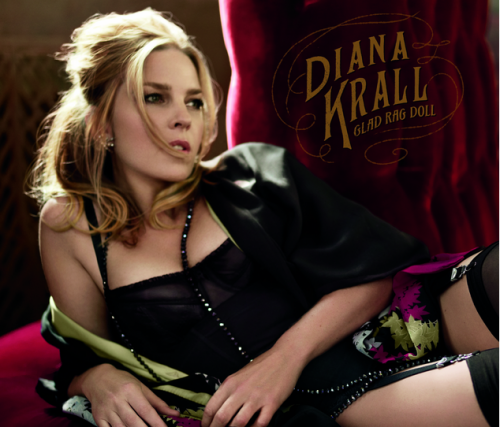 Usually I'm on stage with a quartet and lighting, and that's it. Now I have a very ambitious stage show – and I'm kind of going, oh my God, what have I gotten myself into? – it's much more ambitious than anything I've ever done. I'm using film and props, and I have a player piano in there and my Dad's gramophone on one side.
Was playing rock'n'roll piano on "I'm a Little Mixed Up" a challenge?
I'm actually playing a Jerry Lee Lewis-type spinet on "I'm a Little Mixed Up", it's an upright.
And you play an upright 1890s Steinway for much of the album. Did you have to change the way you played in terms of attack, for example?
This was the first time I'd worked with T Bone and I didn't have any control or plan. I just went into it with a completely open mind. "Little Mixed Up" was the only tune where I had to really trust T Bone that we were going down the right road. Because rock'n'roll piano is not something I do every day – it's really challenging. And aside from that, singing the tune I sound just like I sound, and then everything else going around me changes. Once I got into it, once I took a deep breath, it was great. I actually listened to it back and said to T Bone, "Did you hire another piano player to play that?" He goes, "No, that's you playing", and I'm like, "You're kidding me!" So I didn't even know I could do it. It was such a ball making this record.
The Doc Pomus song "Lonely Avenue" moves the album forward to the Brill Building era. Did you choose that because you're a Ray Charles fan or was the song chosen purely on its own merits?
T Bone said, "Well, what about 'Lonely Avenue?'" and I was like "I'm not touching that – that's Ray Charles". We didn't want to do it like Ray Charles. I think Elvis is on there too playing mandolino. That was just T Bone's magic on that. First of all we played it just like Ray Charles, then it went all Jack Johnson - Miles Davis kind of thing. He just let it fly and it was nice because we didn't do any fades on it – what's on the record is just what we played. The only vocal overdubs I did were on "I'm A Little Mixed Up", otherwise everything is just whole takes of what we played, because we recorded to tape.
There's a large cast of musicians on the album. Does some kind of musical alchemy take place to make a band sound great or is it simply a question of luck?
Both. We played our first gig last night – we did a show in Paris by the seat of our pants. We'd never played together and I was saying that this doesn't feel like I'm just trying this on. This feels as comfortable to me as playing with John Clayton or Ray Brown. It's different, but it's such a communicative experience – everybody is just so incredible in their own world.
I've got Stuart Duncan playing fiddle. There's no fiddle on the record but he's unbelievable and so we can kind of go Joe Venuti/Django Reinhardt land. We played "Lonely Avenue" for an audience for the first time last night, a small radio audience, and I was looking at them and I went "Oh boy!" And then we played "Sunny Side of the Street" and went there. So it's definitely more of a variety show, but with these guys I can do that. I'm playing more stride piano but that's what I started out playing. It's been very interesting to do something you've done all your life, but not in this way.
It sounds like you're having fun with it?
I'm so fortunate that I discovered a lot of things later in my musical searches
I'm totally shocked, to tell you the truth. It's such a surprise to me – and isn't that great?
How does it compare to reimagine a song from Glad Rag Doll to something from the Great American Songbook?
It's like this. I feel like this music is cigarette smoke and dirt under the nails and an old spinet piano in my grandmother's front room. It feels very familial to me. Whereas the Great American Songbook is like silver screen, Fred Astaire/Ginger Rogers, wow, I want to wear a dress like that. There's no film footage of these things – songs like "Let It Rain" are hard times songs in a way. These songs are not associated with Frank Sinatra, people are more familiar with "I've Got You Under My Skin" than they are with "Let It Rain" or "Just Like A Butterfly" or any of these things. But it's the same reimagining, it's just that they're not vehicles for jazz improvisational solos, like you would interpret something like "How Deep Is The Ocean". We've reworked this for the band and it sounds more like a Leon Russell tune.
Are there any contemporary songwriters who plumb the same emotional depths for you as the material on Glad Rag Doll?
It depends what you mean by contemporary. I'm so fortunate that I discovered a lot of things later in my musical searches. I love Bob Dylan, The Band. As far as what I'm listening to now it's with my kids. Of course we love The Beatles. I really love Patti Smith's record [Banga] and my kids like that song "April Fool". They like Radiohead, they call it space music. And then they got really hooked on Elbow and "Lippy Kids". I like that tune too. I was listening to Ralph Vaughan Williams's Variations on a Theme by Thomas Tallis and it sounds like "Lippy Kids". Check it out - put the two back to back! I like Grizzly Bear, I think they're great. I was total nerd alert the other night on Jools Holland - "Hey, guys, I really like your music." I just discovered Neil Young Live at Massey Hall – solo piano – that's unbelievable. It's just so much to listen to, it's amazing to discover that.
Glad Rag Doll is out now on Verve
Diana Krall performs two shows at the Royal Albert Hall on 30 and 31 October
Visit Diana Krall's website.
Listen to Diana Krall perform "Wide River to Cross"
I feel like this music is cigarette smoke and dirt under the nails and an old spinet piano in my grandmother's front room
Explore topics
Share this article