Reissue CDs Weekly: R E M , Alice Cooper, The Durutti Column, Aztec Camera |

reviews, news & interviews
Reissue CDs Weekly: R.E.M., Alice Cooper, The Durutti Column, Aztec Camera
Reissue CDs Weekly: R.E.M., Alice Cooper, The Durutti Column, Aztec Camera
Inessential edition of a landmark album, Vincent Furnier's journey, Manc maverick and classy pop from Roddy Frame
Sunday, 23 September 2012
R.E.M. in 1987: a new-found hirsuteness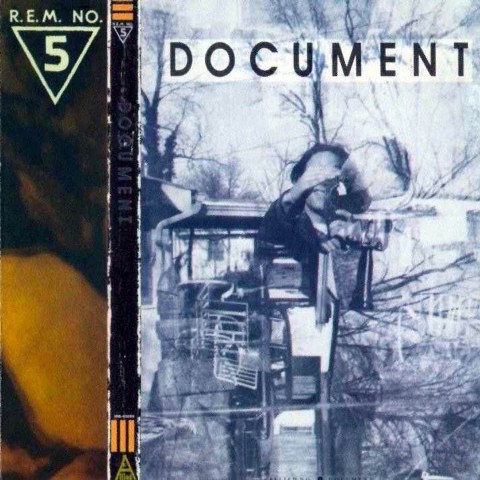 R.E.M.: Document 25th Anniversary Edition
Kieron Tyler
Although the band themselves have not lasted out the 25 years since the release of their fifth album Document, R.E.M. haven't dropped off the face of the earth. The memory will live, fed by reissues. Document built on the more straightforward approach of its predecessor, Lifes Rich Pageant, and was issued in the wake of their breakthrough hit "The One I Love". A re-promoted "It's the End of the World as we Know it (and I Feel Fine)" gave them another hit in early 1988. Both singles were included on the album. At this point R.E.M. were getting to grips with an increasing global profile and feeling their way, symptomatic of which was a greater hirsuteness.
Here and now, Document is supplemented by a second CD of a frequently bootlegged live show, recorded in Utrecht in September 1987. Unlike the 1993 reissue, there are no bonuses added to the album, so B-sides like "Last Date" haven't resurfaced. No demos or outtakes from the recording sessions are included. The two CDs sit in a cardboard box, also containing a booklet with the liner notes, a folded-up poster and cute postcards with images of each band member. In essence, this reissue is about the original album, with the Dutch live show a separate entity.
The remastering brings a focus on the band and Scott Litt's brittle co-production, rendering it even more bright than originally – guitars and drums have a sharp edge, while Michael Stipe's vocal rides high in the mix. The warmth of the original vinyl is lacking. Although the packaging is nice and the Utrecht concert a joy – energetic and in super fidelity – it's hard not to feel that more could have been done without compromising the integrity of this landmark album: another CD of related studio sessions (especially as loads of Document-era tracks have leaked out) or a DVD element would have been good. Anyone who wants Document is already likely to have it and, live show aside, this anniversary reissue adds little to previous editions. See the end of the reviews section for Michael Stipe's curious promotional film for Document.
Alice Cooper: Original Album Series
Thomas H Green
Reissuing Alice Cooper's first five albums in a compact, flat-packaged set is a great chance to hear Vincent Furnier's journey into the stage persona he inhabits to this day. The five-piece band had been around for years when Frank Zappa gave them a break, signing them to his Straight Records at the close of the Sixties. The first two albums, from 1969 and 1970, are an enjoyable, if totally atypical, muddle of Syd Barrett-ish psychedelia and Doors pastiche, but with 1971's Love It To Death, they gradually started to mutate into harder, if Stonesy, rock, assisted by producer Bob Ezrin and a move from Hollywood to Detroit where they imbibed deeply of what The Stooges were up to. By the time of the smash-hit School's Out (1972) they have arrived, garage trash sleaze rock with glam pop smarts and tongue-in-cheek punk attitude. It is the only one of the five that approaches greatness, at least in a doesn't-take-itself-too-seriously, early Seventies sort of way.
The Durutti Column: Short Stories for Pauline
Kieron Tyler
Short Stories for Pauline would have been Vini Reilly's fourth album as The Durutti Column. Instead of being issued by Manchester's Factory Records, it was going to be released by Belgian offshoot Factory Benelux in 1983 but was shelved when Factory boss Tony Wilson heard the track "Duet" and pushed Reilly into using that as the basis for what became 1984's classically-inclined Without Mercy. The first CD release of this fascinating and beautiful album is supplemented by a second disc of a live Belgian show from 1981 which features an affecting performance of "Stains (Useless Body)". A radio interview with Reilly is also included. With "Duet", it's possible to hear what grabbed Wilson's ears and compelled Reilly to elongate the piece for Without Mercy. The delicate interplay between the filigrees of Reilly's guitar and Blaine L Reininger's viola is seductive, but doesn't overshadow the rest of the album and, as the liner notes say, "Duet" says everything it needs to in two-and-half-minutes. Lost no longer, Short Stories for Pauline finally stands proud with the rest of Reilly's work.
Aztec Camera: High Land, Hard Rain
Kieron Tyler
Another side of 1983 to The Durutti Column's Short Stories for Pauline, Aztec Camera's first album was in many ways as maverick a release as the path that Vini Reilly had carved. Foregroundng the acoustic guitar in an era when synthetic gloss was the rage was wilful. Yet where Reilly would never trouble the charts, Aztec Camera's Roddy Frame became a Top of the Pops regular. Heard now, High Land, Hard Rain sounds even more out of time than it did then. Frame's jazz-inflected pop places him close to both The Style Council and Everything But The Girl, though his melodies soar in way that edges towards the anthemic. There was no Eighties sheen and intimacy was never sacrificed. "Oblivious" still sounds great. And so does this reissue, with a remaster retaining the depth and roundness of the sound of the original album. Good liner notes, and bonus tracks from singles and 12-inchers round it out. The picture is further enhanced by related reissues of the remaining five Aztec Camera albums.
Watch the promotional film for R.E.M.'s Document
Anyone who wants 'Document' is already likely to have it, and this anniversary reissue adds little to previous editions
Share this article