Desperate Housewives, Finale, E4 |

reviews, news & interviews
Desperate Housewives, Finale, E4
Desperate Housewives, Finale, E4
The ladies of Wisteria Lane exit one last time
Wisteria women: Cross, Williams, Huffman, Longoria and Hatcher
And so Desperate Housewives has ended after eight funny and entertaining seasons. Marc Cherry's creation, which first went on air in October 2004, deservedly won numerous Emmys and Golden Globes along the way. It was set in the small town of Fairview in the fictional Eagle State and followed the lives of four neighbours on the same street - Susan (Teri Hatcher), Bree (Marcia Cross), Lynette (Felicity Huffman) and Gaby (Eva Longoria).
The series started with the suicide of their Wisteria Lane neighbour, Mary Alice (Brenda Strong), and the roles in it played by her husband and son. The unravelling and impact of this event on the women's lives ran through the eight series, and Mary Alice provided the series voiceover (a device also used by the latest quality US import, Revenge) as she described the secrets and lies of ordinary-seeming lives, and the stories that are played out behind the net curtains (or the US equivalent) of suburbia.
Desperate Houswives was criticised (fairly I think, even allowing for its setting) for being too white, too middle-class and too straight in its first season, but the writers made efforts to right those wrongs without introducing token minority characters, not least with a cracking storyline played out by Alfre Woodard in series two, and the introduction of gay characters as the show continued. And along the way there have been some quality guest stars wanting to take part - always a good sign - including Laurie Metcalf, Scott Bakula, Bob Newhart and Gary Cole.
Despite its four central characters being female, it would be wrong to think of Desperate Housewives as feminist in intent; Susan was too ditzy, Lynette's career kept being interrupted by having unplanned children, Bree was too cold emotionally, and Gaby too self-centred for anyone to use these characters as role models for women. But let's be thankful for women of a certain age being the central characters of a long-running drama series, and one where they ran the full gamut of emotions, even if some of the storylines were sometimes outlandish, silly, annoying or farcical.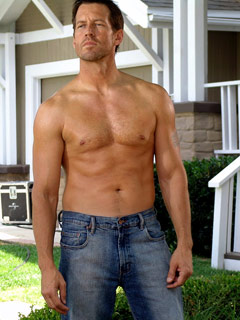 There were multiple deaths, murders, divorces, births, fallings-out and rapprochements in storylines that sometimes stretched credulity. Indeed last night, we had a marriage, a death and a birth – the last of which of course started in the bridal car on the way to Renee's (Vanessa Williams) wedding and caused untold mayhem. But at its heart, Desperate Housewives was about the richness of female lives and the importance of friendships in them. Strikingly, the husbands'/lovers'/children's stories have taken a back seat (Tom, Orson and Carlos, pictured above) and in a reversal of the TV norm, it was mostly the guys who supplied the bare-skin titillation (James Denton as Mike, pictured above left).
The story arcs of the four women have been interesting and by the finale the marital roles and power balance of Carlos (Ricardo Chavira) and Gaby's relationship has done a 180-degree flip, with her now taking responsibility for him and buying his affections with baubles such as expensive watches; Lynette's career, now that she has gone back to Tom (Doug Savant) after a long split, takes centre stage for the first time, even though she has always been the one with the business brain; perfectionist Bree has finally learnt to love herself after divorce, estrangement from her children and disastrous relationships (not least with Kyle MacLachlan's creepy Orson, giving a performance as good as the one he delivered in the superlative Twin Peaks; and Susan is strong enough to live alone after the loss of her husband Mike.
Of all these, it is Bree's story that has been most fully realised, as by last night the stern Republican has released her inner slut along and inner lush after she spent a few series discovering her inner demons - and more importantly that it's our imperfections that make us interesting and attractive as friends and lovers. A deliciously knowing wrap-up, running forward in time, showed us a few years in the future when Bree was running for office in Kentucky, where she had moved two years after Susan had left Wisteria Lane; Cross, like many of her Desperate Housewives co-stars, is an Obama supporter.
The finale tied some loose ends – apart from Bree's future political career, we saw Susan, the first to leave Wisteria Lane, driving off to a new life with her children and new grandchild, Lynette in her element in senior corporate life in New York and Gaby becoming a star on daytime TV. They were all believable outcomes, but the writers pleasingly left a few minor storylines - such as whether Susan's daughter, who became a single mum last night, would end up with the father of her baby or the cute obstetrician who delivered her baby - pleasingly unresolved, as so much of life is.
Rather poignantly, we also saw the death of nosy neighbour Karen McClusky. The actress playing her, Kathryn Joosten (pictured right), died shortly after filming her last scenes on the show, and her cancer was written into a major storyline in the last series without cloying sentiment but with much dark humour. And another rare note of realism was sounded when Mary Alice's voiceover told us that despite all the promises the four women made each other to keep in touch as they played one final poker game before Susan moved away, they were never to play cards together again. Such is life - when we move, whether it be from a house, relationship or job, many friendships don't survive.
The writers had one more twist: in the closing scene we saw that the new occupant of Susan's house had a secret that she wished to lock away. Do I detect a spin-off series?