The Umbrellas of Cherbourg, Gielgud Theatre |

reviews, news & interviews
The Umbrellas of Cherbourg, Gielgud Theatre
The Umbrellas of Cherbourg, Gielgud Theatre
Two fine female leads can't forestall a West End wash-out
Catty, nous? Meow Meow frolics against insuperable odds - and Michel Legrand's wildly insistent score
Zut alors! A gifted English theatre artist, Emma Rice, comes a serious Gallic cropper with The Umbrellas of Cherbourg, a stage musical adaptation of the through-sung 1964 movie that only succeeds in making the recent, prematurely departed Love Story look by comparison like Sweeney Todd.
Telling a tale of stupefying banality with po-faced ponderousness and little wit, Rice throws at the material all manner of visual fillips and idiosyncrasies, adding in a narrator (Meow Meow's commendably game Maitresse) for good measure. But the danger with making much ado about nothing is that you risk more fully exposing the emptiness at the core: the theatre, far from abhorring a vacuum, tends to lay one bare.
The success of Jacques Demy's movie itself offers testament to the enduring appeal in some quarters of a narrative so faible that a strong wind might snap it in two, were it not largely for the alternately shimmering and over-insistent score from Michel Legrand, whose "I Will Wait for You" is here reprised so many times that it casts the theme and variation-happy Andrew Lloyd Webber as a comparative model of restraint.
A young couple of no particular interest beyond the fact that Guy, the bloke, smells of petrol - well, he does work in a garage - meet only to part when he goes off to fight in Algeria: an assignment paid the most desultory of stage time; this is no Flare Path. The years pass, the affectless Genevieve (Carly Bawden, inheriting Catherine Deneuve's screen role) has Guy's baby, marries someone different and wealthier, and, by show's end, several people have died. As the Maitresse herself puts it, "C'est la vie," which doesn't make for especially rich philosophising as and when la vie comes to a firm arrêt.
That neither death seems embedded in the narrative beyond allowing an easy exit from it is just one of the problems exacerbated here by the abiding sexlessness of a show ostensibly about passion that is acted by both fresh-faced leads in disconcertingly remote terms. Surely, Genevieve's admission that she "will fade and crumble like an autumn leaf" demands some chink in the emotional armour; Bawden (pictured below with Durand) is a cool, unyielding customer throughout. Andrew Durand's Guy gets to slip in and out of a matelot, but his take on the role is hard and charmless well before the character has reached that point, and their briefly glimpsed, first-act carnal encounter is too perfunctory to carry the rest of the story before it.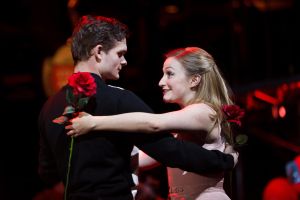 Whereas Rice's wondrous Brief Encounter for Kneehigh unleashed the emotionalism behind the celebrated British stiff upper lip, making the director hot Broadway property in the process, her take on the featherweight Umbrellas seems perverse, to say the least. The chorus does well propping up co-star Meow Meow, in the time-honored fashion that a similar bevy of boys might extend to, say, Liza Minnelli, who as it happens was in smiling evidence in the first row of the circle on press night. (Pressing question: while in town, is Minnelli going to see End of the Rainbow? The Wizard of Oz?). But what is the point of deploying all number of people to simply turn a chair around or to supply or remove props? One might as well ponder the casting of the youthful, robust-seeming Dominic Marsh as Guy's fatalistically ageing aunt. To quote one of the many banners unfurled during the evening: "Pourquoi"?
Lez Brotherston's design looks at first as if it would be more hospitable to Stomp, his toy-town vision of Cherbourg - France's equivalent, we're told, to Hull(!) - lifting off the stage to make way for a portable erector set of skeletally imagined locations; the inevitable "tabac" sign is rarely out of view. Bringing a crisply English air to an entirely faux-French affair, Joanna Riding does a nice line in disdain as Genevieve's aspirational scold of a mum, and it's lovely to find the best Julie Jordan in my experience of Carousel back on a London stage. (All credit, too, to Rice and co for giving musical director Nigel Lilley visible pride of place in an age when conductors are all too often sequestered well away from or beneath the stage.)
And there's no ignoring the inimitable Meow Meow, who cuts quite a figure as both sex kitten and comedienne, chanteuse extraordinaire (her smoky rendition of "Sans toi" separates the second and third acts) and agile cut-up who at the start climbs her way over and across the front stalls rather like Roberto Benigni on Oscar night c 1999. The devil-may-care Australian is both this production's greatest asset and also, in a way, all wrong. Demanding from the audience massive applause for her cleavage and a glass of red wine to boot, this Maitresse would surely put her own boot into such twee and tepid fare - especially when she's got Madame JoJo's and the like just minutes from the theatre's stage door.
Surely the teenage Genevieve demands some chink in the emotional armour, not the cool, unyielding customer that Carly Bawden plays throughout
Share this article