theartsdesk in Estonia: Tallinn Music Week |

reviews, news & interviews
theartsdesk in Estonia: Tallinn Music Week
theartsdesk in Estonia: Tallinn Music Week
Estonia achieves musical escape velocity, although reminders of the KGB aren't far away
Tallinn: seen from the 23rd floor of KGB-monitored Hotel Viru
It began with a warning. Opening the fourth Tallinn Music Week, Estonia's President Toomas Hendrik Ilves cautioned, "In a free society, it's risk-free. In an un-free society, it's not risk-free. It's not all fun." From behind a hotel conference room lectern, he then began rolling a video of Russia's Pussy Riot being arrested in Moscow a few days earlier. Not everyone can make their point, make their music, choose how they want to get it across.
The contrast between Pussy Riot's fate and a festival that celebrates new music in all its forms, held in a country bordering Russia, was marked by more than the 21 years between 2012 and Estonia's independence. President Ilves was speaking in Tallinn's Nordic Hotel Forum (Ilves pictured below by Rasmus Jurkatam). Directly opposite is the Hotel Viru, constructed for the Soviet regime by Finnish builders in 1972. Back then, its 23rd floor was closed off, supposedly to house the hotel's machinery and equipment. Below, on the 22nd floor, was a restaurant with panoramic views. It was Tallinn's first skyscraper.
Diners in the restaurant didn't realise the KGB - now the FSB - operated from the floor above, monitoring everything going on in the hotel. Staff were forbidden to speak to guests. Each lift had an old woman seated beside it, registering all comings and goings. The past might seem distant, but events in neighbouring Russia and remnants of Estonia's recent history – tours of the Hotel Viru's KGB museum are bookable – ram home how far Estonia has come since 1991.
Last year's Tallinn Music Week was amazing, a genuinely surprising experience which revealed that a generation on from independence Estonia was about much more than Arvo Pärt, Skype and the massive local boy Baruto Kaito, now amongst Japan's top echelon Sumo wrestlers. Things are moving fast. Since 2011 – when Tallinn was European City of Culture – the poppy singer-songwriter Iiris has signed with EMI. Indie outfit Ewert and Two Dragons played Toronto and New York the week of Tallinn Music Week. The neighbouring Baltic nations of Latvia and Lithuania have noted the dividends of playing Tallinn Music Week and are showcasing acts at the festival.
The buzz has spread further. Masses of Finns – Helsinki is only a two-hour ferry ride from Tallinn – and lesser numbers of Danes, Swedes and Norwegians were playing, too. There's two-way traffic through Tallinn: out into Scandinavia and in, into the Baltic countries and, by proxy, Russia.
Estonia though, whatever its history, has retained a particular identity. Although a trading port existed beforehand, Tallinn took off in 1219 with the arrival of the Danish King Valdemar II. The city was sold by the Danes to the Livonian Order of German Knights in 1345. In 1561 they passed it to Sweden. Peter the Great bagged it for Russia in 1710. Independence finally came in 1918, but the Soviets claimed it in 1939 and occupied it in 1945. True and final independence came in 1991. Membership of the EU followed in 2004.
The pass-the-parcel nature of Estonia's history didn't rub out its identifying characteristics. In print, Estonian looks like Finnish. Spoken, its rise and fall is more mellifluous. Words shared between the languages have different meanings. Just how much its culture relates to Scandinavia rather than the Baltics or Russia is demonstrated by a visit to the fabulous Estonian Museum of Applied Art and Design. Pottery, glass, furniture, metal and leather work and textiles are more familiarly and organically Scandinavian than Soviet. Glass vessels are sinuous, furniture has clean Nordic lines (pictured left, Aet Andresma-Tamm's Purjed glass vessels, 1976). Designs on textiles are abstract, yet draw from nature and the landscape. It becomes impossible to escape the idea that Tallinn – to steer clear of further generalisations about Estonia as a whole – shares more with Scandinavia than its western and eastern neighbours.
Kodu Baar serves a treacly-looking, opaque, locally brewed beer. It tasted OK
All this means Tallinn Music Week is a musical melting pot. It's bubbling over. Estonia obviously has the edge, but elbows from elsewhere are nudging in. Over this year's three days, 183 acts played. The festival is also set apart by the range of music on offer: classical showcases, the Estonia Voices choir, jazz and folk complement all the pop-rock-metal-indie-dance variants expected at any showcase festival. The shows bleed out into the city, with bands playing hotel rooms, shopping centres, book stores, record shops, Skype's offices and galleries (pictured above, jazz outfit Abraham's Café playing the Viru Keskus shopping centre, photo by Heiti Kruusmaa). It's possible to get a pretty good, stress-free sample of the festival by sidestepping traditional venues. And, of course, by this necessarily selective snapshot.
Tickets have to be sold, so traditional venues will always be needed. And some scattered around Tallinn's medieval city centre are delightful. Kodu Baar is in a basement and has two vaulted-ceiling rooms separated by a bar which serves a treacly-looking, opaque, locally brewed beer. It tasted OK. Playing there was Lithuania's Markas Palubenka, who leans towards the John Martyn but makes too much use of his laptop and what appears to be a fascination with Thom Yorke. As he flails at his acoustic guitar it becomes clear the songs would be enough. The folk-slanted Finnish trio Sepia also colour in too much with guitar treatments and have the added distraction of an am-dram singer. Again, the pretty songs would suffice.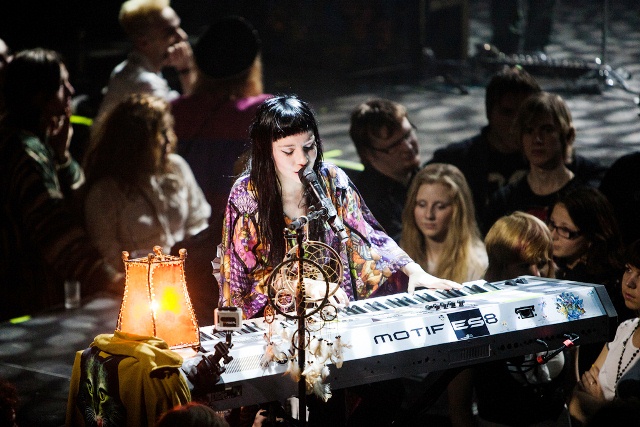 More straightforward were the angular post-raveisms of Estonia's charming and poppy Mimicry, who also felt the need to distract by mucking about with laptops. The Finnish/Swedish trio Husky Rescue operated in a similar territory, but more surefootedly, evoking lost Eighties French band Antena. Making a stand for rock were the Boy's Brigade U2, Galvanic Elephants who, if they stick at it, would have no problem developing into a stadium filler. Finland's New Tigers also wore their influences: mid-Eighties UK indie with some fabulous out-of-tune Stephen Pastel singing. Estonia's ÖÄK was more out there. Apparently a legendary Estonian duo from the early Nineties, they're now in Aphex Twin territory, sounding like the soundtrack to a German Expressionist film.
Apt, as ÖÄK were playing Kino Söprus, a Soviet-era cinema. The two shows there which stood out were Estonia's (still) stellar folk artist Mari Kalkun who shone at last year's Tallinn Music Week, and Lithuania's extraordinary Alina Orlova (pictured right, photo by Oskari Värä). She has some profile in France, but this was her first show in Estonia. She got a standing ovation. Although her curly hair and hammering piano style nods towards Tori Amos, her rolling songs are more middle European, making her a Laura Nyro with gypsy roots.
As well as looking forward by showcasing the up and coming and flavours little known beyond the region, Tallinn Music Week was also celebrating the success of Estonia's own Iiris, whose quirky pop has found an outlet with EMI (pictured above, photo by Rasmus Jurkatam). Her album release show at the converted industrial shed Rock Café was assured, melodic and charismatic. Even so, some of the audience happily talked through the more reflective songs she played solo at a piano. As the first success bred by Tallinn Music Week, a lot is on her shoulders.
But the buzz, the quantity and quality of what's on offer demonstrate that Iiris won't be on her own for long. What's along next could be from Estonia. It might come from a nearby country. Wherever it is, they are going to reach the outside world via Tallinn Music Week.
Watch the video for Iiris's "Melyse"
Tallinn Music Week is a musical melting pot. It's bubbling over
Share this article