theartsdesk in Tampere, Finland: At the Lost in Music Festival 2010 |

reviews, news & interviews
theartsdesk in Tampere, Finland: At the Lost in Music Festival 2010
theartsdesk in Tampere, Finland: At the Lost in Music Festival 2010
Metal is not the only musical flavour at the Finnish festival
K-X-P: 'Odd, compelling and hit like a drill'
The music of Sibelius might speak of Finland, its unpopulated spaces, vast inland lakes, semi-Arctic climate and long, dark nights, but the annual Lost in Music festival brings together a bewildering array of Finnish bands and singers that range from rockabilly and ska to introspective folk and – of course, the national staple – heavy met
al. It's hard to forget Lordi, the monster-costumed heavy-metal outfit that won the Eurovision song contest for Finland in 2006. But, as Sibelius might have agreed, an axe-wielding man in a latex mask is just one aspect of Finnish culture.
It's true, though, that Finland's biggest exports are, like Lordi, at the rockier end of things: funk-rockers The Rasmus and the Gothic Him are internationally successful. Glam-influenced rockers Hanoi Rocks blazed the trail in the Eighties, hitting big in the UK, Japan and pretty much everywhere else. With a population of 5.3 million – less than that of Greater London – it's pretty amazing that Finland sports such high-profile bands. Heavy rock can be a doomy beast, and Finland has its share of heavier-than-heavy black metal bands too. Balance comes from a rich strand of electronic and experimental music, from Jimi Tenor to Pan Sonic. In its 21st year, Lost in Music maps all points between, making a convincing case for Finland being more than the land of metal.

Over three days, the festival puts on 85 acts. Just over half are metal: death metal, hardcore, doom metal, progressive metal, something billed as "imperial rock" (a poppy version of hardcore metal), and on, and on. Luckily for theartsdesk, it's not all metal.


The city of Tampere (pictured right) is the host. Finland's third city, about two hours drive north of the capital Helsinki, its population is just over 200,000. The largest inland conurbation of all the Nordic countries, it's compact with a grid-like street pattern. The wide, tree-lined boulevards feel Italianate. Home to the national police and boxing museums, it also has the ice hockey hall of fame. For many Finns though, Tampere springs to mind as the home of mustamakkara, the black pudding-like sausage that's the city's delicacy. After one look at this spongy entity, it's clear you'd have to have grown up with it to consider putting it anywhere near your face.

In the city centre the Tamerkoski rapids are flanked by monumental red-brick factory buildings, behind which lie ranks of smaller ex-factories and warehouses. Guidebooks refer to Tampere as Finland's Manchester and it's easy to see why – although Manchester doesn't sport a working pasteboard factory. Like other cities with industrial pasts, Tampere has adapted the buildings for new uses such as clubs and arts complexes. These are where Lost in Music takes place.
Marionette-like, Iiris infectiously romped through electro-pop confections about Gummy bears, zombies and a big bat
Klubi and Pakkahuone are housed in one massive industrial-age shed, each venue at either end of the building. On Thursday, the opening night, Lost in Music's first headliner at Pakkahuone are German interlopers Einstürzende Neubauten, currently on a Europe-wide reunion tour. When they first surfaced in the early Eighties, the Berlin-based industrial cacophonists looked as scrappy as the metal objects they bashed. Now, though, they've filled out and, in his three-piece suit, frontman Blixa Bargeld looks more like Barry Humphries than the living cadaver he once was. Musically, there's been a smoothing-out process too. Their two-and-a-half hour set (including encores) was compellingly song-based, with Bargeld substituting a Scott Walker croon for the bark of yore. Thoughts of the €55 Einstürzende Neubauten hoodie on sale probably helped the mellowing process.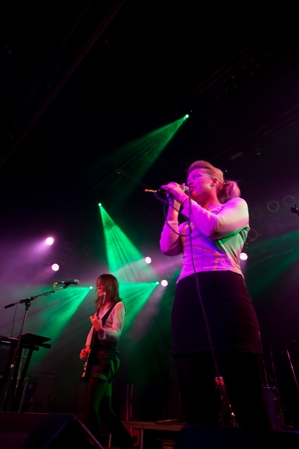 Earlier that evening saw cult folkie Sami Kukka play the small bar Arturri. There's probably a good reason he's unknown outside Finland: he released his first album in 1988 and waited 15 years to issue a follow-up. Now 50, he's making up for lost time but the billing of the "Nick Drake of Finland" is off base. His dreamy, drifting songs – delivered in Finnish with either guitar or zither accompaniment – sound like little else. Enquiries reveal that he doesn't draw from Finnish folk traditions, and the most familiar thing that drifts through is a slight raga drone. Curious and hypnotic, Kukka is a one-off.

Which can't be said for some of Friday's contenders at Klubi and Pakkahuone. The Capital Beat are a text book brass-assisted ska band. More fun are Barbe-Q-Barbies, a female rock'n'roll quintet who might want to be The Runaways, but are more Suzi Quatro. Both sing in English, as do the hotly tipped Magenta Skycode, the vehicle of songwriter/producer Jori Sjöroos. Merging Fleet Foxes harmonies with Coldplay/Arcade Fire dynamics might seem like a winner – and the audience do get sucked in – but Magenta Skycode are an empty vessel, with no heart and songs that ramble from one predictable epic climax to another. More satisfying are Kap Kap, peculiarly reminiscent of psychedelically inclined British post-punk circa 1982 – specifically the Comsat Angels at their most opaque. It's an obtuse approach when angular, dance-influenced post-punk is a ubiquitous influence nowadays, but Kap Kap were sure-footed enough to pull it off.

Even more confident were LCMDF (formerly Le Corps Mince De Françoise, pictured above), two electro-assisted shouty girls who've just signed with UK label Heavenly. Their bounciness and pep carried it along nicely. More intense were K-X-P, a three-piece (bass, drums and synth) whose relentless pulse borrows from Krautrock, the Glitters Band's drums and Acid House's early bloopiness. With Timo Kaukolampi on shouting and synth – he's the producer and co-writer for Swedish dance popster Annie – K-X-P are odd, compelling and hit like a drill. No talking to and looking at the audience, this is inward-looking and hypnotic. Aggressive too.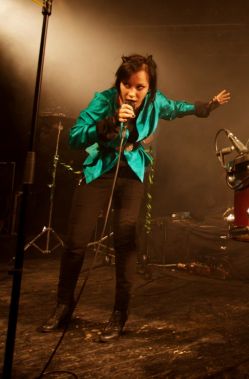 Much more friendly was Iiris (pictured right), an unknown Estonian female singer with shades of Björk, Minnie Mouse and something surreally Baltic (Lost in Music features Estonian acts due to the close cultural ties between the two countries: former concert promoter and current Estonian minister of justice Rein Lang is at the festival). Marionette-like, Iiris infectiously romped through electro-pop confections about Gummy Bears, zombies and a big bat. Magnetic and having a great time, she shone.

On Saturday, the hipster's venue was Doris, a former swimming pool. Headliners Shine 2009 deal in a swoony early-Nineties-influenced Balearic-style rave pop. French Films were a Finnish answer to the Drums, with a touch of double-speed Cure. There's no reason why they shouldn't grab an audience outside Finland. Kiki Pau's lengthy freaked-out soundscapes were psychedelic, breathless and breathtaking, evoking Quicksilver Messenger Service and first-album Stone Roses. Earlier, solo singer-songwriter Lotta struggled to be heard above a beer-swilling crowd at small bar Paapan Kapoakka – a shame, as her atmospheric observational songs deserved a more sensitive showcase.


Less hip, Saturday's big draw was ex-Hanoi Rocks frontman Michael Monroe's new band, featuring ex-Wildheart Ginger and occasional New York Doll Sami Yaffa. Like Thursday's opening headliners Einstürzende Neubauten, Saturdays festival-closing bill toppers looked back to Eighties. Absurdly youthful-looking, Monroe is also wildly pretty under his big, blond hair. Musically, his combo trod no new ground, but they sped through their super-flash, buffed-up, high-energy classic gutter rock with joy and poses galore. Finland loves them.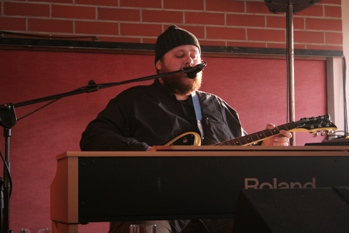 Experiencing three days of music in Tampere is draining, and the below-zero weather is hardly energising. But K-X-P were monumental and Iiris is a future star. Kiki Pau set a new psychedelic benchmark. Sami Kukka was extraordinary and mesmerising. But equally memorable, and the winner of the non-existent prize for the festival's oddest performer, was Estonia's Orelipoiss (pictured right) at a jazz bar on Friday afternoon. The alter ego of actor/poet/theatrical lyricist Jaan Pehk, Orelipoiss is high-concept folk-schlager-karaoke. Whether playing an electric guitar or singing to backing tracks, none of the songs sung are longer than 90 seconds. All in Estonian, they sport lyrical repetition and absurd subject matter. One repeats the lines, "Please little hippy, cut your hair, I'm going to give you the money." Another repeats, "Through the fog of autumn I am running." Estonian folk songs are recast as rumba. As far from heavy metal as is imaginable, Orelipoiss is proof there's a place in Finland for anything.
Just over half the acts are metal: death metal, hardcore, doom metal, progressive metal, something billed as "imperial rock"
Share this article