theartsdesk in Helsinki: Sunflowers By the Frozen Baltic |

reviews, news & interviews
theartsdesk in Helsinki: Sunflowers By the Frozen Baltic
theartsdesk in Helsinki: Sunflowers By the Frozen Baltic
Education, star players and a modest sense of national pride in Finland's amiable capital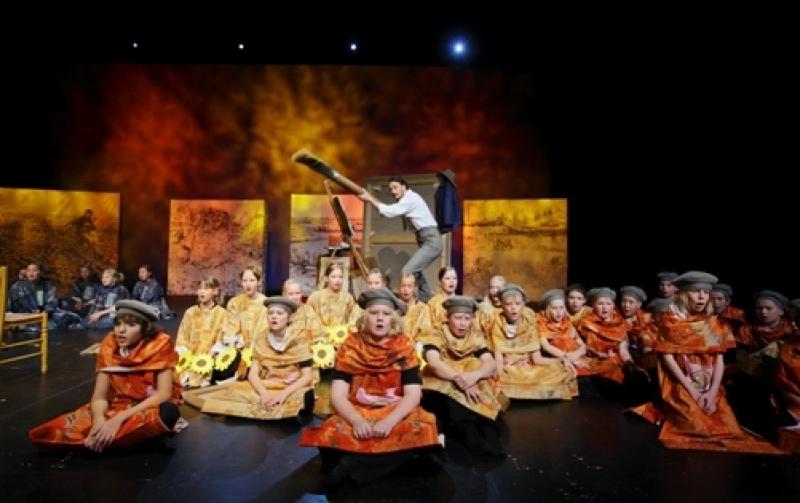 Opera for schools minus the condescension: 'Sunflowers' at the Finnish National Opera
Venezuela's joyful musical education programme known as El Sistema is the phenomenon of the age, the success story that many western countries now seek to replicate. And that's great. But Britain, for a start, might re-engage its own back-to-basics in music quicker by looking closer to home and seeing how Finland does it. In a small population, every child has free access to an instrument until secondary school.
So there's clearly a link between the plethora of outstanding classically trained musicians constantly emerging from Finland and a primary-school opera based on the life of Vincent van Gogh,
Sunflowers
. I caught it quite unexpectedly while in Helsinki on a late winter jaunt to get closer to the personality of the country's greatest musical figure, Jean Sibelius.
Sibelius, whose versatility stretched to songs for children and whose March, Op 91b, was adapted in 1950 as the none-too-catchily-titled World Song of the World Association of Girl Guides and Girl Scouts, would no doubt have approved. What I saw out at his country retreat of Ainola outside Järvenpää (pictured below), half an hour's commuter-train ride from Helsinki, was a time-capsule of modest living (the composer occupied the house from 1904 until his death in 1957, and his long-suffering wife Aino lived on for another 12 years). The four hours I spent there with only the delightful curator, Hilkka Helminen, for company were a rare privilege.
What I captured in Helsinki, on the other hand, was a thriving musical life which doesn't just live in the past of its national hero and his contemporaries. If I'd stayed on another week, I could have heard that wildly eccentric composer-conductor Leif Segerstam conduct the Helsinki Philharmonic Orchestra in the stunning St John Passion by Russian Sofia Gubaidulina and the world premiere of his Symphony No 231 (I kid you not).
What I did catch left me more than happy. The Helsinki Philharmonic's enterprising principal conductor, John Storgårds, had collaborated with a leading Finnish musicologist and focused on two works I've never heard live at home - Hindemith's playful Cello Concerto featuring the fiercely engaged Torleif Thedéen and the silky Walton showpiece which takes the theme of the concerto's slow movement, his Hindemith Variations. The crowning glory I've often encountered but am always tickled to hear - Hindemith's Symphonic Metamorphoses on Themes by Carl Maria von Weber (another catchy title, but, believe me, there's nothing ponderous about the music, nor was there about the jazzy performance).
It was a rollicking evening, though in a rather odd venue, the limited size of which caused problems for the orchestra's loyal subscription following. (Can you imagine a programme of Hindemith and obscure Walton being totally sold out in London?) Helsinki's two equally good orchestras, the city-funded HPO and the broadcasting flagship Finnish Radio Symphony Orchestra, currently have to fight for space at the Finlandia Hall, designed by the celebrated Alvar Aalto without much regard for sound and showing its age. But it's a moneymaking venture, so if a more profitable conference needs to be held there, out go the orchestras. Which is why I had the pleasure of seeing inside the 1830s hall of Helsinki University, part of a neoclassical ensemble in the old town which reminds the visitor why this was thought of as the Russian Tsar's second Baltic city after St Petersburg.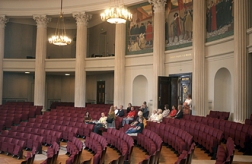 In this 800-seat auditorium (pictured left, under less packed circumstances) the orchestra was very much on top of us, and ruthlessly exposed, though that only made us respect all the more the impeccable intonation and character of its excellent wind and brass departments. I was especially thrilled because one of several distinguished portraits of Sibelius I'd seen at Ainola was a sketch for his anachronistic inclusion in a mural depicting the 17th-century founding of Turku University - and there it was, high above the stalls.
The bad feeling occasioned by the temporary ousting from the Finlandia Hall - only dimly hinted at since Finns, it seems, don't like scenes - will soon come to an end. In 2011 the Helsinki Music Centre, destined to be the exclusive home of both orchestras along with the Sibelius Academy, will open its main auditorium and five smaller halls to an already devoted public. LPR-architects Ltd went for cautious elegance rather than a striking statement, which is a pity - as is the slogan "a mezza voce" - but their collaboration with Nagata-Acoustics should yield stunning sounds.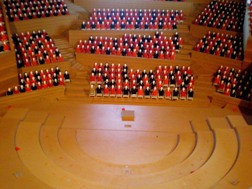 I was shown the meticulously detailed scale model (pictured right), which promised visual beauty with rows of seats designed to look like logging patterns on the Finnish rivers, and I was taken on a hard-hatted excursion to view work in progress on the site, which made it altogether harder to visualise. But the location is perfect and, if as well landscaped as promised, should complement the park and lake which currently lead to the Finnish National Opera.
There I was scheduled to see Naamiohuvit - Verdi's A Masked Ball to you. The less said about that production the better; as I've written about it elsewhere I'm not obliged to expand on it here other than to say that it did at least yield two outstanding performances, from Chilean mezzo Isabel Vera and our own, astonishingly Italianate Claire Rutter.
You can never pass off second-rate stuff to kids! Whatever you do, you must do it as well as possible
What's stayed with me far more was the school opera I mentioned at the start, which I might have missed altogether had I spent any longer trying to find the box-office entrance. I already knew how seriously the Finns take their more-than-merely-educational projects from a premiere two summers ago at the Savonlinna Festival, where Markus Fagerudd's The Seven Dog Brothers was the last of three operas to be drawn from animalised picture-book retellings of Finland's classics by the brilliant Mauri Kunnas. No compromise in the writing for the young children's chorus there, nor here in the prolific Atso Almila's Sunflowers, even if this time there was no full orchestra and only three (excellent) professional singers to work with the kids. The tale used the life of Vincent to involve the children not just in some very hard to memorise, sometimes rhythmically complex choruses but also in issues around art and mental health.
Worthy but dull? Not a bit of it. Even though my Finnish is negligible, I did grasp that the children dressed in capes with Van Gogh's night picture on them played not only the disapproving forces of society but also the artist's dark side, repeating a haunting ostinato as he sinks into depression. The ending, too, was no bland feelgood celebration. I was struck by what Matti Salminen, one of a clutch of great Finnish basses, had to say: "You can never pass off second-rate stuff to kids!...The only important thing is that whatever you do, you must do it as well as possible." And they did.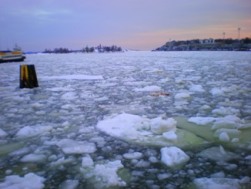 At the end of my four-day visit, I came to love and respect the Finns more than ever. I learnt more about their natural modesty: the distinguished folk in the arts world whom I met didn't like to show off. I loved the sense of coming to life at the end of a protracted, if still frozen winter - the daffodil stands on the icy harbour at the beginning of Easter week, the cosy warmth of 1930s cafés, well-used small house-museums like the Amos Anderson. I know they drink too much, and a Friday night in Helsinki would make a binge-drinking weekend in a British town look like a temperance meeting; and I did wish the "every-Finn-can-play-an-instrument" rule didn't apply to the trombonist looping "Strangers in the night" and "Raindrops keep falling on my head" at 3 in the morning beneath my hotel window. But that's the surprising thing: it's a nation of individualists. And if some of the performing artists who keep coming our way are wacky beyond our own concepts of tasteful music-making - take, for example, violinist Pekka Kuusisto or pianists Olli Mustonen and now Paavali Jumppanen - so much the better.