theartsdesk in Oslo: FolkeLarm Festival |

reviews, news & interviews
theartsdesk in Oslo: FolkeLarm Festival
theartsdesk in Oslo: FolkeLarm Festival
Full-on immersion in Nordic folk, with intense accordionists, a singing severed head and massed fiddles
Erlend Viken (left) and Aslak Brimi (right): the past looks on while they tackle another tune called 'Spring Lake'
It's almost dark. Frescoes depicting the cycle of life are barely visible. They could be shadows. Waves of sound pulse through the mausoleum of Norwegian artist Emanuel Vigeland. Fiddle player Nils Økland is feeding the 15-second delay with peals that reverberate around the space, folding back into themselves. It's a spooky, unforgettable introduction to FolkeLarm, Oslo's annual festival of Nordic folk music.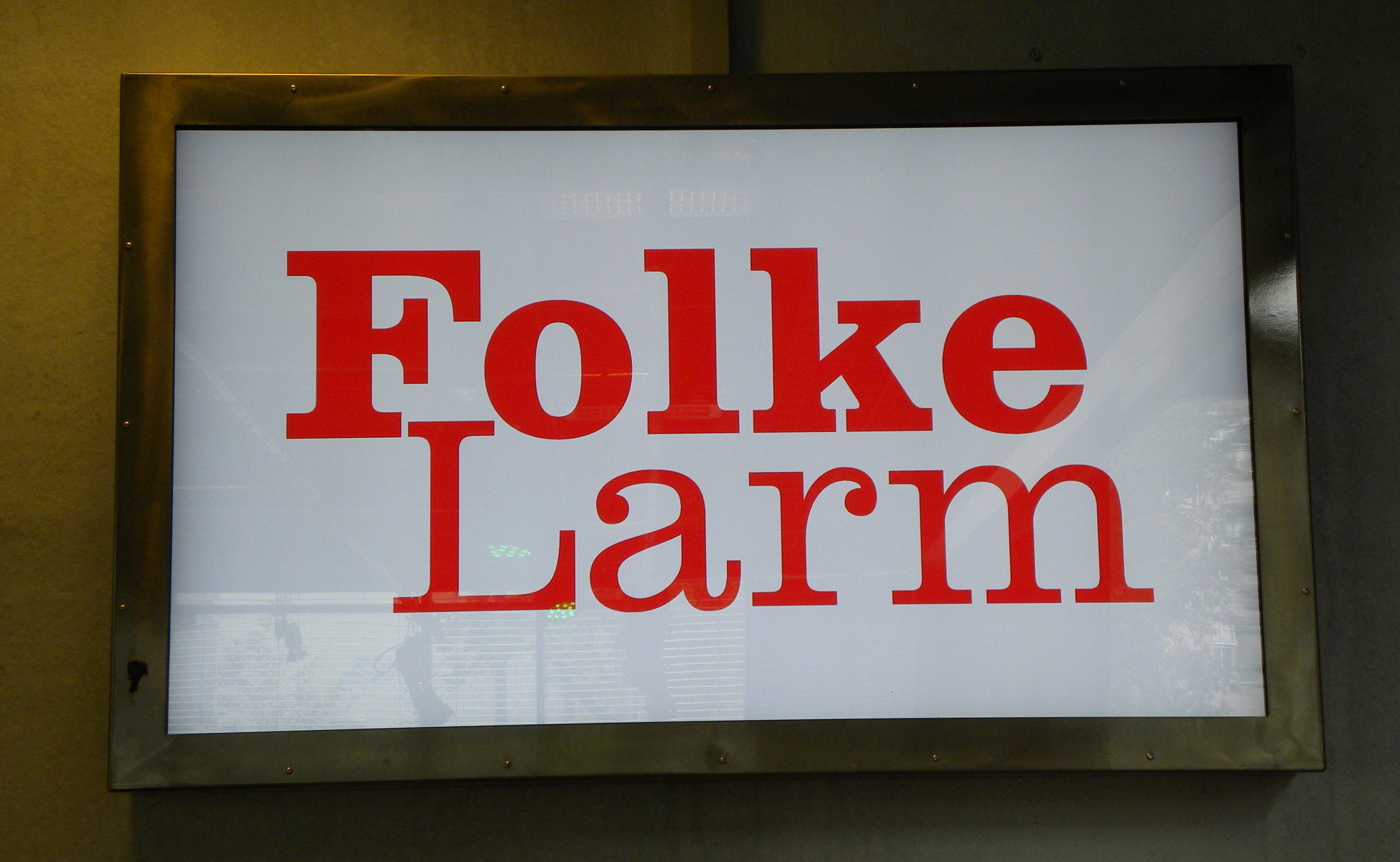 FolkeLarm is a jolt. Not only because of it being a deep-dish serving of Nordic folk music, but also because previous visits to Oslo have found the city under half a metre of snow. Arriving in the Norwegian capital during a sunny spell takes some reprogramming. The gloves don't get an outing. But Oslo, and Norway as a whole, have recently had a much more significant, affecting jolt. Buildings around the west side of main market square Youngstorget still have boarded-up windows, the legacy of July's bomb.
After Anders Breivik's attacks, the nature of Norway is more of an agenda item than before July this year. The circumstances were different and not tragic, but Norway has previously asked itself what it is. Before voting not to join the European Federation (now the European Union) in 1972, the referendum was preceded by an upsurge of interest in the clothes, language and music that were uniquely Norwegian. Indigenous musics of course speak of a country and its people. Awareness of the music had already been fed by Ole Mørk Sandvik's 1921 doctoral thesis Norsk folkemusik, særlig Østerdalsmusikken, which transcribed traditional songs and dances. At the time of its publication as a book in 1943 (as Østerdalsmusikken), Norway's identity was threatened. Germany was an occupying force.
The fiddle is central to FolkeLarm. It's Norway's national instrument
Song collectors had been around since the early 19th century and, later on in the 1800s, Edvard Grieg incorporated folk melodies into his compositions. Defining identity through culture was obviously important – Norway became an independent nation in 1905, breaking away from Sweden. Previously, from 1380 to 1814, Norway had been in a union with Denmark. Yet still, Norway's own music survived.
Interest in folk music wasn't limited to traditional players. Singer/fiddle player Ivar Medaas performed with Dexter Gordon at 1964's Molde Jazz Festival. Sigbjørn Bernhoft Osa was the first Norwegian folk musician to collaborate with a rock band, adding his fiddle to progressive outfit Saft at 1973's Ragnarock Festival. Despite the interest, and despite folk having been integrated into university-level education in the 1980s, it was last September that Norway opened a national venue for folk music and folk dance, Riksscenen – FolkeLarm's host.
Located in the up-and-coming Grünerløkka area of Oslo, Riksscenen is purpose built (pictured left). A year on from opening, it still feels spanking fresh. The three performance spaces have pin-sharp acoustics. Grünerløkka itself hasn't quite upped and come, the area's edge still all too apparent. Just south of the venue, on a bridge, shifty young men in hoods regularly came and went, dealing drugs in daylight, oblivious to the annual folk music showcase going on a couple of minute's walk away.
Over FolkeLarm's core two days, 18 acts played Riksscenen. Most were Norwegian, but FolkeLarm is about the wider Nordic world too. Nordic Tree are a Finnish/Swedish trio (their Finnish fiddle player Arto Järväla also played solo), the bands Faela, Harv and Navarra are Swedish, accordionist Antti Paalanen is Finnish and Swedish fiddle player Ellika Frisell appears with the Norwegian-Senegal kora player and a Mexican percussionist. Denmark and Iceland were on holiday.
Jorun Marie Kvenberg performed a song composed by Rasmus Erdal, who died in a tsunami. His sheet music had been found floating on the water
The fiddle is central to FolkeLarm. It's Norway's national instrument. Although Norwegian folk can reductively be split into two strands – Sami vocal music and fiddle music – the fiddle won out at FolkeLarm. The Hardanger fiddle is unique to Norway, its sympathetic strings providing a drone accompanying the bowed strings. The undertone brings a melancholy.
Melancholy wasn't on the minds of fiddle duo Viken/Brimi. Both Erlend Viken and Aslak Brimi are university-schooled musicians, but there's little academic restraint in their performance. They appeared twice, once with back protections highlighting their lineage. It wasn't necessary as – speaking in English – their double act was a winner without the context. Every other song was introduced as "Spring Lake" - the seasonal thaw is an important moment in Norway's calendar. The repeated introductions were funnier than they appear written down, and the duo's joy at playing with each other was evident. A joy to watch, too.
Watch Viken/Brimi perform at July 2011's Lands Festival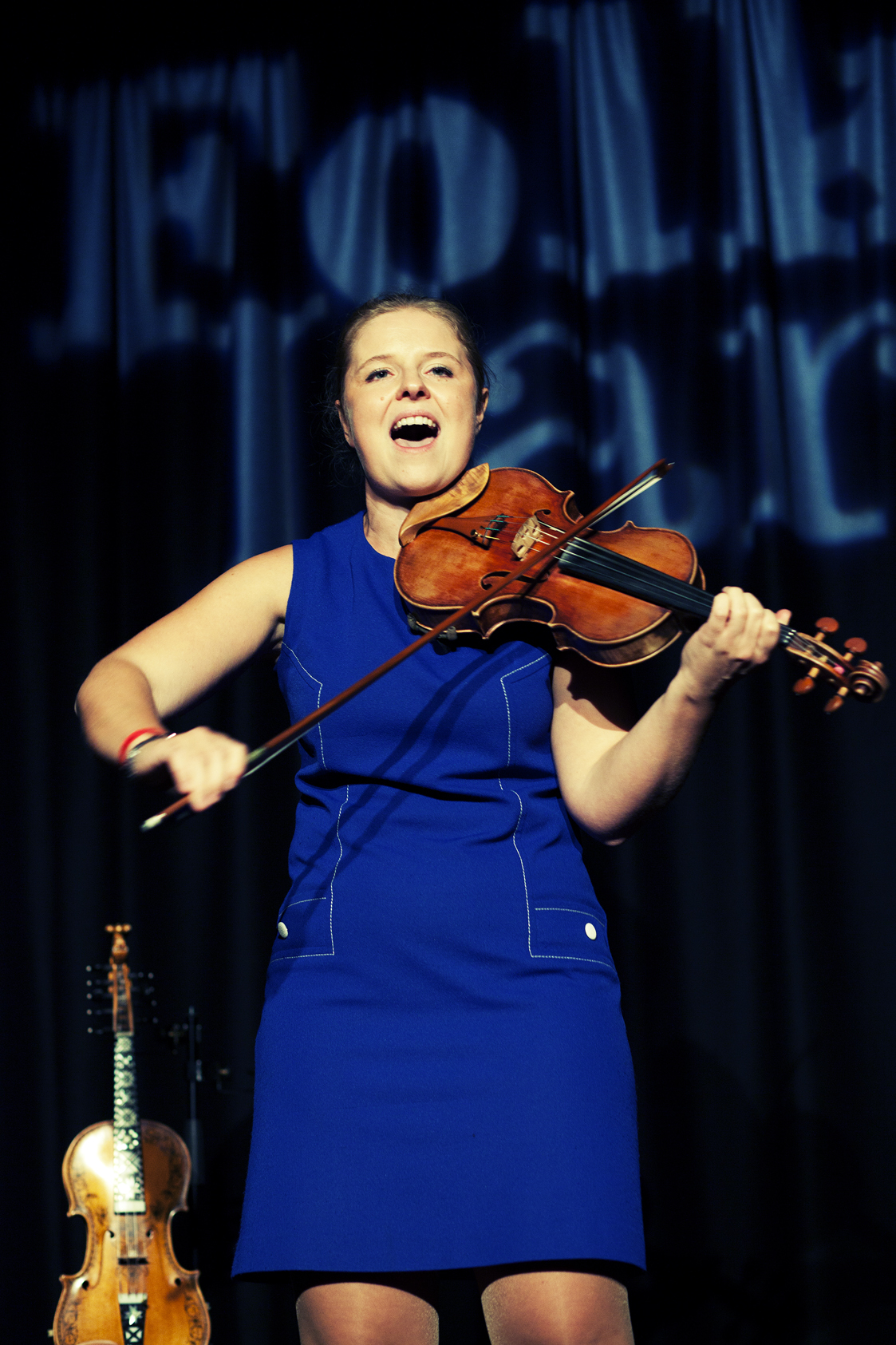 Equally enthusiastic was Jorun Marie Kvenberg, who played solo with either fiddle and Hardanger fiddle (pictured right, photo by Ingvil Skeie Ljones). She even tackled two fiddles at once, plucking them as they jutted from her lap. Taking her material from her home area of More and Ronsdal, a third of the way up the west coast of Norway, Kvenberg performed a song composed by Rasmus Erdal, who died in a tsunami in 1934. She said his sheet music had been found floating on the water. Another had been sung by a thief condemned to death. He continued singing it after the executioner severed his head from his body.
More reserved were Nordic Tree, two fiddlers (Finland's Arto Järväla and Sweden's Hans Kennemark) and a Finnish harmonium player (Timo Alakotila). Although hugely popular in Sweden, at FolkeLarm they felt reined-in and dry in contrast to the pep of Viken/Brimi and Jorun Marie Kvenberg. Järväla's solo show was punctuated with lengthy explanations of the instrument and the songs which interrupted the flow.
Finland reclaimed the ball with the intense accordion player Antti Paalanen (pictured left, photo by Ingvil Skeie Ljones). A graduate of the Sibelius Academy, he's an unstoppable steam hammer. Although there were mutterings he hasn't escaped the shadow of his producer, accordion polymath Kimmo Pohjonen, Paalanen was a revelation. His adopted style is the breathbox, where a huff-puff rhythm is injected into the melody being attacked. Paalanen was so carried away that his hair stood on end, his various bits of kit flying off. Asked whether he ever broke his accordion, he confessed to having done so a couple of times. He's arrived at a souped-up serial music, a quad-speed Philip Glass running a relay race with Terry Riley.
Watch the video for Antti Paalanen's "Breathe"
FolkeLarm wasn't shy about giving its stages to other acts jumping off from the traditional. Camilla Granlien, performng solo here, draws from dance music but she's recorded with jazz players. Ragnhild Hemsing teams her fiddle with Hallgrim Hansesgård, a constantly whirling dancer. It was a bit variety show. Ragnhild Furebotten is another graduate and a former member of Norwegian faves Majorstuen. Pitching her fiddle against a six-piece brass/sax outfit was a more seamless crossover than that of Swedish violinist Ellika Frisell, Norwegian-via-Senegal kora player Solo Cissokho and Mexican percussionist Rafael Sida. Even though the players were having a ball, it felt more about the experiment than a natural coalition. Frisell pointing out that her fiddle and the kora were playing in different time signatures underlined this. The Swedish brace of mixer-uppers Faela (Balkan-Latino-reggae funsters) and Harv (folk-polka-jazzers) were less interesting and could have cropped up at any festival.
Other bands taking their traditional instruments and melodic sources on a journey were more distracting. The duo Sudan Dudan sent Gillian Welch on a trip down a fjord. Marit Karlberg wafted her Norwegian zither while Anders Eric Røine played acoustic guitar. Swedish quartet Navarra were terrific, despite each song being a wee bit too similar to the next (pictured right, photo by Ingvil Skeie Ljones). Sieved through scat-jazz rhythms, they're potentially a Nordic Pentangle. Just as striking are Ugagn, a terrific vocal/guitar/Hardanger fiddle trio subtly touched with flamenco. Sigrid Bråten Berg's voice was a siren call. Michael Nyman fans would dig them. Although less reflective, another trio – all fiddle – Vrang were also sensational, their fizzing energy and smiles leading into a world where barns, dances, Norway and bluegrass meet.
Initial doubts about fiddle overload soon receded. Sure, there were some textbook takes on folk at FolkeLarm, but what shone through – and made performers into individuals – were the personalities borne on the music. FolkeLarm also went part way to answering the perennial question of what gives Nordic music its compelling melancholy – play a Hardanger fiddle and the music can't help but lean towards the mournful. Norwegian musicians who aren't playing folk - or aren't from folk backgrounds - carry this with them. FolkeLarm wasn't just about music. It quietly spoke about what Norway is.
FolkeLarm went part way to answering the perennial question of what gives Nordic music its compelling melancholy
Share this article