Apollo/ Jeux/ Suite en blanc, English National Ballet, London Coliseum |

reviews, news & interviews
Apollo/ Jeux/ Suite en blanc, English National Ballet, London Coliseum
Apollo/ Jeux/ Suite en blanc, English National Ballet, London Coliseum
A brilliant programme shows ENB at its best - and a delicious new creation made of recycled parts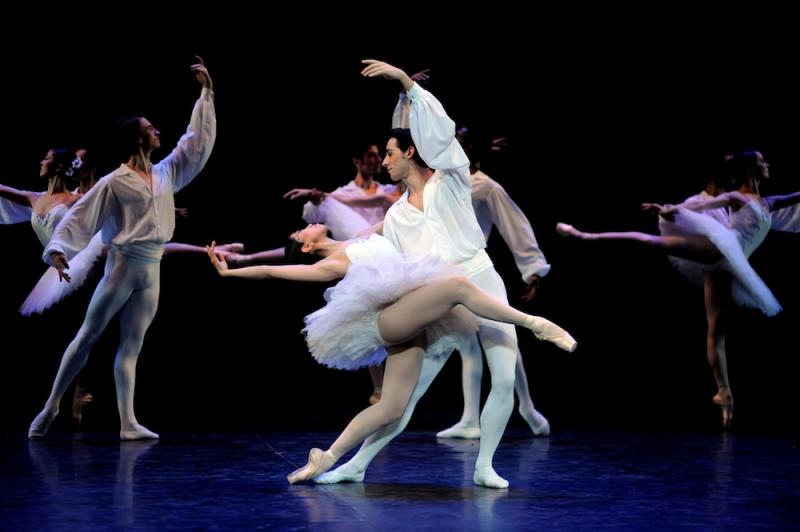 Lifar's 'Suite en blanc': ENB should dance this piece, and this programme, a lot
Just a typical night at the ballet. The sun god rises with his goddesses, people play tennis and flirt in a garden, a handsome young chap struts his considerable stuff on a Twenties beach, and an array of white-tutu'd ballerinas perform deliciously difficult and exultantly accelerating steps. So many stories flit by in an evening of ballet, so many ideas and fancies, so many dancers skim through your vision.
Debussy caresses your ear, majestic Stravinsky, teasing Milhaud, Lalo like a large stuffed brocade sofa. How is it that this kind of evening is not typical of the ballet?

English National Ballet, as I said last week about their earlier programme in this Coliseum season, are a company who spring surprises. Last night's second bill in their Beyond Ballets Russes season is a wonderful final calling-card for the outgoing artistic director Wayne Eagling, a wonderful calling-card for ballet too.
Balanchine's Apollo is a never-failing miracle - it seems to emerge out of white marble Delphic columns and an eternally clear dawn (pictured right). The god is young, learning how to rise (in one of those exquisite metaphors that are unique to dance), ordering three female divinities to embody the arts of poetry: drama, mime and dance. Their solos are purest calligraphic art, inscribed in the blue morning light as if on the first morning. The duet for Apollo and Terpsichore, in its deep understanding between two people, seems to unscroll a future of perfectly harmonious continuity.
ENB have evidently been inspiringly coached in this by Balanchine's own dancer Nanette Glushak, but even more than that was added by the powerful, pantherine Zdenek Konvalina as a compelling Apollo, and, among his beautifully matched ladies, Begoña Cao in particular, emitting the required air of mystery that separates a muse from a nymph.
The band was scratchy in Stravinsky's supremely compressed score, but they redeemed themselves entirely in the unexpected pleasure of the night. This is a re-imagining of Nijinsky's lost ballet Jeux, a piquant tennis triangle originally, with a not-very-buried gay slant that partly accounted for its loss. As with the lost Nijinsky Rite of Spring, it's the music and theatrical scenario that hold their power unbroken over the imagination, and Wayne Eagling's new version is a remarkable and enticing creation.
It feels both old and new, with its romantic poet (or choreographer) being struck by a stray tennis ball (aka inspiration) and becoming swiftly embroiled in a tennis game along with two canoodling bystanders. In fact, canoodling is very much on people's minds, though the tennis girls have fine biceps that they ensure the choreographer has noticed, in a very amusing trio.
Though the setting is a ballet studio, with a piano in the shadows, the people in his dream loll on the piano as if it were a park bench, and all feels strangely, woozily dislocated to the darkling gardens of the original via John Betjeman and Miss Joan Hunter Dunn. Debussy's beguiling music seems to come from a mystical narrative soundworld fusing with Ravel's Daphnis and Stravinsky's Firebird, lush fine-spun strings, stray wisps of tune that seem half-heard, or catch a gust of wind.
Above: Eagling's Jeux, with Elena Glurdjidze, James Streeter, Begoña Cao, Dmitri Gruzdyev, Fernanda Oliveira and Junor Souza. Below: Glurdjidze, Oliveira, Gruzdyev (images © Annabel Moeller/ENB)

The clothing by Wizzy Shawyer is stylishly Twenties, and into this delightful Martini Eagling drops a bitter black olive right at the end, when a black-clad figure like an undertaker walks on, removes his top hat respectfully, and lobs the tennis ball to the choreographer. It feels threatening, then the undertaker turns round - he's Diaghilev. So you laugh, yet you do think of death, and the randomness of inspiration and of life. There are many fragments of material in this piece, including dance sketches by Kenneth MacMillan for the Herbert Ross film Nijinsky, so Eagling's cleverness is in how completely he's recycled his assorted bits into something that feels original, provocative, atmospheric, and offers some lovely character-dancing for ENB's distinguished leading dancers (so much happier and more fulfilling here than the dross of Strictly Gershwin).
A little bonne-bouche follows in "The Handsome Young Chap's Solo" from Nijinska's satire on the Twenties Riviera celeb set, Le train bleu, with Vadim Muntagirov looking as delectable as an ice-cream sundae in his striped Coco Chanel bathing suit - and cartwheeling about the beach breaking all hearts. Choreography is so sedate now. Bring back the Twenties, with their wit, beefcake and acrobatics. It makes you feel good to be alive to see it.

And the brilliant finale, Serge Lifar's Suite en blanc, is another heart-raising piece. In this brilliant company ballet the white tutus and tights against a black two-tier wall make a grand black-and-white effect, while the classical vocabulary is given every possible spin in chic, inventive off-setting and complicitous synchronisation. Individualist solos for Elena Glurdjidze and Yonah Acosta, a ravishing pas de deux for Erina Takahashi and Zdenek Konvalina (an arresting pairing), Laurretta Summerscales and Nancy Osbaldeston heading a cute threesome and a cuter quintet, respectively, and the sweetness of the Sieste girl trio. This is a piece of sheer balletic delight, and ENB visibly love it, and it's theirs, and they should dance it and this whole programme too, a lot. Evidently, too, the standard and commitment of their dancing in the programme is a significant tribute to the regard in which they hold Eagling.
Bring back the Twenties, with their wit, beefcake and acrobatics. It makes you feel good to be alive
Share this article