Firebird/ Rite of Spring, English National Ballet, London Coliseum |

reviews, news & interviews
Firebird/ Rite of Spring, English National Ballet, London Coliseum
Firebird/ Rite of Spring, English National Ballet, London Coliseum
ENB plucks a bold young talent and a stunning performance out of a Ballets Russes mixed bag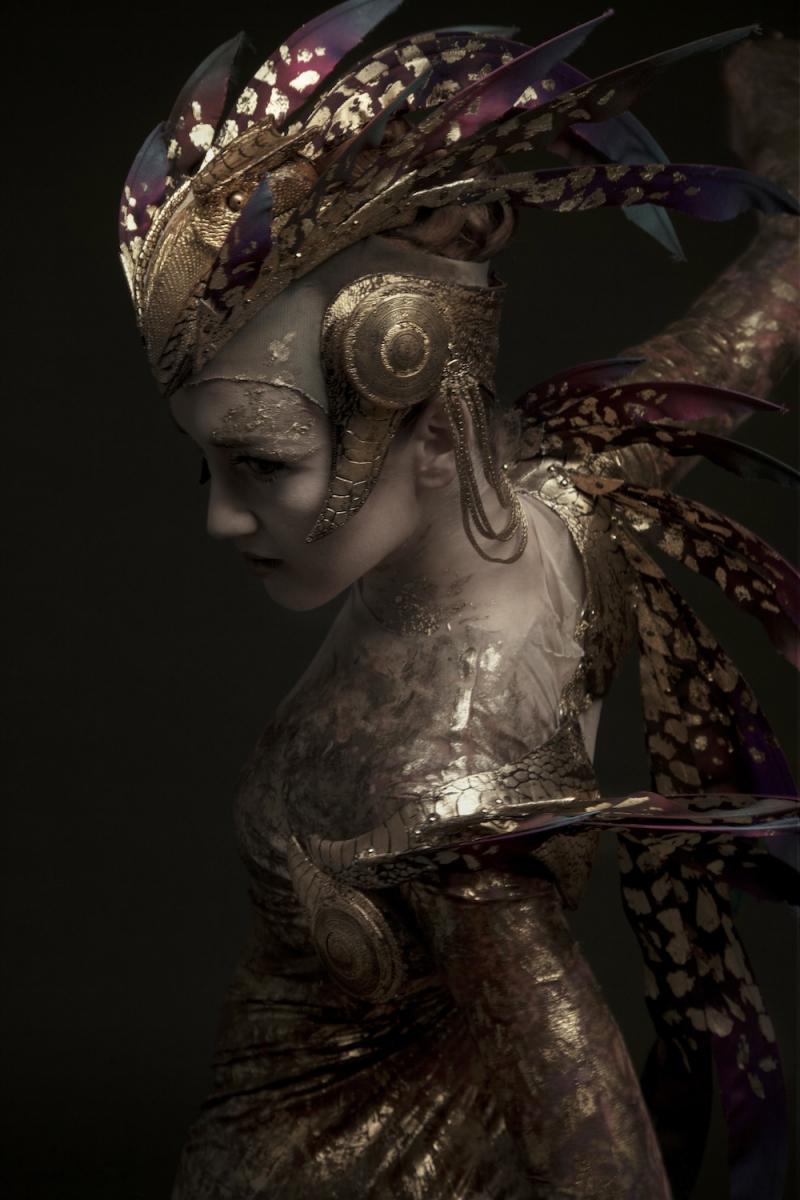 More of a video-game avatar than magical being: Ksenia Ovsyanick as the Firebird
Two amazing things in one evening from a company totally at sixes and sevens artistically - it could only be English National Ballet. First amazing thing: the uncovering of a confident and stylish young choreographer straight from school. Second amazing thing: the radical redesign of a modern classic with stunning flair and a performance that's got to be one of the shows of the year, whatever else happens.
While the fights between ENB's Board and its artistic directors are one of those dependable balletic traditions, like Nutcracker at Christmas, and their firings inevitable (bye-bye, Mr Wayne Eagling, this summer), there's a swagger in ENB that can spring surprises you don't get in the other ballet companies. While its budget has forced it into some lamentable programming in the past couple of years (this season, wall-to-wall Strictly Gershwin) who'd have predicted that it would place a prominent bet on a 20-year-old choreographer, giving him a major fashion designer and one of the most ravishing and iconic of Stravinsky ballet scores?
These characters look like video-game avatars - today's world of magic
George Williamson is undoubtedly a talent to watch. What we saw was a very young man's viewpoint on ballet - more about physical glitter and styling, more about, yes, swagger than about magic and strange encounters between worlds. But boy, what confidence as he moved his lithe, rather reptilian Firebird with her flamboyant gold crest around the stage between two opposed couples and some rather Goth muses in shredded purple.
These characters look more like video-game avatars - today's world of magic - and their moves have the faintly surreal slink of Russian "artistic gymnastics". I didn't understand the dramaturgy; characters are named Lead Celebrity, Army Captain, Purity, Peacock, and they pull the Firebird's golden feathers off her head and wear them themselves, before tidily putting them back again on her crest. Yet some eternal fairytale ingredients surface: the bad girl, the good girl, the magical being, the man flying too close to the sun, the commenting corps de ballet. In between the showy gestures there's a lot of detailed ballet language, swift and varied. The physicality shouts out how different dancers are from us lumpy mortals seated watching them, and that's to be expected when a young man and a fashion designer get together in today's world. This Firebird doesn't make me want to see it again, but it does make me want to see Williamson again.
Given that this is a tribute programme to Serge Diaghilev's Ballets Russes a century ago, one could argue that they, more than anybody, declared ballet as for the beautiful people. Nijinsky's L'après-midi d'un faune was the highest embodiment of that star dancer's feral physical qualities and fantasy - nothing as obvious as a beautiful sexy boy, but a goat-creature, a mythical alien whom you, the watcher, flesh out with your own projections (Nijinsky pictured right in the role). Dmitri Gruzdyev, ENB's leading male, is too stiff and unimaginative to look anything other than a cardboard puppet in the curious two-dimensional movements, especially in conjunction with Debussy's tremulous, hallucinatory music, but this was still a much better presentation of the ballet and its gorgeous designs than Sergei Polunin gave the other week at Sadler's Wells. And superior playing of all these luscious scores by ENB's orchestra under Gavin Sutherland too.
A veil over David Dawson's modern reinterpretation of Faune, a dire bit of wafting about for two young men dressed in waist towels like an encounter in a sauna. The remastering of the score on two pianos (placed on stage far apart like a non-speaking couple) does the music not one favour, putting percussion where in the orchestra it is all breath and caresses of strings.
But finally the towering achievement of the night: the transformation of MacMillan's Rite of Spring from an atavistic aboriginal ritual in baking soil to the haka on a rugby field, today's terms, today's youthful forces, today's crowds, today's fears. MacMillan's widow has always been up for this work to be redesigned, and this one by Kinder Aggugini, an associate of John Galliano and Donatella Versace, is the best yet.
Close-up, Aggugini's sketches show highly worked dark strips and intricate wigs (somewhat related to Léon Bakst's design for Nijinsky's Faun actually - see illustration below). From stalls distance, these meld into a fierce, pared-down dark uniform reminiscent of the All-Blacks, the stage no longer painted with ritual cloths, but bare, spotlit, with a trace of November fog in the air. The atmosphere is almost militaristic, and it clarifies as no design has done so well before the brilliant, horrifically evocative lines and formations with which MacMillan sums up the herd instinct, and the dramatic graphics as the search for a victim narrows down.
Erina Takahashi's little head pokes up above a sea of clutching hands, like a woman buried in the ground about to be stoned to death. Her little body is unresistingly passed overhead from one to the next like a corpse along a conveyor belt. The images of deadness, and the victim's complicit acceptance, these are the ritual, mythic elements that surely choreography, of all the arts, has the unique power to take straight to our nervous system, to accuse us as potential participants, and as potential victims. It's a great masterpiece of dance, and ENB's dancers, condemned all year to the ghastly tinsel of Strictly Gershwin, seemed to burst with almost physical violence into this ferocious group choreography, to eat Takahashi up, to spit her out, to make us tremble at the terrible beauty in the bestial.
It's a very young man's viewpoint on ballet - more about physical glitter and styling, more about swagger than about magic. But boy, what confidence
Explore topics
Share this article