Strictly Gershwin, English National Ballet, Royal Albert Hall |

reviews, news & interviews
Strictly Gershwin, English National Ballet, Royal Albert Hall
Strictly Gershwin, English National Ballet, Royal Albert Hall
If you like formation dancing, you'll love this. Otherwise not so much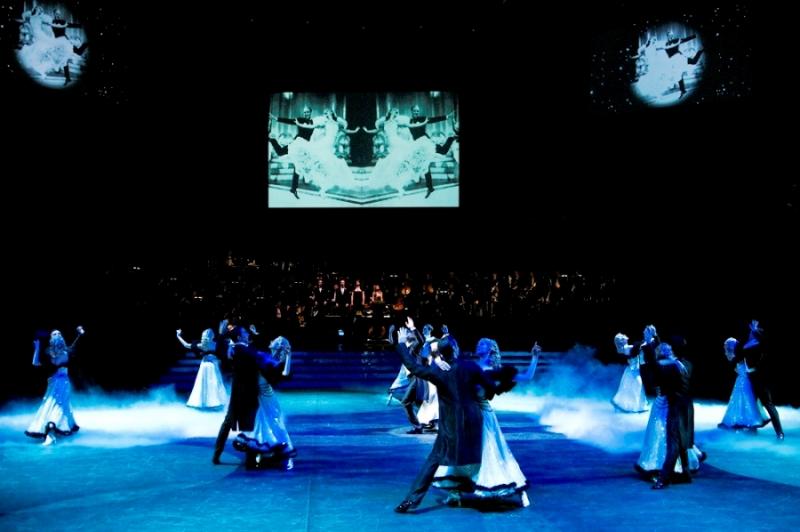 ENB's 'Strictly Gershwin': 'A woefully misconceived evening'
Mark Twain once wrote of his experience of going to German opera. It starts at 6, he said, and they sing for four hours. Then you look at your watch, and it's 6.15. This is also an all-too-accurate description of a night at English National Ballet's Strictly Gershwin. Except that I began to look at my watch after 10 minutes.
Old-fashioned ballroom sequins have Derek Deane fatally in thrall
I can't remember ever enjoying any theatrical experience less. The Albert Hall is not in any case a place for dance – dance in the round is a contradiction in terms, it simply means everyone has a bad seat. But at Strictly Gershwin I swiftly realised not being able to see was no bad thing. Derek Deane is not so much a choreographer (see his Swan Lake in the round if you don't believe me) as a marshaller. He pushes groups here, he pushes them there, and everyone valiantly pretends it's dancing. But his steps are risible, there is no aesthetic motivation at all – old-fashioned ballroom sequins seem to have him fatally in thrall.
One feels for the very talented dancers wading through this treacle (Kerry Birkett, pictured right in "Lady Be Good", photo: Patrick Baldwin). Tamara Rojo, brought in as the guest star, could do nothing with either of her big turns, "Rhapsody in Blue" (corps de ballet in "Rhapsody", pictured below, photo: Michael Gardner), when her first entry is so covered in dry ice that she is invisible from her waist down, or "An American in Paris", which recreates all the cheesy bits of the 1950s view of France, while omitting the film's very considerable charm. Daria Klimentová managed better in "Summertime", merely by virtue of it being a pas de deux, and thus not cluttered with all the props and toys and costumes and folderol for which Deane appears to nurture an unnatural passion.
The rationale for the whole evening is also distinctly under-thought. The first half is called "Gershwin on Broadway", the second "Gershwin in Hollywood". And then giant stills of such well-known song-and-dance folk as Paul Henried, Bogart, Bacall, Cary Grant and Ingrid Bergman are flashed up during the "Broadway" section. What have they to do with Broadway? Or even Gershwin?
There are images, as well, of Astaire and Rogers – there is even a clip of them dancing in slow motion, a tiny moment so vivid, so pure, that it makes it entirely impossible to watch the dancers beneath tromping through their drum-majorette formations.
The musical interludes were rather a relief, even if the orchestrations took Gershwin's acid bite and blanded it out before amping up the sound to blur away the detail. But this is, altogether, a woefully misconceived evening.
Share this article