Men in Motion II, Sadler's Wells Theatre |

reviews, news & interviews
Men in Motion II, Sadler's Wells Theatre
Men in Motion II, Sadler's Wells Theatre
Ivan Putrov and Sergei Polunin's second outing is eclipsed by a heavy, middle-aged genius of a woman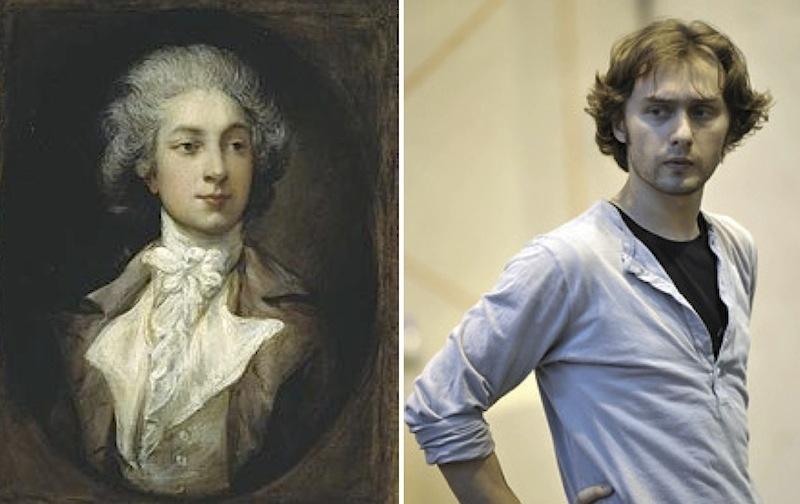 Real and pretender: Gainsborough's portrait of Vestris, and Ivan Putrov
This show was intended to be all about the men (see title). But it was the woman in motion who stormed off with the honours in this second edition of what has become tagged as the Sergei Polunin show.
And a heavy, maternally hipped, middle-aged woman at that - step forward, the sensational Dana Fouras, a dancer of genius who blew every other performer off the stage in Russell Maliphant's
Two
(including the hapless gentleman trying to duplicate her movements on the other side of the stage).
Men in Motion Part 2 was surely an impromptu media event, created by the storm of press surrounding shooting star Polunin's exit from his company in Covent Garden (and in which he most clearly belongs, as his performance here blatantly showed), and riding on the coattails of the misfire of Men in Motion in January. Curated by Ivan Putrov, formerly of the Royal Ballet, and embellished with the fragile ego of the flaky young Polunin, it's supposed to declare some kind of claim to the success of the worldwide franchise, Kings of the Dance, in which various world male stars have been performing slight but showy choreography to global audiences, largely in the US and Russia. The apeing was even more obvious this time, with two choreography numbers straight from a Kings of the Dance show.
But this one, generated by essentially aggrieved dancers - Putrov (who could be very good if he'd just pull out a few stops to refine his superior gifts) and Polunin (who has a genuine promise of greatness) - keeps emitting rather sulky, inconsequential choreography.

On Men in Motion's first time out six weeks ago, Putrov was denied by his Russian invitees' visa problems of his finale, Nacho Duato's male trio with rose, Remanso, one of the Kings of the Dance stalwarts. This time he flew in two men from Duato's company to join him, and it's a reflection of the thinness of the programme that Remanso looked the most substantial thing on the bill - whereas in fact it's just a pleasant-enough bonne-bouche, as three men attack a wall in cutesy ways, playing kookie games with a rose.
Fouras is a flamenco queen who makes you quail. She redefines slow, magnificently
Maliphant's Two was originally a short solo made for his awesome wife, Dana Fouras, in 2001 when she'd just left the Royal Ballet. It's appeared in several incarnations since, including Sylvie Guillem's and Carlos Acosta's, and has therefore become a proper, programmable item. But by gum, there is no substitute whatever for arms like Fouras's - she's a flamenco queen who makes you quail. She redefines slow as unhurried, like Gaia measuring out the world's time signature on her own terms. Magnificent, an exciting, forbidding presence in the darkness, and in the chiaroscuro created by Michael Hulls' magical lighting she need only poke out her foot into the light to make something like a flash of lightning. Jesse Kovarsky was on stage with her in this version for two, called Two x Two - I'm sorry to say I hardly noticed him.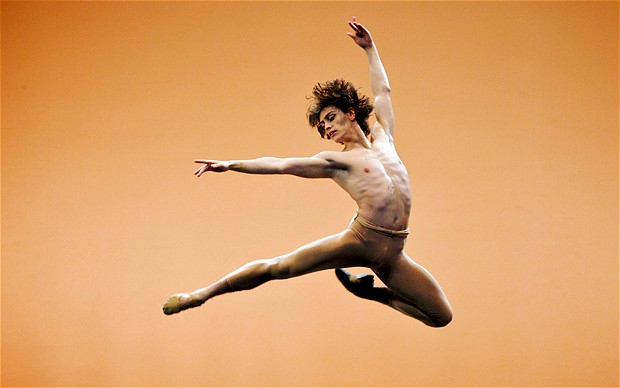 The rest is ho-hum at best, and ridiculous at worst. Polunin dances a rough and unconvinced approximation of Nijinsky's L'après-midi d'un faune, with the beauteous Elena Glurdjidze as his nymph - his orgasm on her veil at the end (so scandalous at its original performances) has all the shock value of a child sticking his tongue out. Did Polunin even really learn this role? Lazy, it looks, knock-kneed and gawky, as if he checked some videos. He makes more of an effort in Narcisse, the Kasyan Goleizovsky solo about Narcissus, who drowned in his own image. Created for the athletic Soviet dancing hero Vladimir Vasiliev, clearly its aerial jumps are what excite Polunin, what release him from his preoccupations (Polunin as Narcisse, pictured right by Elliott Franks).
There have been rumours that the problem child would be back at the Royal Ballet this summer to do his La Sylphide performances - yesterday I had it confirmed from the incoming director, Kevin O'Hare, that this isn't so. And rightly. Polunin needs to go away, get sorted, grow up, understand the heavy burden of responsibility that comes with being a thrillingly talented artist.
Nothing was clearer than that from his self-penned solo James Dean, grandly billed as a world première, but I hope a world dernière after the show closes this evening. Slouching about the stage sullenly in T-shirt and jeans, throwing in the occasional studied jump, Polunin presented quite possibly an accurate show of how he himself feels at the moment, but as the very great Royal Ballet ballerina Lynn Seymour has so acutely observed, dancing is about doing the magic, not feeling it. It's about a responsibility and generosity to the audience, not an indulgence of oneself.
Putrov took on the mantles of two giants of dance history, Vestris and Baryshnikov, in the melodramatic solo Vestris created by Leonid Jacobson for the 19-year-old Baryshnikov when he won the Moscow International Competition in 1969. (This too has been a Kings of the Dance special.) It purports to show the great Vestris, the 18th century's "god of the dance", in white wig and rococo costume, displaying his theatrical wares in a fruity pantomime of what we'd call, I guess, emoticons. He wipes his face clean after each tiny vignette: he's happy, sad, laughing, frightened, rude. It's trivial, hammy and unrevealing, either of dancing or of theatre, at least in this performance. Like Polunin with his faun, it seemed as if Putrov had simply learned it off a YouTube (see below). The one time he looked as if he was attempting to make it mean something was where, on his knees, he suddenly channelled his finest role at Covent Garden, Glen Tetley's Pierrot Lunaire, eyes and mouth overflowing with bewildered sorrow.
Another former Royal Ballet member Tim Matiakis danced a neat, inert, stop-start solo in shiny trousers by Jorma Elo, today's go-to man for empty little steps, Andrew Bowman wafted with the contents of a feather pillow to moves created by Tim Rushton for the Dying Swan music. A sketchy little orchestral band in Debussy for Faune and Saint-Saëns for Dying Swan, and pianist Philip Gammon giving his able old fingers a workout in Tcherepnin (Narcisse) and Granados (Remanso). It is not good enough, either for dance or for the very real level of some of the participating dancers' talents.
Watch 19-year-old Baryshnikov perform Vestris, after a quick bit of coaching from Jacobson, its creator
This show, generated by essentially aggrieved dancers, emitted rather sulky, inconsequential choreography
Explore topics
Share this article