theartsdesk Q&A: Lighting Designer Michael Hulls |

Dance reviews, news & interviews
theartsdesk Q&A: Lighting Designer Michael Hulls
Olivier Award-winning genius with light and dance explains his art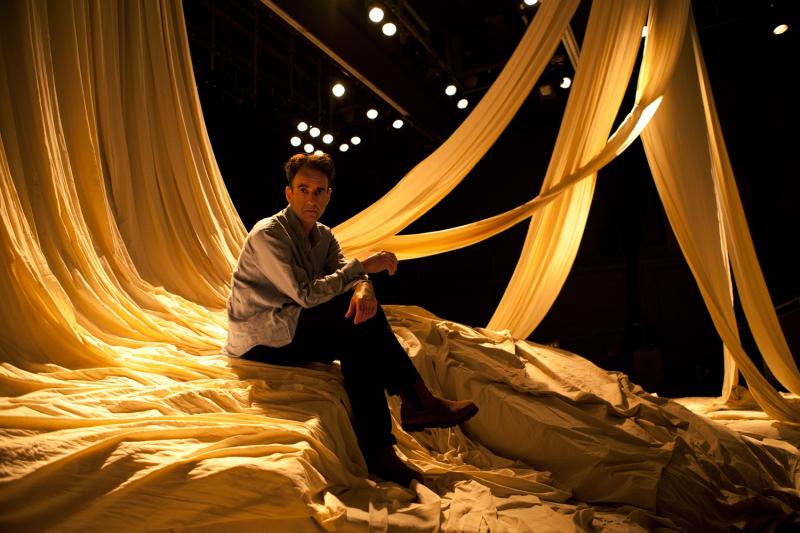 Dances with light: Michael Hulls amid the set for Russell Maliphant's The Rodin Project
Last night the Olivier Awards handed their top honour for dance not to a dancer but to the man who shines the lights on the dancers. Michael Hulls, winner of the Outstanding Achievement in Dance award, paints the dancing of Sylvie Guillem, Akram Khan, Russell Maliphant and the Ballet Boyz with atmospheres and illuminations that seem to reach beyond the visual and into some paranormal place.
Lighting designers are either wizards or useful pedants. They scrupulously light the action or they make light speak its own language, activating space, time, illusion, imagination - inventing effects that your blinking eyes can only consider as magic. No one performs this wizardry more outstandingly than Hulls, who has become a co-creator in a new form of dance-theatre, where light and movement are an inseparable duet.
He and Maliphant invented this collaborative idea tentatively 20 years ago, and their unbroken partnership ever since has led from obscure early solos to the international acclaim brought by their creations with Guillem and the Ballet Boyz, the astounding trio at the Royal Opera House Broken Fall, and Akram Khan's astonishingly beautiful DESH. Only just this last week Hulls, while admitting on Twitter he had not had enough time to do something spectacularly original, contributed the aching between-worlds atmosphere of the new Maliphant work for English National Ballet in their World War 1 new-choreography programme, Second Breath.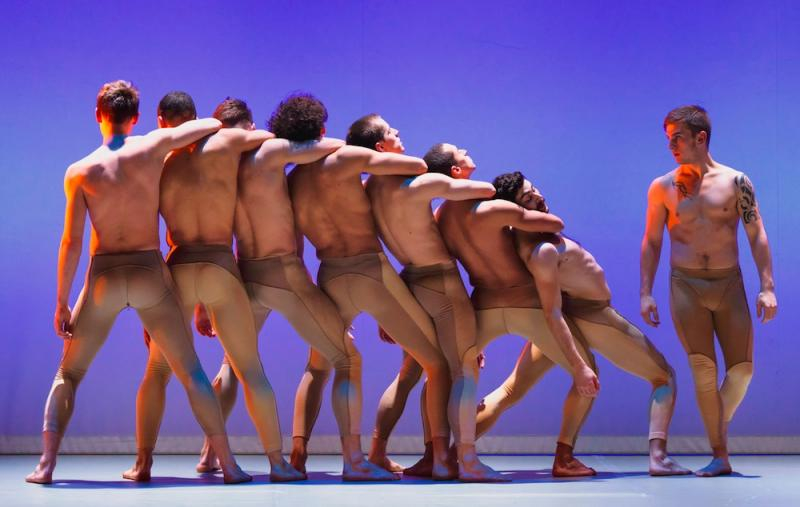 Hulls' list of achievements is a catalogue of many of my most unforgettable experiences of watching dance for the past 20 years. It was he who bathed Guillem and Maliphant in auras and glows in their duet, Push, and in their picturesque orientalist work with Robert Lepage, Eonnagata. It was Hulls who brought out with his lights, in Maliphant's duets for the Ballet Boyz, a powerful undertow of both male rivalry and unbreakable friendship. A recent production cited by the Oliviers last night was his work with the Ballet Boyz's latest double bill by Liam Scarlett and Maliphant (Scarlett's Serpent pictured right by Panayiotis Sinnos).
And Hulls must bear some of the public outrage ignited by Javier de Frutos's scabrously funny Eternal Damnation to Sancho and Sanchez, with its gross, marauding pope blowing up like a rocket. The lighting designer - once just the man who switched on the stage lights - has come into his own as a creator of theatre's mysteries, games and inner songs.
It seems apt that Hulls (born in 1959) bears a fine sword as one of the few Knights of Illumination. This is an accolade bestowed by the lighting industry on their greats, for his hallucinatory lighting on Eonnagata in 2009. The sword symbolises romance, power, enlightenment and life force. (Compared with the pallid efforts by some of the more workaday lighting designers around, Hulls' lighting is truly a life force for dance - I've never ceased to be amazed by it.)
His journey to the pinnacle is highly unorthodox, as I found when we met two years ago to discuss his preparations at Sadler's Wells for Maliphant's The Rodin Project. Hulls has no formal training in lighting design. He spilled out over the table sheets of drawings either incredibly neat or wildly scribbled, one being the essential translation for digital programmes to put those dapples, scribbles and mysteries into action on stage. It was not, he told me, a glamorous life, it never has been, since he first went touring with Maliphant, the two of them with a wild idea in their head that light and dance should work in an unprecedently close embrace.
My eyesight is more comfortable at low light levels. I think low levels of light increase the use of all senses
MICHAEL HULLS: For 10 years we just went out on the road, Russell and me, with a CD player, a bag of colours for the lights, a lighting plot, Russell's costumes, and maybe another dancer. When you get to a theatre there's a lighting computer, and each light has a number next to it. So you make the plot of the channels, at 1-10, 27 percent, and they'll come on in 13 seconds, and you input all the information into the machine, then press the button - and things happen as you input it. That's at the basic level. Lots of people now tour their own lighting computer, so you don't have to start from scratch in different theatres.
ISMENE BROWN: That's two sides of the brain, isn't it? You use one side of the brain to paint the lighting design, then you have to become some kind of pernickety mathematical genius to put it all in place wherever you go.
You don't have to be a mathematical genius. Now I do things that are beyond my skill in that department, particularly if it's using modern automated lights that have so many controllable variables. Then the programming actually needs a programmer whom you explain it all to. Some lighting designers are perfectly competent programmers. I'm not like that. I just like to go from A to Z without all the fiddly stuff in the middle, which bores me.
How has lighting changed since Diaghilev's time? So much lighting now seems to be about hi-tech - what were the lighting people doing a century ago?
There weren't lighting people. It was just general illumination, with candlelight or electricity. The stage manager was responsible for that.
And always a spotlight on the star!
Yes. And you always had the mix of yellow, pink and blue. And the choreographer would tell the stage manager which colour to switch on. But at the turn of the 20th century, Edward Gordon Craig and Adolphe Appia wanted to create what they described as "form-revealing light", and that, I guess, was the start of lighting design as a visual medium in itself.
Hulls' list of achievements is a catalogue of many of my most unforgettable experiences of watching dance
Share this article
Subscribe to theartsdesk.com
Thank you for continuing to read our work on theartsdesk.com. For unlimited access to every article in its entirety, including our archive of more than 10,000 pieces, we're asking for £2.95 per month or £25 per year. We feel it's a very good deal, and hope you do too.
To take an annual subscription now simply click here.
And if you're looking for that extra gift for a friend or family member, why not treat them to a theartsdesk.com gift subscription?