FAR, Wayne McGregor|Random Dance, Sadler's Wells Theatre |

reviews, news & interviews
FAR, Wayne McGregor|Random Dance, Sadler's Wells Theatre
FAR, Wayne McGregor|Random Dance, Sadler's Wells Theatre
Cool Royal Ballet cat McGregor has another life - his own company is where his heart and creativity truly lies
rAndom International's amazing light grid: 'frigid light pinpricks, like acupuncture into the eyeballs, or soft aurora borealis effects of wondrous romanticism'
This is a great spring for dance-lovers. Tucked in for two nights at Sadler's Wells (catch it again tonight) is the return of Wayne McGregor's FAR, well timed to appear just before his latest ballet at Covent Garden next week. Uniquely among choreographers today, McGregor has two lives; two selves; two creative identities.
The better known is that cool cult-leader at the Royal Ballet, with his slink-and-fidget on pointe that looks so trendy on classically trained ballerinas. The lesser known is the man whose imagination runs free and intuitively with his own company. Freed from the pointe shoe, roaming the stage on the equivalent of bare feet, this group for 20 years has been expressing a side that McGregor evidently feels he can't fully explore in the ballet world.
FAR, created in 2010 but returning for a large world tour, has a typically intellectualised title, deriving from Roy Porter's history of medical philosophy, Flesh in the Age of Reason, but - having been rather unimpressed by the choreography on its 2010 premiere - I found myself last night with so different a reaction that it must prove something about the brain-swilling effect of extreme noise (last time the sound system was earsplitting) and pompous programme notes (I didn't remind myself of them this time). In fact, the title now seems equally good to describe the intense experience of loneliness that I found in the work.
The trappings are fabulous - a stunning panel of LED lights by rAndom International, magically manipulated to create grids of frigid light pinpricks, like acupuncture into the eyeballs, or soft, whooshing aurora borealis effects of wondrous romanticism. The stage itself is lit - or unlit, in places - with flair and beauty by Lucy Carter, so that the people upon it seem to bring their own spaces with them, sometimes as alone as planets in outer space, sometimes hemmed in together by banks of fiery spots.
Ben Frost's soundscore opens with (though you'll look in vain in the programme to find this out) the hauntingly gorgeous sound of Cecilia Bartoli singing the Baroque aria "Sposa son disprezzata" (see video at end), a woman singing wretchedly of being scorned by the husband she loves.
All this is vast emotional ballast and a long way from McGregor's quasi-brainbox effluence in the programme. He speaks of it all coming from cognitive research, and that's up to him, but what I reacted to this time was the emotion in FAR. The dancing to Bartoli's heartrending singing is for a male-female pair lit by four bearers with flaming torches, with fragmentary echoes of the intimacy of ballroom dancing and the energetic switches of jive surfacing within a sinuously acrobatic love duet. After last week's news that McGregor is creating his first narrative ballet next year at Covent Garden, it gives clues to the latent emotive power that he usually keeps well hidden.
In a change that mirrors the Baroque musical structure, the "soft" of the first part switches to "hard"; the torchlight and Baroque lovers are replaced with futuristic LED effects, rumbles and a sense of reality vanishing. Instead of sinuousness, flesh cleaving unto flesh, there are sharply defined edges and angled movements defined by bones and joints - particularly brilliantly irradiated by Alexander Whitley (formerly with Rambert and Michael Clark). Individual men, minimally clothed, build short intricate motifs from a wonky knee, or an ataxic limp, or extreme turn-out of the feet. It's almost an oddball's primer, performed by the men isolated in little pools of light, sealing each off from the others. (McGregor has worked considerably with autistic and ataxia sufferers and must know well of their unusual sense of isolation.)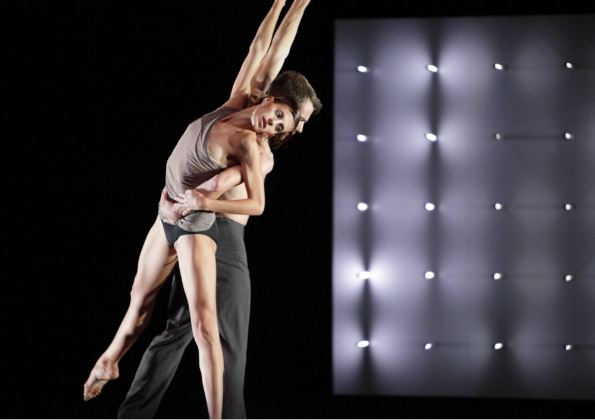 This should be cold. What struck me was how deeply sad, even despairing, the impact is. These men are no longer just dancers; they carry a loading of people who are, in their private thoughts, far apart. This moves on, in another Baroque switchback, to an initially more comforting sequence where women do support each other with hands into running lifts or circling group phrases, yet they flick their hands as if touching something nasty and a ripple of distaste shivers through their bodies. A smoky-voiced folk singer joins the soundtrack through the electronic hums, and the dancers clot together like young schoolgirls playing. But the men run on and drag them apart.
Within its oblique, low-lit ambivalence this is emotionally violent stuff. You can see the brevity of life, alliances that start with a complicit hold and lift and then suddenly end in a flash of destabilising resistance from one of them, or the desire of random people to make formal concourse into a sudden synchronised motif of jumps. The vulnerability feels raw and charged, though my attention snapped as always after about 50 minutes, with 10 minutes still to go. FAR ends somewhat flamboyantly with the apparent death of a woman, and a man sorrowfully but firmly leaving her to lie alone in the dark - that's really an entire story of itself.
But setting all my emotional reinterpretation aside, McGregor does many things aesthetically differently in this fast-running barefoot choreography. For one thing, he deliberately equalises the sexes in a way he can't do so well in ballet, where men and women wear such different footwear, prescribing such contrasted languages. With Random, he really is writing movement, rather than crafting steps - he pours out fresh and evocative motifs and momentum that come from an open palette without historical definitions, unlike the ballet work.
FAR doesn't feel like cognitive research translated into dance, but intuitive movement, rich in human suggestion, revealing of McGregor's own subconscious, and rewarding to plunder for one's own. Covent Garden may be where the money is, but Random is where this choreographer shows his genuinely exceptional talent.
Random performs FAR at Sadler's Wells tonight, and Entity at The Lowry, Salford, 27 March. They then tour Germany, Italy, Belgium, France, Austria, Spain and Norway with FAR and Entity till 24 May. They return to the UK with FAR to Newcastle and Warwick in October, and the Royal Opera House Linbury Studio (November). Further information on the Random dance website
Wayne McGregor's Carbon Life has its world premiere at the Royal Ballet, Royal Opera House, London, on 5 April
Watch Cecilia Bartoli singing "Sposa son disprezzata" (from Vivaldi's opera Bajazet)
Watch the trailer by Wayne McGregor | Random Dance for FAR
This is emotionally violent stuff within its oblique, low-lit ambivalence. You see the brevity of life, of relationships
Explore topics
Share this article