The Royal Ballet, 2012-13 Season |

Dance reviews, news & interviews
The Royal Ballet, 2012-13 Season
Cuts be damned - it's all go for the new under new director Kevin O'Hare. Full listings of his first season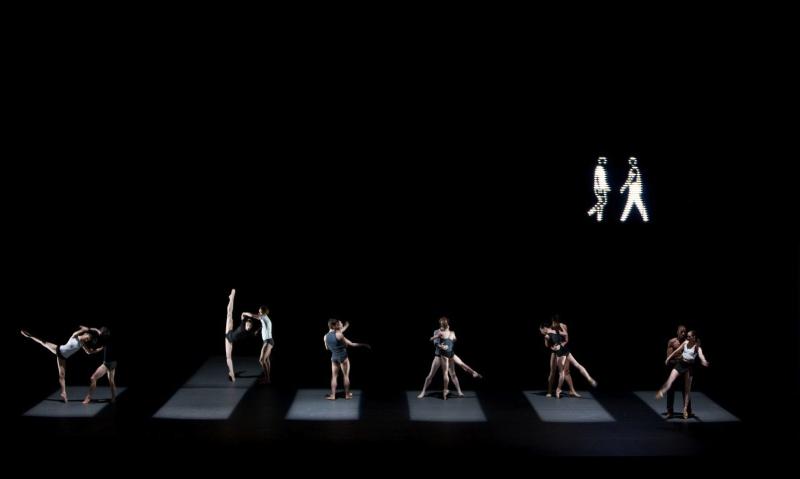 Wayne McGregor's Infra: one of the ballets of today setting the tone for next season
World premieres, new faces, lower ticket prices (and the first recycled opera production). The Royal Opera House announced a bullish attitude today as it enters the austerity post-Olympics period for next season with six ballet premieres and six new opera productions. Ballet headlines are that the leading Russian choreographer of the era, Alexei Ratmansky, will create a work for the Royal Ballet - as will Christopher Wheeldon. Radical abstractionist Wayne McGregor will create his first narrative ballet, and the rising young Liam Scarlett will create his first full-length ballet.
Both ballet and opera have new leaders, and at today's press conference in the Royal Opera House's Crush Room it showed. Kasper Holten, new opera director, spoke of the "emotional fitness centre" that opera offers, the way opera catalyses the great emotions in the human heart, and his urgent desire to show people "what they're missing" if they don't come and discover the artform.
Kevin O'Hare, incoming ballet director, said his main focus was to create "the classics of the future. I think we can enjoy performing our heritage, and we really want now with that base to move on and create new work that will be here for years to come."
Last year the ROH chief executive Lord Hall warned that the impact of public spending cuts would be delayed until after the Olympics but its frontloading meant that 2012-13 would take the brunt of economies. The impact is well-hidden in a clever new approach coming from both ballet and opera that a mix of the world's favourite ballets and operas - La Bohème, Tosca, Swan Lake - and a lot of new, risky things that only a great opera house can do will please both the mainstream entertainment audience and the novelty-seeking epicureans.
The signal is of a long-overdue refreshment of attitude, and a phasing out of the "curator" approach
For ballet the signal is of a long-overdue refreshment of attitude, and a phasing out of the "curator" approach of Monica Mason and considerably more vibrant creativity from O'Hare, in his tripartite association with new "artistic associates" Wayne McGregor and Christopher Wheeldon. February's mixed bill with the new Wheeldon and the new Ratmansky looks like the hottest ticket, but Wayne McGregor's hour-long narrative Raven Girl, in a double bill with Balanchine's Symphony in C next May, sounds most intriguing, based on a graphic novel by Audrey Niffenegger, filled with rich folktale grand guignol. It will be "twisted narrative", commented O'Hare, adding that narrative is now back in young choreographers' minds since the success of Wheeldon's Alice's Adventures in Wonderland (getting its third run next year).
But there's also a dynamic new look for the use of the Linbury Studio Theatre, much more treated as a theatrical attraction in its own right, rather than as the opera house's PC conscience. The most promising of RB young choreographers Liam Scarlett will create his first full-length narrative ballet in the Linbury and outstanding independent creations with Royal Ballet artists - Arthur Pita's The Metamorphosis for Edward Watson (pictured right by Charlotte MacMillan), Wayne McGregor's Random work - will be shown again. The theatre will also host appealing companies such as Leeds' Phoenix Dance Theatre, Ballet Black and Bern:Ballett, and once again Christmas will be enhanced by Will Tuckett's delightful The Wind in the Willows, the outstanding example of how the Linbury space works as almost a little vaudeville theatre, with its high raked seats.
In terms of numbers of ballet nights, there is a marginal decline, yet it's well disguised by the impression of more energetic activity. Last year 14 main-stage ballet bills - eight full-length, six mixed, including two premieres - this year 12 main-stage ballet bills - six full-length, six mixed bills, 123 mainstage performances. These more adventurous programmes remain with very short runs, five or six performances, while the Tchaikovsky classics are scheduled with 20 shows each.
Two bills dedicated to the Royal Ballet's great choreographers Frederick Ashton and Kenneth MacMillan will combine familiar favourites such as Concerto and Marguerite and Armand with long-awaited rareties, Las Hermanas, MacMillan's taut drama based on Lorca's play The House of Bernarda Alba, and Ashton's pure abstract Monotones I and II, a creation of lunar genius.
Though the classics, Swan Lake, La Bayadère and The Nutcracker all return in their known stagings, O'Hare promised that in 2013-14 one of the major classics will have a complete new production (odds are that it's Swan Lake). That year Christopher Wheeldon will also create a new full-length ballet for the Royal Ballet (which I hope will be more adult than Alice's Adventures in Wonderland.)
Financially speaking, Tony Hall said the current season was making its targets so far, including mixed ballet bills (an increasingly hard sell to the public). Next season top ballet ticket prices for the first mixed bill will be £38, and some top opera prices are being slashed - last year's top opera price of £210 will be £175 next season. This is being achieved with the help of some other ticket price rises, and an increased skew towards private patronage and catering. The rising success of live cinema relays and the BBC tie-in, Lord Hall said, would push the Royal Opera House's excellence beyond London into the rest of the country, and around the world. The Royal Ballet, said O'Hare, will be performing in Snape and Northern Ireland, and touring to Monte Carlo and Tokyo next year.
Balletomanes will also be intrigued to see the Royal Opera performing Meyerbeer's Robert le Diable, the 1831 opera in which appeared the celebrated ballet of the nuns, starring Marie Taglioni, which launched the 19th-century romantic ballet movement. Lionel Hoche will be choreographer this time round.
Full listings on next page
We can enjoy our heritage, but we really want now to create new work that will be here for years to come
Share this article
Subscribe to theartsdesk.com
Thank you for continuing to read our work on theartsdesk.com. For unlimited access to every article in its entirety, including our archive of more than 10,000 pieces, we're asking for £2.95 per month or £25 per year. We feel it's a very good deal, and hope you do too.
To take an annual subscription now simply click here.
And if you're looking for that extra gift for a friend or family member, why not treat them to a theartsdesk.com gift subscription?