A Provincial Life, National Theatre Wales |

reviews, news & interviews
A Provincial Life, National Theatre Wales
A Provincial Life, National Theatre Wales
Moments of visual beauty punctuate a Chekhov adaptation that struggles to find its focus
Russian doll: Kezia Burrows' Anyuta charms Nicholas Shaw's rather rigid Misail
Since their launch just two years ago, National Theatre Wales has staged plays on a firing range, in a miner's institute, and – most memorably – claimed the whole town of Port Talbot as their stage for Owen Sheer's The Passion last Easter. Setting themselves the challenge of producing 12 productions in their first 12 months, this building-less company have somehow turned a modest (not to say meagre) £1 million a year subsidy into a living, risk-taking tradition of national theatre.
Their latest play, Peter Gill's Chekhov adaptation
A Provincial Life
, not only marks a rare visit for the company to a conventional theatre space, but sees iconic Welsh playwright Gill directing a play in his home town of Cardiff for the first time in a 50-year career.
While Gill has been London-based for the bulk of his working life, with stints at the Royal Court, National Theatre and Riverside Studios (where he was the founding director), his own writing has rarely taken its gaze from Wales, drawn repeatedly and particularly to the Cardiff landscape of his youth. While A Provincial Life (originally staged at the Royal Court in 1966) is an outwardly straight adaptation of a Chekhov short story, true to the spirit and setting of the original, his new production is striking for its Welshness – marrying Chekhov's aesthetic sensibility to a poetic voice that is recognisably Gill's own.
Tensions never quite cohere in this production, creating uneven performances among the large cast
In the Russian provinces of the 1890s we find Misail (Nicholas Shaw, pictured below), the son of a wealthy municipal architect (a builder of houses with "hard, stubborn expressions"), struggling with his conscience. Born to a life of respectable duty and privilege he yearns for a worker's struggle, for an end to the hypocrisy of a bourgeois society that has "freed the peasants but enslaved the worker". Together with his sister Cleopatra (Sara Lloyd-Gregory) and wife Maria (Alex Clatworthy) he attempts social and political rebellion and tries to find a way to live a life that marries principle and practice.
So far, so Chekhov, and neither composer Terry Davies' folk-inflected score nor designer Alison Chitty's meticulous visual naturalism (replete with samovars and stoves) do anything to challenge this. But framing Chitty's authentic foreground scenes are a series of shifting wall panels that alternately open up and embrace the action, staging it with calculated self-consciousness. It's an approach echoed in Gill's decidedly stylised direction, that demands formal gestures and blocking from his cast even while his text fills their mouths with easy vernacular cadence – often delivered here in Welsh accents.
These tensions never quite cohere in a production whose acting feels more "in translation" than its dialogue, creating some decidedly uneven performances among the large cast. In a brilliantly generous visual gesture Gill enlists an ensemble of semi-professional actors to supplement his central cast. Dressed as peasants, or the "Gogol-esque" townsfolk of Misail's provincial home, these figures provide beautiful, fluid transitions, their silent presence rebuking a text that never gives them voice. A silent cameo from an old man in a billiard hall offers a rare moment of emotive directness.
While secure in the hands of the mature men of the cast (Clive Merrison sets the pace as Misail's intransigent father, but both Richard Corgan's Prokofy and particularly William Thomas as local contractor Andrey give the action the naturalistic grounding it so badly needs), there's no getting around the awkwardness of Shaw's uneasy performance as Misail, declaiming his way rigidly through some of Chekhov's denser philosophical ponderings.
Struggling to generate much by way of energy with Shaw, Clatworthy delivers a solid if slightly unfocused turn as Maria, but is outshone by the composed radiance of Kezia Burrows as Anyuta (pictured left). Mention should also be made of John-Paul Macleod's carefully judged turn as Misail's eccentric, fly-eating co-worker Ivan.
It's an interesting time to be staging a play about the moral relationship between society's "haves" and "have-nots", and what might seem like a retreat on the part of NTW (both from their site-specific locations and away from new writing to a 40-year-old adaptation of a 19th-century story) couldn't in fact be truer to the company's self-appointed remit. Unfortunately while Gill's writing tussles elegantly with the complicated contemporary truthfulness of Chekhov's philosophies, his production isn't sure whether it is willing to follow suit and fling wide the door on the glass case of historical drama.
Peter Gill returns to the London stage next month with a new production of Robert Holman's lyrical triptych Making Noise Quietly at the Donmar Warehouse. I can't be alone in hoping for a return to focus and conceptual clarity from a director whose best is so much better than A Provincial Life.
MORE CHEKHOV ON THEARTSDESK
The Cherry Orchard, National Theatre (2011). Zoë Wanamaker (pictured below) shines in Howard Davies's murky production of Chekhov
The Cherry Orchard, Sovremennik, Noël Coward Theatre (2011). Russians soar in third, and final, offering of their first-ever London season
Uncle Vanya, The Print Room (2012). Iain Glen stars in a version of Chekhov at his most tenderly intimate
Three Sisters, Young Vic (2012) Benedict Andrews' energetic update is stronger on ensemble work than individual performances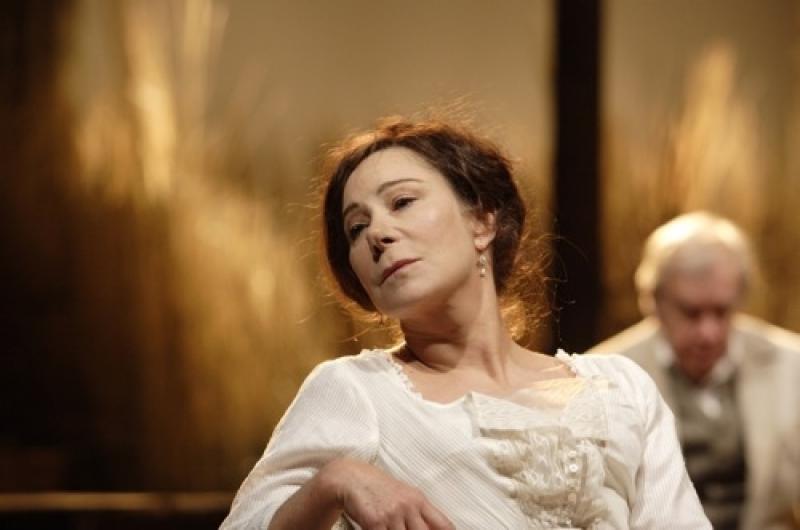 Uncle Vanya, Vakhtangov Theatre Company (2012). Anti-naturalistic Russian Chekhov buries humanity under burlesque and mannerism
Uncle Vanya, Vaudeville Theatre. Anna Friel, Laura Carmichael and Ken Stott shine bright in Lindsay Posner's production of Chekhov's drama
Longing, Hampstead Theatre (2013). William Boyd's dramatisation of two Chekhov stories with Iain Glen and Tamsin Greig is more pleasant than towering
The Cherry Orchard, Young Vic (2014). Katie Mitchell delivers Chekhov's masterpiece with devastating power

Uncle Vanya/Three Sisters, Wyndham's Theatre (2014). Quiet truth in finely observed ensemble Chekhov from the Mossovet State Academic Theatre
Winter Sleep. Turkish master Nuri Bilge Ceylan's Cannes Palme d'Or winner, based on Chekhov short stories, is huge in every sense
The Seagull, Regent's Park Open Air Theatre (2015). Strikingly staged Chekhov continues a strong season in the park
Uncle Vanya, Almeida Theatre (2016). Robert Icke's lengthy revival/reappraisal is largely a knockout
Wild Honey, Hampstead Theatre (2016). Early Chekhov begins strongly then falls away