theASHtray: Klinghoffer, Cape Town, and Debussy pisses off the poets |

reviews, news & interviews
theASHtray: Klinghoffer, Cape Town, and Debussy pisses off the poets
theASHtray: Klinghoffer, Cape Town, and Debussy pisses off the poets
Yeah butt, no butt: our columnist sifts through the fag-ends of the cultural week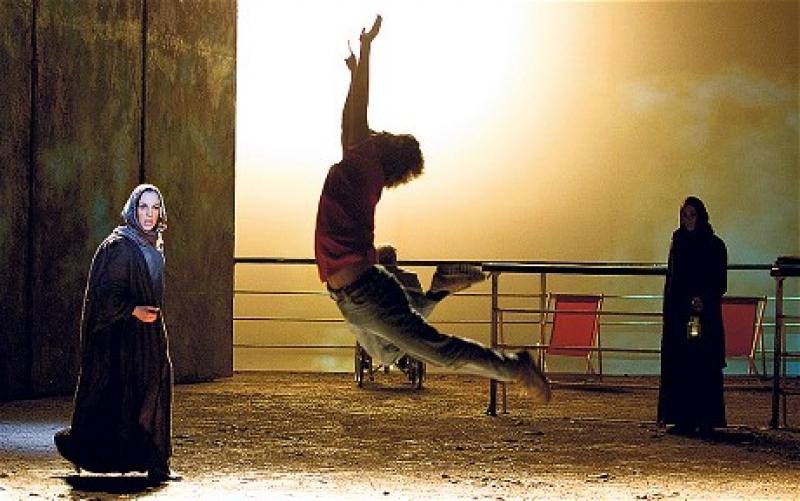 'Look, mummy!' The PLF take back Palestine... through the medium of dance
Who does the PR these days for Middle Eastern extremists? Whoever it is clearly wasn't on board when the Palestine Liberation Front decided to whack the Achille Lauro. Or wasn't aware that chucking a wheelchair-bound pensioner into the Med was the sort of move unlikely to garner widespread international support for the cause.
It's bemusing to me that anyone could interpret The Death of Klinghoffer as in any way anti-Semitic (anti-Israel, maybe…) or, for that matter, that anyone could consider it offensive were the opera to be found stridently anti-Palestinian-extremism. But, y'know, whatever. I have no fixed view on the broader politics-in-art debate (nor do I have time for the mail-bag), but I will note a couple of points:
In an opera that certainly does not shy from the use of the word "Jew", I don't recall seeing the term "Muslim" once.
As a major component of the set, I thought the prefab Peace Wall was money well spent. It appeared to hem in the Palestinians, but not so the Israelis.
At one point in the Chorus of Palestinian Exiles, it was not altogether clear whether the stones of their courtyards were "cool" or "cruel". Unintentional, one assumes.
Mixed-media performances being all very trendy, and that; but it seems relatively unlikely that the hired guns of the PLF were seriously into dance, however contemporary and/or metaphorical.
The only noteworthy musical moment was when Adams deployed some pop synth for the dance-trouper's ditz deposition. Witty – where the rest of the music was just John Adams being John Adams.
The conductor,

Baldur Brönnimann,

was a spit for my hairdresser, Phil.
---
Two thumbs up for two new movies, one relatively unexpected and the other more-or-less exactly as you'd have guessed. Carancho (the former) is an unlikely love-story set in the ambulance-chasing shadow-world of Buenos Aires. Though what really got my attention was that leading man Ricardo Darin looks like the orcish-offspring of Vincent Cassel and Alan Rickman, with a bit of Eric Cantona thrown in. (Miss March, for her two penn'orth, says that the love-interest, a paramedic, was an improbable assemblage of staunch ethics, fake boobs and perfect nails. Which I agree seems a bit odd.)
Baptising my new all-you-can-watch Cineworld movie pass (£17.99 a month, incl. the West End), I went to see the Cape Town spy romp Safe House, a film – pace Bryan Appleyard's recent pronouncements on multiplices – I figured there'd be little point seeing anywhere else. And I was right. Denzel brings his trademark gait and dentistry to a bad-guy-with-the-heart-of-a-wine-connoisseur, and Ryan "Would you forget about Van Wilder!" Reynolds did his pretty-enough-to-be-innocent thing. Lots of very bad guys did lots of very bad shooting as Reynolds sped effortlessly – in an unfamiliar car – through the murderous chaos that Kapstadters call "traffic". And South Africa (or its film industry, at least) finally found a use for one of its World Cup football stadiums. So, all's well that ends better than the ending of Carancho.
---
In one of those nice cultural triangulations that happen to people of the note-taking persuasion in the middle of quiet Monday afternoons, I was mid-Twit with a fellow desker on matters of Debussy, faunication and lesbians when I happened upon this pithy put-down, in David Markson's cut-and-paste quotation extravaganza, The Last Novel:
I thought I had done that already.
Said Mallarmé – at the first talk of Debussy setting L'après-midi d'un faune to music.
To which Debussy could only have replied, "Fair dos" (or "Touché!" presumably, in the original). And if he didn't, well, then, he ought to have been watching The West Wing, wherein, that evening, I caught Jed Bartlett proclaiming, apropos a boring Sunday-morning sermon, that: "Words, when spoken out loud for the purposes of performance, are music..." (WW 3: 6). Damn straight.
The Froggy impressionist doesn't seem to have had much luck with this sort of thing. The Last Novel (aka the perfect high-brow toilet book) goes on to narrate ("narrate") how, after several years' labouring to orchestrate Maeterlinck's Pelléas et Mélisande, Debussy played it through for the author – who promptly fell asleep. Poor bugger.
---
My several demurs notwithstanding, I did say there were some good jokes in Zach Braff's otherwise half-cocked All New People – so here's one for you:
Q. What's the last thing you want to hear after you have sex with Willie Nelson?
A. "I'm not Willie Nelson."
Gags. Literally.
South Africa (or its film industry, at least) finally found a use for one of its World Cup stadiums
Share this article