theASHtray: Janáček, Carnage, and Seth MacFarlane v George Clooney |

reviews, news & interviews
theASHtray: Janáček, Carnage, and Seth MacFarlane v George Clooney
theASHtray: Janáček, Carnage, and Seth MacFarlane v George Clooney
Yeah butt, no butt: our new columnist sifts through the fag-ends of the cultural week
Saturday, 11 February 2012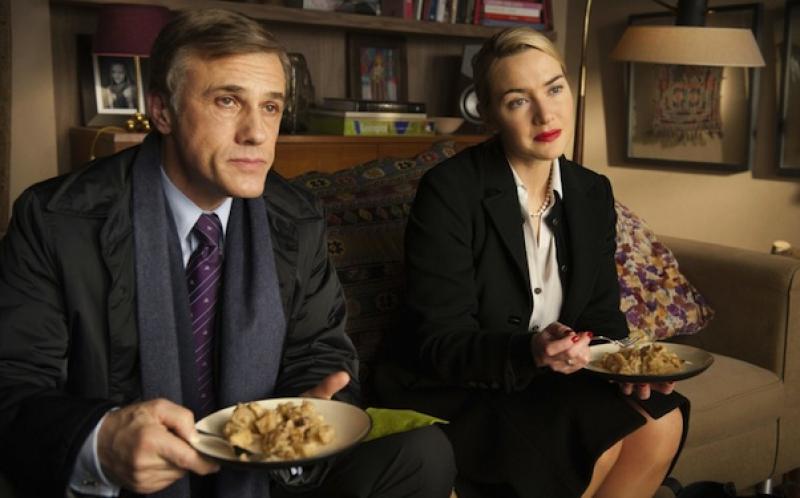 A double helping of apple cobblers: Christoph Waltz gets extra-fruity
Mea culpa. I take it all back. Christoph Waltz can act, and like a dream. You know, that dream you have where Tarantino's favourite pantomime Nazi demonstrates his apparently incurable fixation on apple-based desserts, and then Kate Winslet yakks all over his shoes.
In fact, in Roman Polanski's oddly flat Carnage, I'd go so far as to say that Waltz is the only one really pulling his weight. It may be, of course, that this is just a side-effect of Yasmina Reza's French play being shipped across the Atlantic; but when Reza's Parisian characters did spite, you got all spitey with them. Polanski's Yanks, by comparison, are merely... amusing.
---
And speaking of movies that should have been exciting... WARNING: anyone who rushes to see A Dangerous Method in the belief that it's about the hyper-intellectual tug-of-war between Freud and Jung is gonna be gutted. Anyone going in the hope of seeing Keira Knightley in a range of arousing scenarios is also going to be left, ironically enough, unsatisfied. I don't know at what point this becomes a question of false advertising; but someone ought to tell David Cronenberg (yea, even he!) that half a second of jiggling nipple doth not a "topless spanking" make. (And while they're telling him, could they please ask why Herr-Professor-Doktors Freud and Jung – German-speakers both – spoke flawless BBC costume English, while Fraulein Spielrein yammered away like a mad Russian out-take from The Protocols of the Elders of Zion?)
---
Three recent doozies from the near-flung reaches of the Twitterverse:
1) Really, Radio 2? You're going with "Relight My Fire" to soundtrack the Waco tragedy. You utter, utter dicks. – Chris Addison
2) I appear to have forfeited my recording deal because I won't do reality TV. No one needs to make an album that badly. Tea anyone? – Alison Moyet
3) What is that poster for The Descendants supposed to tell me as a viewer? "Here's George Clooney. He just got up." – Seth MacFarlane
... which sits rather nicely alongside Geoff Dyer's recent hypothesis, in his book-length study of Andrei Tarkovsky's Stalker, that George Clooney, in all his movies, is essentially performing an extended advert for George Clooney.
---
At the end of the England-Scotland game last Sunday the stadium bods played Queen's "I Want to Break Free". The reasons for this were not made clear; but it is my belief that I was once told – in Prague, rather fittingly – that this song had once been the de facto national anthem of a small Latin American country. A classic bit of trivia, if true. Can anyone verify?
---
Received for Christmas, and only embarked upon now: Haruki Murakami's latest volume(s), the 1,400-page unrealist monster 1Q84. I would like to refer to just one of these pages – the first – on which the music-loving Murakami has one of his central characters sit in a taxi, listening to the opening bars of Janáček's Sinfonietta, and wonder (a) if this is really the right music for rush-hour traffic, and (b) how many people in the world would recognise the opening bars of Janáček's Sinfonietta. We at theartsdesk are also curious to learn the answer to this question (for marketing purposes, you understand), and so I propose a guess-the-number-of-beans-in-the-jar-type competition. Answers in, please, to nothisisnotarealcompetition@theartsdesk.com.
PS Two nights ago I reviewed episode two of Saul David's Bullets, Boots and Bandages. I had a couple of demurs about his delivery and content, and I stand by them. But I feel, in the cold light of day, I ought to acknowledge these as small prices to pay for the programme's being watchable at all. Logistics, however flashily illustrated, is to the glories of war what Einstein's job in the patent office was to E=MC². Saul David's achievement, in the circumstances, was notable. That is all.
Half a second of jiggling nipple doth not a "topless spanking" make
Share this article