DVD: Green Lantern |

reviews, news & interviews
DVD: Green Lantern
DVD: Green Lantern
You won't care that Ryan Reynolds can fly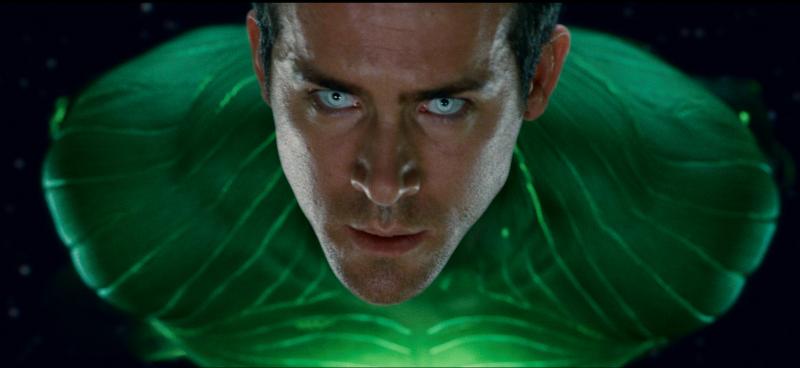 Green cross man: Ryan Reynolds as Hal Jordan
Green Lantern was meant to make Ryan Reynolds a major star, and ignite another superhero franchise. Expectations deflated so quickly on its cinema release that, if this DVD didn't exist, it would be hard to be certain it came out at all.
Warners have dug fatally deep into the superhero second division, drawing on an unmemorable character's 1959 revival, in which fearless test pilot Hal Jordan (Reynolds) proves to have the Right Stuff to join the Green Lantern Corps. This GLC, quite unlike Ken Livingstone's lamented Earth counterpart, is an intergalactic police force dedicated to enforcing "power, order and justice". The Green Lantern comic's one memorable story saw this authoritarian tone questioned in 1970, as Jordan travelled across counter-culture America. The film settles for Fifties juvenile science-fiction, pitting "the Emerald energy of Green Lantern" against "the Yellow power of Fear". These lines are said straight, for fear of admitting their absurdity will make the whole dated concoction collapse. In a series of garishly emerald-hued action scenes, it does anyway.
Ryan Reynolds's Everyman quality encouraged audiences to spend 90 minutes alone with him 6ft under in Buried, and he makes Hal Jordan goofily likeable, defying gravity like Superman to fly up to his ex-girlfriend's balcony, but unable to maintain the Man of Steel's gravitas when she sees straight through his flimsy disguise: "I've seen you naked – did you think I wouldn't recognise you?" 1978's Superman – The Movie, parodied here, asked us to believe a man can fly. This late in the genre's day, it's hard to care either way.
There is the usual supporting cast of busking heavyweights. Mark Strong is convincingly fierce as a scarlet-faced warrior Lantern, with the authentic pencil moustache of a vintage comics character. Peter Sarsgaard strikes the one memorable note as the faintly desperate, egghead hippie scientist son of Tim Robbins's Senator, until an alien infection makes him a brain-heavy, dull supervillain very like Nick Nolte in Ang Lee's Hulk.
Extras include trailers for Green Lantern cartoons and comics, promoting a franchise goldrush that's already over.
Watch the trailer for Green Lantern
These lines are said straight, for fear of admitting their absurdity will make the whole dated concoction collapse. It does anyway
rating
Share this article