The 10 Best Christmas Movies |

reviews, news & interviews
The 10 Best Christmas Movies
The 10 Best Christmas Movies
From the heights of It's a Wonderful Life to the depths of Love, Actually
Tuesday, 21 December 2010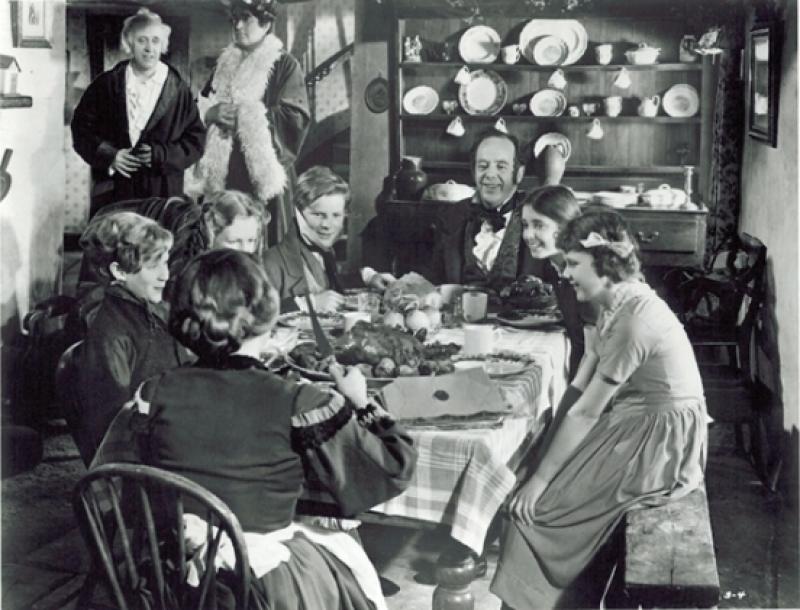 The Ghost of Christmas Present: Alastair Sim's Scrooge watches the feasting Cratchits
A nostalgified panacea of pine, tinsel, and tintinnabulation? Or a black hole of loneliness, bitterness and melancholy? Films about Christmas, wholly or partially, have straddled both polarities over the years, producing a surprising number of classics.
In compiling this list, I hummed and hahed over Terry Zwigoff's
Bad Santa
(2003), starring Billy Bob Thornton as a misanthropic crook who poses in the red suit and white beard to get at a department store's Christmas takings. It's a superbly cynical comedy, but to have included it would have been disingenuous: at the time of writing there is a remote chance that my six-year-old will suspend disbelief in Santa Claus for one more Christmas.
I regret, too, the omission of Wong Kar-wai's 2046 (2004), in which Mr Chow (Tony Leung) dines with his landlord's lovelorn daughter (Faye Wong) on Christmas Eve and persuades her to phone her Japanese boyfriend. As Nat King Cole's "The Christmas Song" fades out, Chow watches the girl chatting away and reflects, in the retrospective voiceover, that many people need comfort on Christmas Eve, and that he didn't mind there was none for him. It's just a touch of Christmas in a romantic reverie - but sometimes a touch is all you need. So here, in reverse order, are my 10 best Christmas movies.


The List
10. Christmas Holiday (US 1944) dir Robert Siodmak
Jilted by his fiancée on Christmas Eve and grounded in New Orleans, a soldier takes a nightclub chanteuse (Deanna Durbin) to midnight Mass. He is moved by her tears, and she tells him of her undying love for her husband (Gene Kelly) - a psychotic racetrack hustler with slippery charm and an over-affectionate mother (Gale Sondergaard) - who breaks jail even as they talk. Casting against type was never more effective than in Siodmak's supremely perverse noir, adapted by Herman J Mankiewicz from Somerset Maugham's novel. Kelly's performance laid down the blueprint for Robert Walker in Strangers on a Train and Robert De Niro in The King of Comedy, and Durbin looks as fragile as a glass bauble on a Christmas tree.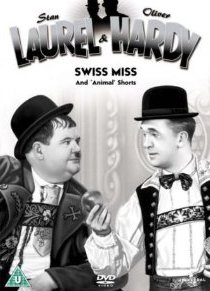 9. Swiss Miss (US 1938) dir John G Blystone
There are movies about Christmas that lose nothing from being watched out of season. There are movies not about Christmas that sparkle the most when watched in December. There are people of my intimate acquaintance who find it impossible to get through the holiday without Laurel and Hardy. The duo's twee Christmas movie Babes in Toyland pales beside the inspired Alpine nonsense of Swiss Miss, in which Stan and Ollie play American mousetrap salesmen in cheese-laden Switzerland and Ollie falls in love with an opera singer masquerading as a chambermaid. A gorilla, far from home, interferes with the boys' attempt to carry a piano across a rope bridge (a nod to The Music Box). A St Bernard refuses to give up its brandy to Stan. But no matter! The hapless one resigns himself to plucking a chicken, whereupon the snowstorm of feathers prompts the dog to do its duty, effecting Stan's instant inebriation. That's Christmassy enough for this list.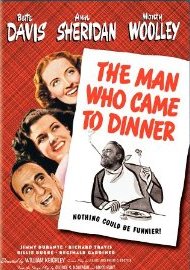 8. The Man Who Came to Dinner (US 1942) dir William Keighley
National radio celebrity Sheridan Whiteside (Monty Woolley) breaks his hip entering the Ohio home of the Stanley family and convalesces there over Christmas, terrorising his hosts (Billie Burke, Grant Mitchell), his nurse (Mary Wickes) and his secretary (Bette Davis), whose love life he attempts to sabotage. This Warner Bros adaptation of Kaufman and Hart's Broadway cocktail has lost none of its kick over the years, not least because director Keighley stood back to let the verbal vitriol drip. The acidulous Whiteside was Kaufman and Hart's tribute to the critic Alexander Woollcott, who considered playing the character on stage; Ann Sheridan, Reginald Gardiner and Jimmy Durante drop in to spoof Tallulah Bankhead, Noel Coward and Harpo Marx respectively. The mad aunt (Ruth Vivian) is ostensibly the 19th-century murder suspect Lizzie Borden in disguise. Delicious.
7. The Magnificent Ambersons (US 1942) dir Orson Welles
Fleetingly, Welles's butchered masterpiece offers the finest evocation of Christmas past. On a country outing following "the last of the great long-remembered dances", George (Tim Holt) and Lucy (Anne Baxter) embrace when their sleigh crashes in the snow, and they, Isabel (Dolores Costello), Eugene (Joseph Cotton) and the others in the party go home in Eugene's "horseless carriage", singing "The Man Who Broke the Bank at Monte Carlo". Using real snow, Welles created his winter wonderland in the Union Ice Company refrigeration plant in downtown LA; the chill air enabled him to capture the actors' and horses' "white" breath, which contrasts with the automobile's black exhaust smoke. As pretty and fake as a Christmas card, the sequence is often compared with a Currier and Ives lithograph, but it is tinged with foreboding. Welles ended the epiphany with an iris shot of the happy group disappearing into the distance, a metaphor for the end of the Amberson era.
6. Comfort and Joy (GB 1984) dir Bill Forsyth
Disc jockey Dickie Bird (Bill Paterson), recently dumped by his girlfriend, is solaced by the part he plays in ending Glasgow's "Ice Cream Wars", though Bill Forsyth's film plays downs the actual violence (which resulted in six killings). Forsyth anoints the urban setting with typical Shakespearian magic - the spectral lights and nursery jingles of the mirage-like ice-cream van and the pixieish presence of Claire Grogan usher the movie into faerie. As with Local Hero, Forsyth doesn't diminish ruefulness with sentiment. But Dickie's healing begins, and though he winds up alone in his studio on Christmas Day, there are listeners out there who need him.
5. The Night Before Christmas (US 1941) dir William Hanna and Joseph Barbera
Though this is one of the more benign Hanna-Barbera cartoons featuring Tom and Jerry, it has its moments of friction - and the Yule atmosphere is exquisite. Jerry is tempted out of his hole by a slice of cheese, thoughtfully wrapped and served on a mousetrap by Tom, and explores the glistening cornucopia beneath the Christmas tree, where war inevitably ensues. Having paid a painful penalty for puckering up under the mistletoe, Tom then ejects his tiny nemesis through the mailbox into a blizzard, only to have a Scrooge-ian crisis of conscience and bring Jerry inside to thaw on the hearth. The message, of course, is peace and goodwill to all mice, though one may safely assume that hostilities were resumed on Boxing Day.
Watch a clip from The Night Before Christmas
4. A Christmas Story (Canada 1983) dir Bob Clark
"A crummy commercial? Sonofabitch," fumes nine-year-old Ralphie (Peter Billingsley), disappointed by the Ovaltine slogan he's decoded from Radio Orphan Annie's secret message. Culled from Jean Shepherd's novel In God We Trust: All Others Pay Cash, Clark's Rockwellian portrait of Christmas in 1940s Indiana focuses on Ralphie's Machiavellian ploys to lay his hands on a Red Ryder Carbine Action Range Model Air Rifle. The film succeeds because it never yields to sappiness. Not the least of its joys is the spectacle of its bored and dyspeptic Santa dispatching Ralphie with a boot as his malevolent elves look on. Billy Bob Thornton presumably took notes.
3. The Apartment (US 1960) dir Billy Wilder

Wilder's masterpiece could top any number of lists - the Top 10 Most Bacchanalian Workplace Movies, say, or the Top 10 Most Sordid Winners of the Academy Award for Best Picture. It's about a lowly Manhattan insurance clerk, CC Baxter (Jack Lemmon), who climbs the corporate ladder by lending his apartment key to the company philanderers, even as he falls for the elevator girl Fran Kubelik (Shirley MacLaine) who's sleeping with his married boss Sheldrake (Fred MacMurray). The delights include Baxter straining spaghetti through his tennis racket and shaving with a bladeless razor; Sheldrake's discarded mistress Miss Olsen (Edie Adams) calling up his wife to blow the whistle; the incredulity of the doctor (Jack Kruschen) who thinks Baxter, his neighbour, is a playboy; and Baxter's tryst with a booze-befuddled pick-up (Hope Holiday), who says on their meeting: "'Twas the night before Christmas and all through the house/ Not a creature was stirring. Nothin'. No action. Dullsville. You married?" When I first saw The Apartment, I, like Baxter, fell in love with "The Kubelik" (as the office lechers call her), and years later I informed Miss MacLaine of this in an interview. She did not respond.
2. Scrooge - aka A Christmas Carol (GB 1951) dir Brian Desmond Hurst

Charles Dickens would have admired Alastair Sim's performance in this unimprovable adaptation. "He is of the sneer, sneery; of the growl, growly," he might have written. "The Americans have their Wayne and their Welles, we have our Sim and our Sim." The star's tortured performance and his terrifying visions are complemented by the Gothic mise-en-scène and CM Pennington-Richards's near-Expressionistic black-and-white cinematography. Ernest Thesiger, a veteran of James Whale's The Old Dark House (1932) and The Bride of Frankenstein (1935), surely revelled in his role as the undertaker. Marley's ghost is played by Michael Hordern and George Cole (Sim's adopted son) is the young Ebenezer. But Sim towers over the tale.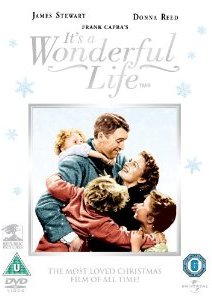 1. It's a Wonderful Life (US 1946) dir Frank Capra

James Agee commended Capra's classic as "one of the most efficient sentimental pieces since A Christmas Carol [1938]". Only a Scrooge - or a Mr Potter (Lionel Barrymore) - would deny George Bailey (James Stewart) a guardian angel and the happy resolution in which he is saved from ruin by the Bedford Halls Community he has so conscientiously served. The film has myriad pleasures: George and Mary Frances (luminous Donna Reed) singing "Buffalo Gals" and talking "medieval" as they walk home from the dance, and the subsequent loss of her robe; their sharing of the phone receiver that glues them together; the impromptu honeymoon arranged for them by Bert and Ernie; flirty Violet (Gloria Grahame) nearly causing an accident as she promenades down main street; George calling Clarence the Angel (Henry Travers) "Bub", and yelling with joy when he's told that his mouth's bleeding.

But as a film about an ambitious man worn down by disappointment and the shortcomings of small-town existence, It's a Wonderful Life becomes more troubling as the years go by: it's hard to imagine that George's kids, when fully grown, didn't recall the Christmas Eve when he so brutally bawled them out. (Anthony Mann's 1950s westerns similarly picked up on the Stewart persona's repressed rage.) The noir dream that results from George's crack-up has a dark and terrible poetry; it partially inspired David Thomson's novel Suspects, the most incisive commentary on a film that is often misunderstood as a celebration. A pile of cash, neighbourly good will, and Zuzu's petals preserve it from tragedy.
It's a wonderful scene: Donna Reed and James Stewart on the phone

The rest

Sublime stocking-fillers: Meet Me in St Louis (1944), Fanny and Alexander (1983), The Dead (1987), Tim Burton's The Nightmare Before Christmas (1993), The City of Lost Children (1995), A Christmas Tale (2008, Un conte de Noël)
Spartan fare to savour: Metropolitan (1990), A Midnight Clear (1992)
Overcooked chestnuts: A Miracle on 34th Street (1947), White Christmas (1954), How the Grinch Stole Christmas (2000), Love, Actually (2003), The Polar Express (2004), The Family Stone (2005), A Christmas Carol (2009)
Best Nativity: Monty Python's Life of Brian (1979)
Best motto: "You can't fool-a me. There ain't no Sanity Clause!" Chico Marx in A Night at the Opera (1935)
Explore topics
Share this article