Reissue CDs Weekly: The Kinks, Hapshash and the Coloured Coat |

reviews, news & interviews
Reissue CDs Weekly: The Kinks, Hapshash and the Coloured Coat
Reissue CDs Weekly: The Kinks, Hapshash and the Coloured Coat
British greats take on America while poster artists try psychedelic music on for size
The Kinks: taking America to halfway between Muswell Hill and Holloway in 1971
The Kinks: Muswell Hillbillies
Rock's rich tapestry currently has it that 1968's The Kinks are the Village Green Preservation Society is their best album. This deluxe edition, 2CD reissue of 1971's Muswell Hillbillies isn't going to alter that, but it does force the emphasis away from the notion that their most lasting legacy will be a fascination with and celebration of Britishness.
The album found Ray Davies and co looking to American archetypes, musical and cultural, and bringing them into songs drawing figurative links between the former colony and those still wedded to the old country. Although explicit in the title song's pun (watch them perform it overleaf) on north London's Muswell Hill, the connection would prove prescient for The Kinks themselves as the album paved the way for their American breakthrough.
Of course, America was always integral to The Kinks. Their first, flop, single was an interpretation of Little Richard's version of "Long Tall Sally". Ray and brother Dave bulked out their Sixties albums with blues and rock 'n' roll covers. Then, in 1965, with "Well Respected Man", they looked closer to home and their palette broadened. Muswell Hillbillies was the possibly belated integration of the two. It was their first album for new label RCA. Up to then, they were with Britain's Pye. RCA was American. It was Elvis's label.
The previous Muswell Hillbillies reissue from 1998 had just two bonus tracks, "Mountain Woman" and "Kentucky Moon". This time round these slot into a whole disc of bonuses, while the compilers have sensibly kept Disc One for the original album only.
The 'Muswell Hillbillies' songs are as sharp as anything Ray Davies wrote in the Sixties
Blues, bluegrass and country as well as music hall are ransacked on Muswell Hillbillies for songs about excess ("Skin and Bone", "Alcohol"), loss of identity ("20th Century Man", "Here Come the People in Grey" – sloppily misspelt "gray" in the package's annotation), the frustrations of routine ("Have a Cuppa Tea", "Uncle Son") and obsession ("Acute Schizophrenia Blues", "Holiday"). Funny, reflective and clever, the Muswell Hillbillies songs are as sharp as anything Ray Davies wrote in the Sixties. They are also very specific geographically. Holloway Prison gets a namecheck, and with its sleeve photo taken in north London's Archway Tavern, the album was inspired by the area where the Davies brothers had grown up. It was also about the current-day Ray Davies – his diagnosis with depression would soon become public knowledge.
Disc Two kicks off with a revelation. The previously unheard "Lavender Lane", recorded during the album sessions but shelved, is a rewrite of 1967's "Waterloo Sunset". Despite the densely-written liner notes drawing on interviews with band members, the reason for the recycling is not explained. It's a curio that really needs digging into. The bonuses included are a triumph of archive research, though. The demos, unreleased tracks, alternate (contemporaneous) mixes and BBC versions amount to a new reading of the album. Beyond "Lavender Lane", a demo of "Nobody's Fool", prepared for BBC TV, is the highlight.
After Muswell Hillbillies came the silly "Supersonic Rocket Ship", the poignant "Celluloid Heroes", an on-stage declaration from Ray Davies that he was giving it all up, and then success in America. This fine, often-overlooked, transitional album more than deserves the treatment afforded it here.
Overleaf: Hapshash and the Coloured Coat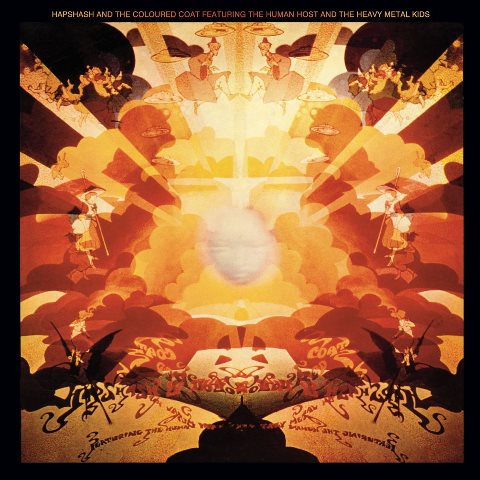 Hapshash and the Coloured Coat: Featuring the Human Host and the Heavy Metal Kids
This out-there album from 1967 was a vehicle for two non-musicians. Hapshash and the Coloured Coat were Michael English and Nigel Waymouth, the artists responsible for Swinging Britain's most arresting psychedelic posters. Waymouth also ran the hip King's Road boutique Granny Takes a Trip, while English had designed for a Carnaby Street shop. Enter future Mott the Hoople and Clash producer Guy Stevens with his wild idea that the duo should make an album. As outlandish as this was, it wasn't on its own. The next year saw the London-based Dutch hippy clothes and arts collective The Fool also release an album. Strange times. Ray Davies could have written a song lampooning these follies.
For the Hapshash musical happening, Stevens assembled members of Art, a band he was producing who later turned into Spooky Tooth. Their guitarist Luther Grosvenor exited the sessions saying, according to Waymouth in the liner notes, "this isn't rock 'n' roll."
It certainly wasn't. The album included five instantly conjured-up, free-form tracks with groovy titles like "A Mind Blown Is a Mind Shown" and "The New Messiah Coming 1985". Melody was eschewed in favour of being as far-out as possible. Guitars chug and churn, exotic percussion is banged and a piano rattles out odd notes. A cracked harmonica tries for the blues. Emerging randomly from this chaos are vocals which chant mystically. Somehow, Liberty Records were talked into issuing this artefact. A whole album akin to the nonsensical filler between the tracks on the Stones' Satanic Majesties, it was analogous to the oddities being issued by New York's ESP-Disk label. Naturally, English and Waymouth's sleeve was suitably striking. Bonkers, but essential to understanding a London underground in thrall to the limitlessness suggested by the psychedelic experience.
Watch The Kinks performing "Muswell Hillbillies" and "You're Looking Fine" in 1972
Disc Two of the 'Muswell Hillbillies' reissue kicks off with a revelation: a shelved rewrite of 'Waterloo Sunset'
Share this article