Music Reissues Weekly: Bernard Butler - People Move On |

reviews, news & interviews
Music Reissues Weekly: Bernard Butler - People Move On
Music Reissues Weekly: Bernard Butler - People Move On
Former Suede man's debut solo album becomes a box set - with a twist
Bernard Butler caught while recording 'People Move On', 10 May 1997
This new edition of People Move On, Bernard Butler's April 1998 debut solo album, takes what was issued then to up to four CDs. Nothing unusual in that. Box set-isations of a single album customarily add alternate versions, outtakes, non-album tracks from singles, demos, live tracks, recordings from tracking sessions.
However, the new People Move On takes a fresh tack. Disc One is the album as it was issued back then. Disc Two is the album – but with new vocals. Butler added them in 2021 to DAT recordings of the backing tracks, most of which differ from what was issued as they were not the final mixes.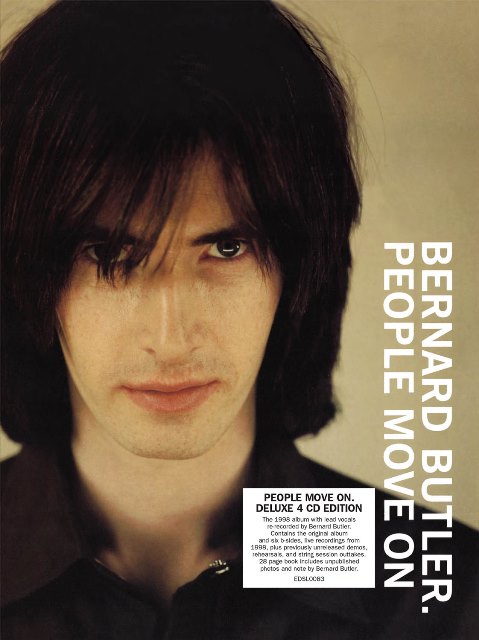 It goes further. New guitar solos are added to the title track and "In Vain". Also, the intro to the original "A Change of Heart" has been curtailed. No instrumental-only version of "I'm Tired" survived, so Butler has entirely re-recorded/recreated the track. All the associated non-album tracks from the time appear on Disc Three alongside versions with new vocals. For the vinyl analogue of this package, the original album sleeve is replaced by an image Butler wanted to use at the time which had been rejected by his label (pictured below left, the new sleeve; pictured below right, the original sleeve).
In what he's written for the book inside this casebound set, Butler does not explicitly say why he's done all this. But he notes "These newly re-vocaled recordings were made using the original 1997 instrumental mixes of each song, overdubbing karaoke style. My [new] vocal delivery was recorded by a half century man in constant artistic flux and the result of that should be most obvious. I have freed myself to recite words from memory and adjust to please, occasionally carving new melodies, completed with a new sonic blueprint. I understand that you will have a preference [re this vs. the original album]. I'm also fine with that. I like this one".
Butler, then, has come to not like aspects of People Move On and its attendant singles as they were in 1998. Elsewhere in the book, he says he began looking into the album during 2018, and recording new vocal tracks. When he did that, he writes, "What was I thinking before? Probably as I am thinking now. This [the original People Move On was a] flawed train wreck of adolescent emotion, lost in the dream, living the dream."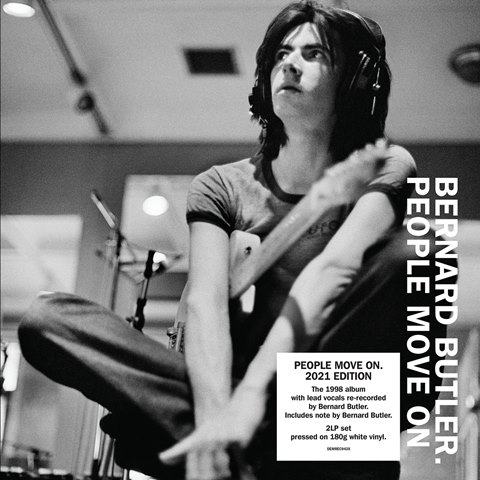 Furthermore, he also writes "I recorded People Move On by mistake. I had left a group to stay alive, not to make records, and found myself obliged. They want you to make a record". In this reading, Butler was a straw blown by the music business and his solo album was the result.
Viewing an album as unfinished business or seeking to rectify perceived historic flaws has precedents. There's Iggy Pop's remix of the Search and Destroy album which, for ages, became the only commercially available edition. What was originally in the shops was excised for a while. Beatles reissues are routinely built around new mixes of the original multi-tracks. The recent Van der Graaf Generator box set recently looked at by this column featured newly mixed versions of a bunch of their albums alongside the originals. It's happened with box-sets dedicated to individual Be-Bop Deluxe and Al Stewart albums, also looked at by this column. Such tedious monkeying isn't quite endemic with archive releases, but it's over-prevalent. The new People Move On brings a new aspect to such aural facelifts. In 1997, Butler told Alternative Press "It's important to me to keep developing the songs, so they don't just sit on the CD and stay the same way forever". He said it then, and so it remains.
People Move On was a fine, convincing album. It appeared after Butler had been hither and thither following his July 1994 departure from Suede. There were records made with David McAlmont as McAlmont & Butler. There was short brush with Verve and an appearance with Sparks. He worked with Michael Stipe and Radiohead's Jonny Greenwood and Thom Yorke for the soundtrack of the Velvet Goldmine film. He remixed Edwyn Collins, Bryan Ferry, Sparks, Teenage Fanclub and Paul Weller. Then, he played his solo demos to Creation Records's Alan McGee, who put out People Move On on his label. It charted, became a good seller and was nominated for a Brit award. McGee said that Butler was a new Neil Young.
There was indeed some Neil Young in People Move On. Sticky Fingers Rolling Stones too, Bert Jansch, odd bits of Verve and Oasis as well. Nothing about where Butler was coming from was hidden. Like the sales, the reviews were good. "People Move On is a highly accomplished album, almost too mature for one so young. Every tune is liquid honey: soothing, sweet and good for the body and soul," said Melody Maker. "The only criticism is that it's rarely forward-looking, more a rummage through the life and crimes of The Verve, Weller, Edwyn Collins, Burt Bacharach and the spine-tingling buzz bombs of Motown's finest choruses."
To wind the clock forward to now and the new People Move On. The usual box-set bonuses make sense. Fans will love them. But the hybrid tracks? Butler's voice is more full these days, with a presence lacking before. It is more dramatic, more muscular than in 1998. Then, there was a softness which attractively contrasted with the instrumentation's edge and maximilism. This is now lost, altering the album's mood. Ultimately, the album as it was in 1998 will sit in people's memories. As Butler acknowledges some people will like this, others won't. It's clear where he sits.
Next week: British psychedelia with Blossom Toes's 1967 album We Are Ever So Clean
Some people will like the re-vocalised 'People Move On', others won't. It's clear where Bernard Butler sits
Explore topics
Share this article