Kraftwerk: The Man Machine, Tate Modern |

reviews, news & interviews
Kraftwerk: The Man Machine, Tate Modern
Kraftwerk: The Man Machine, Tate Modern
A performance of robotic brilliance, but when will Kraftwerk deliver some new music?
Watch out for that arm, it's coming your way
A giant arm sweeps across the rapt audience. The newly anointed onlookers all wear the same, white-framed, glasses. A chant is heard:"We are the robots." Those congregating in the over-sized shoebox of Tate Modern's Turbine Hall could be at a cult meeting. In gathering to pay respect, the audience share more than a passion for Kraftwerk. They also all wear the same 3D glasses.
Performing their 1978 album
The Man Machine
in full, Kraftwerk restate the uncertainty of the natural order. Whether prophetic or not, their message still resonates.
Introducing The Man Machine before its release to the press at Paris's Tour Montparnasse, Kraftwerk themselves appeared for a scant five minutes, pissing off the assembled hacks. Promotion was left to a quartet of just-unveiled Kraftwerk dummies – the robots now integral to the band's iconography. It began a process of sublimation and evasion that has culminated with the current, live model of Kraftwerk.
Kraftwerk didn't tour on the back of The Man Machine's release, possibly due to being stung by criticism of their new image (too militaristic for the French and too Communist for America, where their label initially rejected the sleeve). Last night was a belated catch-up of sorts, in the appropriate setting of Tate Modern, no doubt deliberately chosen as it used to be a power plant.
The Man Machine took up the first 34 of last night's 115 minutes. Reprised in order, there was little to distinguish it sonically from the vinyl original. Ralf Hütter's in-person vocals were drier and more clipped. Heard live, with extraordinary fidelity, "Neon Lights" was more beautiful, more romantic than ever. With the Kraftwerk four largely static in a row – though Hütter did shake a leg to "The Model" – the necessary added dimension came from the gripping 3D graphics. During "Spacelab", the subject of the song jabbed its antenna into your eyes.
After the album, it was straight into the Greatest Hits home stretch. Largely in chronological order, it strolled through "Autobahn", "Radioactivity", "Trans Europe Express", "Computer World" and beyond. No "Pocket Calculator". By taking the linear path, later, rhythm-based pieces like "AeroDynamik" came across as less textured, less multi-dimensional than their predecessors.
For a seminal and innovatory unit, the content of the accompanying films were lessons in how Kraftwerk always struck a balance with the past. The logo of German film studio UFA flew around the turbine hall. The cars whizzing along the autobahn were vintage Volkswagens, Mercedes, Fiats and Citroëns. The models seen in black and white wore New Look-era gowns.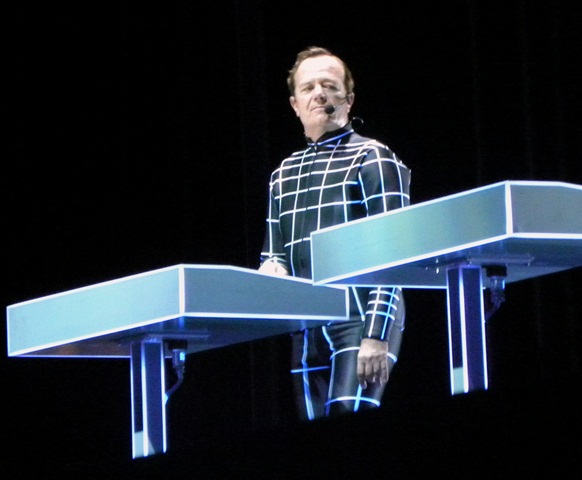 Krafwerk's relationship to their own past was also central to last night. When The Man Machine, their seventh album, was released, Kraftwerk were Hütter, Florian Schneider, Wolfgang Flur and Karl Bartos. Hütter (pictured left) and Schneider were the founders. Now, only Hütter remains. He's accompanied on stage by the band's long-time live sound engineer Henning Schmitz, studio sound engineer/programmer Fritz Hilpert and Falk Grieffenhagen, responsible for the live visuals. The music is subservient to how the technology serves it up.
Which is ironic, as The Man Machine had its genesis in that most organic and rockist of creative methods – jamming. The songs grew from studio improvisations which Hütter cherry picked and edited.
Today's fully digital Kraftwerk is rendered all the more poignant as their first encounter with digital technology at New York's Power Station Studios to mix the proposed Technopop album found them flummoxed and out of step with new developments. After years leading the way, they returned from there to Düsseldorf to digitally upgrade their Kling Klang studio and rework the songs. They never really recovered momentum. New releases slowed to a trickle and then stopped. Remixes and revisits became the default.
More curious is the foreshortening of their own history. Last night was billed as part of Kraftwerk – The Catalogue 1 2 3 4 5 6 7 8, a season previously seen in New York and Düsseldorf built around their eight albums from 1974's Autobahn to 2003's Tour de France. This octet was collected for the 2009 box set, The Catalogue. Yet their first three albums were absent from there and these outings. Minus-one, minus-two and minus-three perhaps? The album they made under the name Organisation in 1970 is presumably self-edited into extinction.
None of this is a lament for what's lost or what's changed, or for who or what Kraftwerk are. All of this made last night what it was. This encounter with the largely non-corporeal - not a concert, not a show or gig - was a mind-blowing, quasi-mystical experience. It underlined the magnificence and importance of Kraftwerk, something which hardly needs saying. It was an event. Homage was paid. As far as the staging goes, creativity still lives and breathes. But without some new music, in spite of this quite brilliant spectacle, today's Kraftwerk is an elongated full stop.
Watch Kraftwerk perform The Man Machine's "The Robots" and "Radioactivity" on French TV in 1978
This encounter with the non-corporeal was a mind-blowing, quasi-mystical experience
rating
Share this article