Jackie |

reviews, news & interviews
Jackie
Jackie
One brief shining moment that was known as Camelot: how the Kennedy legacy was born
Icon in wool bouclé: Natalie Portman dresses up
"A First Lady must always be ready to pack her suitcases," remarks Jackie Kennedy (Natalie Portman). Melania Trump, take note. Jackie, the first English-language film by the Chilean director Pablo Larrain (Neruda, No), is set in the week following the assassination of President Kennedy in 1963, as Jackie moves out of the White House and before the Johnsons move in.
In a disjointed, non-chronological way – the assassination scene keeps recurring – it's framed through the lens of Jackie's interview for
Life
magazine.
The unnamed journalist (an unsympathetic Billy Crudup) is based on Theodore H White, who wrote a short piece that ran a week after the assassination. As a device, it doesn't work very well, though it serves to show Jackie's need to protect herself – "I don't smoke," she tells him, cigarette constantly in hand – as well as maintain control of JFK's legacy and her consciousness of the "great divide between what people believe and what I know to be real" – and the need to give them Camelot as a fairy-tale they can believe in.
Jackie Kennedy remains endlessly fascinating. But the problem is that no one can reproduce her charisma, mystery and iconic beauty: those slightly compressed, feline features, the springy hair, those wide-set eyes. Portman is too gaunt – she looks swamped in that blood-stained pink suit – and her reconstruction of Jackie's husky voice and mid-Atlantic/Long Island twang is so well researched it's exhausting, especially in the meticulous re-creation of the TV tour of the White House that Jackie presented in 1962. An extraordinary event, watched by 56 million viewers, it showed off her historic renovations (Jack criticised her extravagance) as well as her understanding of the power of communication – she won an Emmy for it. It's quite a feat, some of it spliced with original footage, but Portman's lisp and strange vowels get in the way. A blessedly natural Greta Gerwig as Nancy Tuckerman, Jackie's best friend and social secretary, steals the scene as she encourages the nervous Jackie to smile for the camera at the right moments.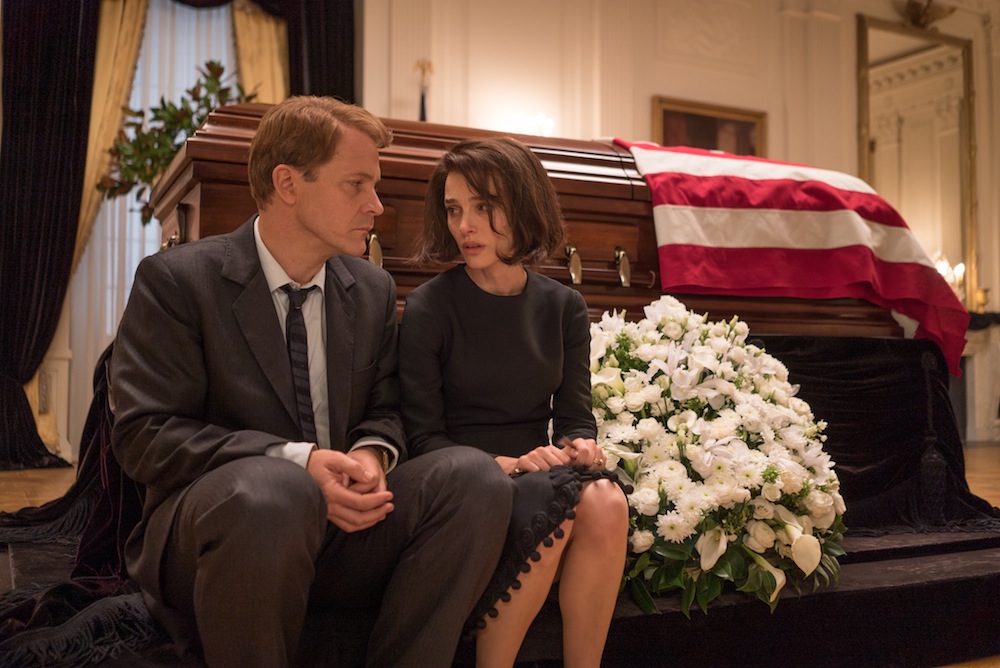 These flashbacks to happier times are interspersed with the grisly horror of the Dallas motorcade – "I tried to hold his head together," she says to the journalist – and the plans for the interment, as well as packing and breaking the news to the children. Jackie wants a procession to equal Lincoln's funeral – "More horses, more soldiers, more crying, more cameras," she tells Johnson's condescending henchmen, including a vicious-looking Jack Valenti (Max Casella). Jackie also wants to walk alongside the casket to the cathedral – let De Gaulle ride in an armoured tank if he's worried about security threats, she'll quite understand. "Why are you doing this, Mrs Kennedy?" Valenti asks her. "I'm just doing my job," she replies icily.
What a job. Portman's portrayal of explosive yet restrained grief packs a punch, and Jackie's loneliness is palpable, emphasised by the White House's enormous rooms, Mica Levi's disquieting score with its glissando strings and cinematographer Stéphane Fontaine's long shots. There she is in the midst of her renovations, swigging vodka, taking pills and trying on gowns in her bedroom to the strains of Jack's favourite song, "Camelot", declaimed by Richard Burton, who sounds terrific. No one apart from Tuckerman and her priest (an impressive John Hurt) can offer comfort. Robert Kennedy, played by a deeply miscast Peter Sarsgaard (pictured above, with Portman), is worse than useless. Perhaps it's the dental prosthesis for Bobby's prominent teeth that makes him so lifeless, but the only time he shows any emotion, apart from a furrowed brow, is when he bursts into a tirade about the paltriness of the Kennedy legacy. "We're ridiculous. Just look at you," he fumes at Jackie. And yes, everyone did.
MORE NATALIE PORTMAN ON THEARTSDESK

Black Swan (2011). OTT, Grand Guignol, horrid, and hilariously enjoyable – it's ballet, up to a point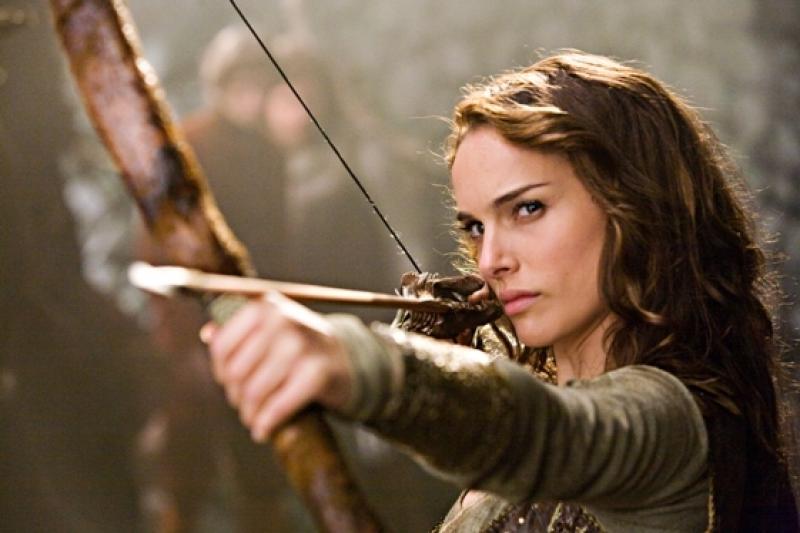 Your Highness (2011). Gross-out comes to medieval England. Here's hoping it bought a return ticket
No Strings Attached (2011). Natalie Portman isn't the only girl to swoon over cute Ashton Kutcher
Thor (2011). 3D graphics and 2D gods: Marvel's version of Norse myth is best when earthbound
Knight of Cups (2016). Terrence Malick's first movie shot in LA is a star-studded disappointment
Jackie (2017). One brief shining moment that was known as Camelot: how the Kennedy legacy was born