Frank |

reviews, news & interviews
Frank
Frank
Great performance from Michael Fassbender in cautionary tale of mental frailty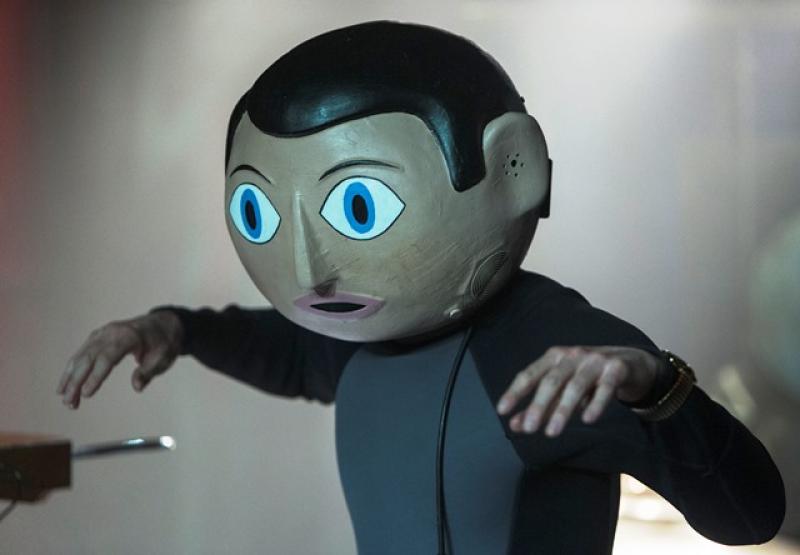 Michael Fassbender as the titular Frank: not showbiz flannel
Two potential obstacles need navigating while considering Frank. First, despite what it initially seems, this is not an account of the life and times of Frank Sidebottom, the giant-headed character created by maverick musician Chris Sievey. Second, the attitude towards mental health issues exhibited by those close to Frank in the film makes for awkward viewing. Beyond these health warnings, the presence of Michael Fassbender and Maggie Gyllenhaal in this eccentric, touching film makes it more than a curiosity.
As Frank, despite being masked by the disconcerting, big-eyed, blank-faced papier-mâché head of Frank Sidebottom, Fassbender (pictured below with Maggie Gyllenhaal and Domhnall Gleeson) projects child-like wonder, intensity, single-mindedness and vulnerability to such a degree it doesn't matter whether facial expressions can be seen. The film hinges on this extraordinary performance.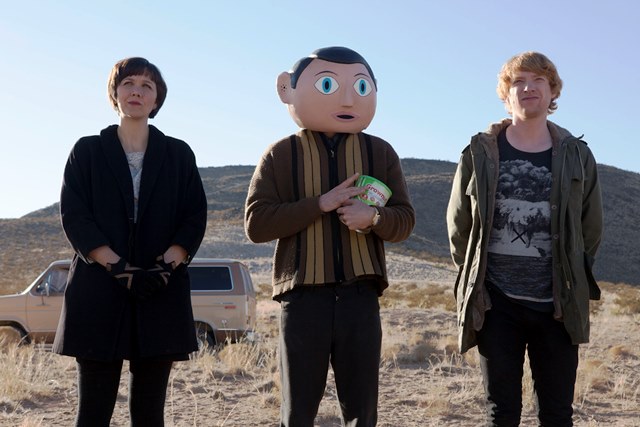 In essence, Frank follows the trajectory of the standard eccentric artist biopic. A tortured genius with a singular take on their art is recognised as such by those close to him and a small audience. After word gets out, a brush with the mainstream ensues. That proves impossible to cope with, so retreat is followed by a form of redemption.
Sievey died in 2010. He initially attracted some attention with the Beatles-inspired new wave-pop of his Manchester-based band The Freshies. After adopting the persona of Frank Sidebottom, he was booked to play London in 1987 just as his keyboard player dropped out. The entertainments officer of the college where the gig was taking place stepped in with no notice and then joined the band. That new member was future journalist Jon Ronson, who co-wrote Frank. The film loosely draws from the experience with Domhnall Gleeson as Jon (pictured below), the Ronson analogue. That is where the real story of Sidebottom/Sievey and Frank the film part ways.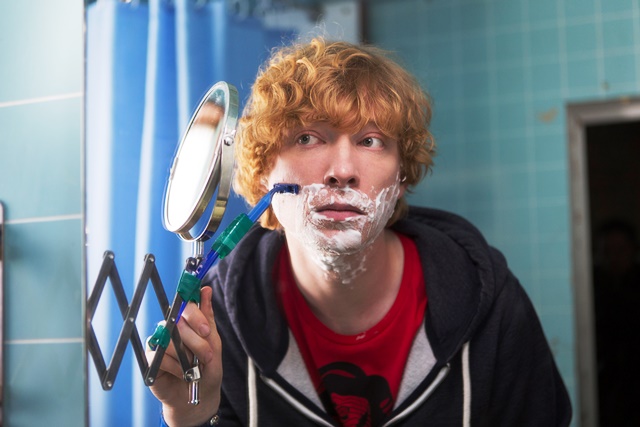 In the film, there is no Sievey and, despite the name and head, Fassbender's Frank is nothing to do with Frank Sidebottom. The new Frank does not step out of character. The head does not even come off in the shower. Our Frank has a manager who knocks him out cold during what appears to be a manic episode. His band members – including Clara, Gyllenhaal's always-coruscating, sociopathic, violent yet charismatic keyboard player who won't admit to being in love with Frank – are an odious, off-the-shelf sneery, self-obsessed, tedious lot exploiting him by riding on the back of his unique vision. He hones these no-talents by rehearsing them relentlessly in a cottage, as Captain Beefheart did with the contrastingly accomplished Magic Band in preparation for recording Trout Mask Replica.
Into this world steps eager-to-please, naïve and unworldly nice-guy Jon, who has ambitions to be a songwriter. He wants what's best for Frank, but pushes things too far. Jon even uses his savings to pay for the recording of the album when the band's money runs out. His internet exposure leads them to play the Austin, Texas music industry showcase South by Southwest. It's an instant disaster, so Frank flirts with making his music mainstream. The few Americans aware of Frank think the strange behaviour seen on the internet is a put-on, and don't realise it's not showbiz flannel. The film's truly intense final moments linger long after the credits.
Frank is a cautionary tale about fragility pushed too far and taking advantage of others. It is wholly more successful than the last film adaptation of Ronson's written work, The Men Who Stare at Goats. Fassbender was courageous to take on the role, and it may well come to be looked back on as among his greatest performances.
Overleaf: watch the trailer for Frank
'Frank' will be looked back on as among Michael Fassbender's greatest performances
rating
Explore topics
Share this article